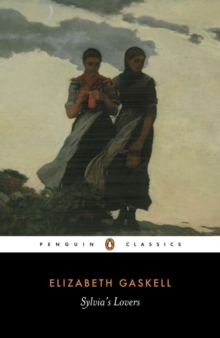 Sylvia's Lovers
Paperback
Description
Elizabeth Gaskell's only historical novel, Sylvia's Lovers, is set in 1790 in the seaside town of Monkshaven (Whitby) where press-gangs wreak havoc by seizing young men for service in the Napoleonic wars.
One of their victims is whaling harpooner, Charley Kinraid, whose charm and vivacity have captured the heart of Sylvia Robson.
But Sylvia's devoted cousin, Philip Hepburn, hopes to marry her himself and, in order to win her, deliberately withholds crucial information - with devastating consequences.
With its themes of suffering, unrequited love, and the clash between desire and duty, Sylvia's Lovers is one of the most powerfully moving of all Gaskell's novels, reputedly described by its author as 'the saddest story I ever wrote'.
Information
Format: Paperback
Pages: 528 pages
Publisher: Penguin Books Ltd
Publication Date: 28/11/1996
Category: Classic fiction (pre c 1945)
ISBN: 9780140434224
Other Formats
EPUB from £2.54
PDF from £2.54
Paperback from £12.49
Hardback from £19.95
Free Home Delivery
on all orders
Pick up orders
from local bookshops
Reviews
Showing 1 - 2 of 2 reviews.
Review by JaneGS
16/06/2015
An interesting novel--not as good as Gaskell's North and South or Wives and Daughters, but still an interesting historical novel...i.e., written about press gangs and the whaling industry during the Napoleonic Wars sixty years later.
Review by PhilSyphe
16/06/2015
"Sylvia's Lovers" is a slow-paced, lengthy tome. Had it been half as long I may have liked it twice as much.Lots of time is wasted with overlong and unnecessary descriptions. The opening chapter could've been cut altogether. The descriptive writing itself is very good, as it always is with Mrs Gaskell, but there's just too much of it for my tastes.Also, there are elongated asides or digressions, which do nothing to advance the story. On top of this there's a repetition of information, by which I mean that the reader receives certain info twice after witnessing a scene between two or three characters, only for one of those featured to repeat what just happened to another character. Why relate everything again when something like, "She told him all that happened", would suffice?The main plot is fine enough, though the amount of asides, etc., detract from it too much to get into it for more than a few consecutive paragraphs every so often. I found it a little too preachy for my liking, and at times somewhat depressing, though not as morbid as "Ruth".Another downside is that the characters' dialect slows down the narrative to a degree of annoyance. It's not like in Mrs Gaskell's "North & South", where the northerners spoke in a Manchester dialect whilst the southerners spoke "proper" English. The characters in this novel *all* speak in a strong Yorkshire dialect.Even though I'm a Yorkshireman myself, I feel it would've worked better if the author had mentioned early on in what accent her characters speak with. This way she could've written the dialogue with proper grammar, leaving the reader to imagine the characters' accent. The dialogue itself is well-written, though. The characters are also strong and believable. I liked Hester – one of the co-stars – best.Elizabeth Gaskell had a talent for storytelling, of that there's no doubt in my mind, but mostly it's not brought to the surface in this overlong book. I rate "North & South" & "Mary Barton" as her best novels.