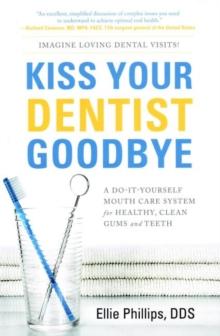 Kiss Your Dentist Goodbye : A Do-It-Yourself Mouth Care System for Healthy, Clean Gums and Teeth
Paperback
Information
Format: Paperback
Pages: 236 pages
Publisher: Greenleaf Book Group LLC
Publication Date: 18/03/2010
Category: Popular medicine & health
ISBN: 9781929774678
Free Home Delivery
on all orders
Pick up orders
from local bookshops
Reviews
Showing 1 - 2 of 2 reviews.
Review by cleoppa
16/06/2015
This is the book I've been looking for all my life! I always knew there was something not right about getting cavities constantly. This is not the way we should function. Yet I could find very little information about dental health besides brushing, flossing, etc. I'd resorted to making my own tooth powder from the little information I had. Well, now I have Dr. Ellie. I had previously purchased Cure Tooth Decay, which was based on Dr. Weston Price's research into nutrition and degeneration. It was good, but impractical. A lot of the information recommended in the book I already did--raw milk, kefir, etc. But it's seriously difficult to eat like that in our day and age. That book didn't really do much good.In Kiss Your Dentist Goodbye, dentist Ellie Phillips shares her years of research and experiments. She, too, believed that tooth decay was not an inevitable part of aging. She spoke to patients with good teeth and bad teeth. She tried one regime and another. She read the scientific studies and research. And now she has a system that has proved itself. Not only does it stop tooth decay, it will also regenerate.This book leads me wondering why I haven't been told so much information. I've certainly searched over the years. But I shouldn't even have to! Why doesn't my dentist know this information? Multiple studies have been done for decades... Granted, not dozens, but enough that much of this information should be much more common knowledge.I am eager to start this new regime. For the first time, I'm confident that I can create a healthy ecosystem in my mouth. Excellent read! Excellent summary of dental research. Well worth your time to read if you still want your teeth in your old age.
Review by dms02
16/06/2015
This book was definitely worth checking out of the library. I have been struggling with feeling like I could not keep my mouth clean and healthy enough over the last little while. I struggled with cavities as a kid and I am watching my kid do the same...with no rhyme or reason from dentists as to why it is happening. <br/><br/>I read about this cleaning system from an all natural friend and was a little leery. When I looked into it I found that the items need for the system could all be purchased at the grocery store. Granted the author makes her own brand of xylitol gum and mints (you could certainly buy another brand) - the rest of the goods include Cloysis rinse, Crest, Listerine and Act. All items I had a familiarity with.<br/><br/>The book is a quick read. You can skim or read in depth for the parts you have an interest in. This was the first book that gave me some real answers as to what might be causing rampant cavities in my family. What I found most interesting is that my daughter has suffered from ear infections and rampant cavities - and never put together that they could be related. <br/><br/>I tested the system for one week before a dentist visit and although there was a cavity to be found, I was complimented on my overall oral health (gums etc). Issues I was having with dry mouth and sensitivity and breath are all improving.<br/><br/>So far so good - One happy camper here. I will not be parting ways with my dentist *nor does the author want you too* but I am approaching my oral health in a new light.