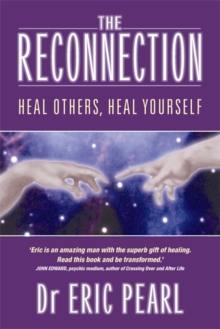 The Reconnection
Paperback
Description
This fascinating book takes you on Eric Pearl's journey from the discovery of his ability to heal to his well-deserved reputation as the instrument through which a new healing process is being introduced to the world.
Most importantly, The Reconnection reveals methods you can use to personally master these new healing energies.
Information
Format: Paperback
Pages: 256 pages
Publisher: Hay House Inc
Publication Date: 01/04/2003
ISBN: 9781401902100
Free Home Delivery
on all orders
Pick up orders
from local bookshops
Reviews
Showing 1 - 2 of 2 reviews.
Review by SueNehme
16/06/2015
Great book and great story. Also includes some really good techniques for playing with energy and learning how it feels in your hands. I highly recommend this book (and the activation you receive by reading it) to all energy workers and those just learning how to play with it.
Review by IonaS
27/08/2015
This is a book that could actually change your life.Dr. Pearl was a successful chiropractor when he began to have strange experiences (he had in fact since birth, and probably before, had strange experiences).He began to treat people by waving his hands intuitively through their aura, after which they moved their head, eyes and other parts of the body in unexpected ways, and also channelled messages for him. Miracles happened – his patients were cured of incurable ailments.Pearl had been advised to get hold of a moldavite crystal, and it turned out this stone had the ability to open up communication with angels, entities and beings from other planets. Pearl states: "I put the stone in my pocket, and the channelling started."The messages channelled by the various patients were the same:1)We are here to tell you to continue what you are doing.2)What you are doing is bringing light and information to the planet.3)What you are doing is reconnecting strands.4)What you are doing is reconnecting strings.5)You must know that you are a master.6)We've come because of your reputation.Now he is telling us how to connect with this energy, or rather he says that this will happen merely by our reading the book. This has happened to me, and I was also fortunate to get help and healing from a friend, which has strengthened my connection. I feel the energy in my hands, and sometimes in my head. When connected, sometimes my right foot moves involuntarily, and I feel a coldness in my right leg, or both legs.With this "method" you do not send energy, but receive it. Pearl states that it is not "faith healing", and it greatly surpasses "energy healing". Reconnective healing is not a technique. It transcends technique. You are this healing energy, and it is you. It emanates from you the moment you focus your attention on it. You work with it by noticing it, by allowing your attention to fall onto it.The book includes instructions whereby we can heal ourselves and carry out distant healing.If you don't feel you completely get the hang of the "method", you might be lucky to find someone in your area who can carry out "the Reconnection" for you. This will connect you with the healing energy.This important book is clearly and amusingly written. Pearl has his own distinctive, humorous style. I highly recommend that you read it.
Also by Eric Pearl