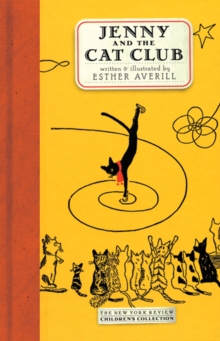 Jenny And The Cat Club
Paperback
Information
Format: Paperback
Pages: 176 pages, colour illustrations
Publisher: The New York Review of Books, Inc
Publication Date: 30/11/2003
Category: Animal stories
ISBN: 9781590170472
Free Home Delivery
on all orders
Pick up orders
from local bookshops
Reviews
Showing 1 - 5 of 6 reviews.
Previous | Next
Review by barranco
16/06/2015
Excellent. Hip stories of a little black cat and her friends.
Review by klawrence
16/06/2015
First graders loved this book! I worried about its "old-fashioned" feel, but this wasn't a problem. Even the boys stayed engaged throughout.
Review by technodiabla
16/06/2015
I read this to my daughter when she was 5; now she read it herself at 6. She loves this story. It's cute and about animals, which all kids love, but has more depth and has more mature themes than many "animal books". I think it has some great lessons about including and accepting others.
Review by AbigailAdams26
16/06/2015
As a child I absolutely adored Esther Averill's <u>The Fire Cat</u>, a poignant early-reader in which a street cat named Pickles found his purpose in life. But it was not until the <i>New York Review Children's Collection</i> began reprinting them that I was aware that Averill had written many stories detailing the adventures of the cats - Pickles among them - who lived in New York City's Greenwich Village. How sad that I didn't know about Jenny Linsky as a child, but how wonderful that this omission is finally being corrected! Viva NYRCC!<u>Jenny and the Cat Club</u>, first published in 1944, contains five short stories detailing the adventures of shy Jenny Linsky, a little black cat who belongs to Captain Tinker, and who always wears a distinctive red scarf. In <i>The Cat Club</i>, Jenny overcomes her shyness and discovers her "special gift." In <i>Jenny's First Party</i>, Jenny, Pickles and Florio find their way to a dance party. In <i>When Jenny Lost Her Scarf</i> Jenny's precious red scarf is stolen by Rob the Robber dog. In <i>Jenny's Adopted Brothers</i> Jenny convinces Captain Tinker to rescue the homeless Checkers and Edward. And finally, in <i>How the Brothers Joined the Cat Club</i>, Jenny conquers her jealousy, and helps her new brothers join the club...This was a wonderful collection of stories, and should prove entertaining for chapter-book readers who love animal stories. Heartwarming and very satisfying, the story of Jenny - a shy little cat who needs a little help sometimes, but who has a good heart, and always does the best she can - offers the reader some simple truths, clothed in a gentle story. And of course, Averill's illustrations are adorable...
Review by pussreboots
16/06/2015
Jenny and the Cat Club by Ester Averill is the story of how Jenny came to join the cat club. The stories were originally published together in 1973 and reissued in 2011.I think if I ever adopt a female black cat, I'll have to name her Jenny Linksy. She is my favorite cat character from esther Averill's series of books about a Cat Club in Greenwich Village. I first met her and her friends through Hotel Cat — the book that also has the honor of being my first checked out library book after moving to our new home in the Hayward Hills.Back then, Hotel Cat was the only book available because the others had fallen out of print and the library only had the last copy in the series. Since then, the New York Review has reissued most of the series (except for the prequel picture book, The Fire Cat). The entire collection is well worth purchasing for any cat loving child — or any child who suffers from shyness but craves adventures.Nearly every page has one of Averill's delightful illustrations — black and white, save for a splash of red. The red is usually saved for the thing that delights the cat the most. So for Jenny, it's her scarf. For her brother, it's a red ball. And so forth.Jenny and the Cat Club includes short tales about Jenny Linksy. She is adopted by Captain Tinker who makes her a red scarf to boost her self confidence. She encounters the Cat Club and desperately wants to learn a talent so she can join them. Later, Jenny becomes a sister to a pair of homeless cats and goes through some understandable moments of jealousy.