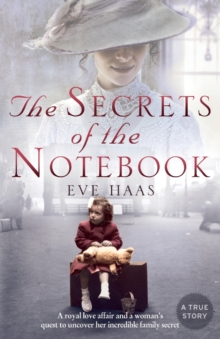 The Secrets Of The Notebook
Paperback
Description
The incredible true story revealed by a family notebook, telling of four daughters across two centuries of turbulent history, of a passionate and ill-fated royal love affair, ending in a tragic and cruel death. 'The beautiful owner of this book is dearer to me than my life. August, your protector.' Eve Haas was irresistibly drawn to the family 'notebook', which had been passed down the generations.
Her father had shown her the inscription inside when she was young, with warnings of dire happenings if the secret behind the diary was pursued.
Years later, Eve decided to follow the trail of the notebook, it would take her to the old kingdom of Prussia, to a forbidden royal marriage that was wiped from all official records, and a royal princess given away to ensure her protection.
Forty years earlier in 1942, Eve's grandmother, Anna, had died on her way to Auschwitz after being seized by the SS.
They believed she was just an old Jewish woman. The secret of her royal heritage lay in that notebook, but it couldn't save her.
Information
Format: Paperback
Pages: 320 pages
Publisher: HarperCollins Publishers
Publication Date: 01/03/2009
Category: Diaries, letters & journals
ISBN: 9780007298501
Free Home Delivery
on all orders
Pick up orders
from local bookshops
Reviews
Showing 1 - 1 of 1 reviews.
Although I enjoyed this book and found the story interesting, I thought it all rather drawn out.The notebook contains the message 'The beautiful owner of this book is dearer to me than life – August your protector.' August turns out to be a Prussian Prince, the nephew of Frederick the Great, and the 'beautiful owner' his wife, Eve's great grandmother Emile.The story unfolds in two strands: one telling of the romance between the prince and Emilie; the other of grandma Charlotte - their dispossesed child - who, being bought up by a Jewish family after the early death of August, tragically died on her way to Auschwitz mistakenly taken by the SS as an old Jewish woman.Eve Haas was bought up in England after fleeing from Germany with her mother and father at the beginning of WWII. One of the most interesting and atmospheric parts of the book were the descriptions of Eve's travels in East Germany at a time when the Cold War was at its height. She is there to search the records for her grandmother: her discoveries are simply amazing and life-changing.