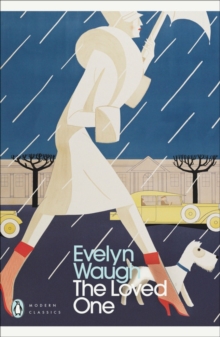 Description
Subtitled An Anglo-American Tragedy, Evelyn Waugh's The Loved One is a witty satirical novel on artistic integrity and the British expat community in Hollywood, published in Penguin Modern Classics. The more startling for the economy of its prose and plot, this novel's story, set among the manicured lawns and euphemisms of Whispering Glades Memorial Park in Hollywood, satirizes the American way of death and offers Waugh's memento mori.
Following the death of a friend, poet and pets' mortician Dennis Barlow finds himself entering into the artificial Hollywood paradise of the Whispering Glades Memorial Park.
Within its golden gates, death, American-style, is wrapped up and sold like a package holiday.
There, Dennis enters the fragile and bizarre world of Aimee, the naive Californian corpse beautician, and Mr Joyboy, the master of the embalmer's art...A dark and savage satire on the Anglo-American cultural divide, The Loved One depicts a world where love, reputation and death cost a very great deal. Evelyn Waugh (1903-66) was born in Hampstead, second son of Arthur Waugh, publisher and literary critic, and brother of Alec Waugh, the popular novelist. In 1928 he published his first work, a life of Dante Gabriel Rossetti, and his first novel, Decline and Fall, which was soon followed by Vile Bodies (1930), A Handful of Dust (1934) and Scoop (1938).
In 1942 he published Put Out More Flags and then in 1945 Brideshead Revisited.
Men at Arms (1952) was the first volume of 'The Sword of Honour' trilogy, and won the James Tait Black Memorial Prize; the other volumes, Officers and Gentlemen and Unconditional Surrender, followed in 1955 and 1961. If you enjoyed The Loved One, you might like Waugh's Vile Bodies, also available in Penguin Modern Classics. 'The master of black comedy' Sunday Times 'One of the funniest and most significant books of the century' Alice Thomas Ellis, Daily Telegraph
Information
Format: Paperback
Pages: 128 pages
Publisher: Penguin Books Ltd
Publication Date: 29/08/2000
ISBN: 9780141184241
Other Formats
Hardback from £14.35
EPUB from £4.99
Free Home Delivery
on all orders
Pick up orders
from local bookshops
Reviews
Showing 1 - 5 of 5 reviews.
Review by xinyi
16/06/2015
Evelyn Waugh never fails me!
Review by AButchersWife
16/06/2015
Very funny in places. It is almost a precursor for the modern character studies of the macabre in King or Koontz.
Review by auntieknickers
16/06/2015
WOnderful satire. Read along with [b:The American Way of Death] for another British look at the American funeral industry.
Review by stillatim
16/06/2015
In which Waugh again proves that the satisfactions of 'realistic' fiction are pretty pale compared to the satisfactions of vicious, spiteful, hate-filled satire. The characters, plot and setting are all paper thin, but that helps the book with it's main point, which is to make you laugh out loud and recognize the ugliness, stupidity and vanity of the world in general. There's nothing and nobody redeeming here. The Brits are snobs and/or morons; the Yanks are James-lite innocents with none of the charming homeliness of actual innocents in James novels. If nothing else, reading this book will give the this please: next time you hear an American conservative complain about a 'culture of death,' you'll be able to remember 'The Loved One,' smirk, and take pleasure in the fact that a genuine conservative would consider the American conservative to be a repulsive boil on the arse of humankind.
Review by MizPurplest
09/10/2015
Excellent satire; amusing characters you never really like, which in this case is a good thing. Quite a few highly entertaining moments. Fun, fast read.