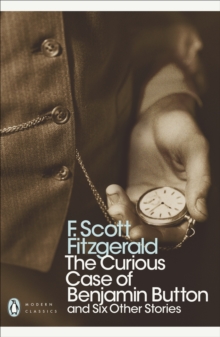 The Curious Case Of Benjamin Button And Six Other Stories,
Paperback
Description
Revealing the breadth of F. Scott Fitzgerald's gift for the short story form, this Penguin Classics edition of The Case of Benjamin Button and Six Other Stories spans multiple genres and styles to dazzling effect. Full grown with a long, smoke-coloured beard, requiring the services of a cane and fonder of cigars than warm milk, Benjamin Button is a very curious baby indeed. And, as Benjamin becomes increasingly youthful with the passing years, his family wonders why he persists in the embarrassing folly of living in reverse.
In this imaginative fable of ageing and the other stories collected here - including 'The Cut-Glass Bowl' in which an ill-meant gift haunts a family's misfortunes, 'The Four Fists' where a man's life shaped by a series of punches to his face, and the revelry, mobs and anguish of 'May Day' - F.
Scott Fitzgerald displays his unmatched gift as a writer of short stories. 'The Curious Case of Benjamin Button', originally published in 1922, was made into a major motion picture directed by David Fincher and starring Brad Pitt, Cate Blanchett and Tilda Swinton. F. Scott Fitzgerald (1896-1940) has acquired a mythical status in American literary history, and his masterwork The Great Gatsby is considered by many to be the 'great American novel'.
In 1920 he married Zelda Sayre, dubbed 'the first American Flapper', and their traumatic marriage and Zelda's gradual descent into insanity became the leading influence on his writing.
As well as many short stories, Fitzgerald wrote five novels This Side of Paradise, The Great Gatsby, The Beautiful and the Damned, Tender is the Night and, incomplete at the time of his death, The Last Tycoon.
After his death The New York Times said of him that 'in fact and in the literary sense he created a "generation" '. If you enjoyed The Curious Case of Benjamin Button, you might like Fitzgerald's The Great Gatsby, also available in Penguin Classics. 'A master of the American short story' The Philadelphia Enquirer 'His talent was as natural as the pattern that was made by the dust on a butterfly's wings' Ernest Hemingway
Information
Format: Paperback
Pages: 216 pages
Publisher: Penguin Books Ltd
Publication Date: 24/11/2008
Category: Classic fiction (pre c 1945)
ISBN: 9780141190198
Free Home Delivery
on all orders
Pick up orders
from local bookshops
Reviews
Showing 1 - 2 of 2 reviews.
Review by pokarekareana
16/06/2015
I've seen the film of this story twice, and never really felt much affinity with it, and now I've read the book I realise that this is simply down to the fact that the original story doesn't particularly lend itself to being made into a film. Fitzgerald has a certain flair that needs to be read, or at least not mangled slightly, projected onto the silver screen, and dressed up with bells, whistles and Brad Pitt. It worked much better in my own imagination. The other stories were equally well-written, happily, and overall it was a great little read.
Review by edwinbcn
16/06/2015
The Penguin Modern Classics edition of The curious case of Benjamin Button, and six other stories is a collection of short stories by F. Scott Fitzgerald. "Head and Shoulders", "The Cut-Glass Bowl" and "The Four Fists" are taken from Flappers and Philosophers (1920), while "The curious case of Benjamin Button", "May Day" and "O Russet Witch" are taken from Tales of the Jazz Age (1922). To these is added the uncollected short story "Crazy Sunday", which was first published in 1932.This was a partial reread, as I had already read "The curious case of Benjamin Button" and Flappers and Philosophers. I was merely interested in "O Russet Witch" and "Crazy Sunday"."O Russet Witch" is a short story, but tries to tell a life-time history, so it is a bit peculiar that the frivolous young man and woman at the beginning of the story meet again at the end with wrinkled faces, forty years on in their lives. The story reads more like a synopsis for a novel, but even then would probably not be substantial enough. However, the message of "O Russet Witch" seems a bit top-heavy and with its moral lesson it stands out as a rather odd tale among the other more frivolous short stories. Then, since the setting of "O Russet Witch" is a book shop, quaintly appropriate as most of F. Scott Fitzgerald's stories seem to be set in places where the jet-set whiles away its time, some book lovers might find this story interesting.Said to be characteristic of the Roaring Twenties, the short stories of F. Scott Fitzgerald are very well-written, but rather lacking in substance.