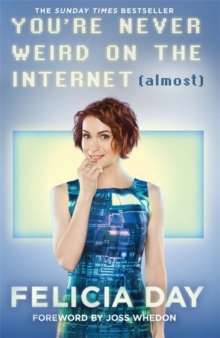 You're Never Weird on the Internet (Almost)
Hardback
Description
The Internet isn't all cat videos. There's also Felicia Day - violinist, filmmaker, Internet entrepreneur, compulsive gamer and former lonely homeschooled girl who overcame her isolated childhood to become the ruler of a new world ...or at least semi-influential in the world of Internet geeks and Goodreads book clubs. After growing up in the south where she was 'homeschooled for hippie reasons', Felicia moved to Hollywood to pursue her dream of becoming an actress and was immediately typecast as a crazy cat-lady secretary.
But Felicia's misadventures in Hollywood led her to produce her own web series, own her own production company and become an Internet star. Felicia's short-ish life and her rags-to-riches rise to Internet fame launched her career as one of the most influential creators in new media.
Now, Felicia's strange world is filled with thoughts on creativity, video games, and a dash of mild feminist activism - just like her memoir. Hilarious and inspirational, You're Never Weird on the Internet (Almost) is proof that everyone should embrace what makes them different and be brave enough to share it with the world, because anything is possible now - even for a digital misfit.
Information
Format: Hardback
Pages: 272 pages, Integrated throughout
Publisher: Little, Brown Book Group
Publication Date: 13/08/2015
Category: Individual actors & performers
ISBN: 9780751562484
Free Home Delivery
on all orders
Pick up orders
from local bookshops
Reviews
Showing 1 - 1 of 1 reviews.
Review by jcbrunner
27/08/2015
The internet is a weird place. Its openness and decentralized nature allows people to connect and share in ways unimaginable even a few years ago. People with exotic hobbies and collections who were isolated in their community can now find soul mates all over the planet. At the same time, the internet is a dark place as the surprisingly large number of mentally ill and dangerous people can contact people directly. Much of the internet is still under Wild West rules where the weak are at the mercy of the mean and the tragedy of the commons is in full effect. It is surprising, for instance, how much time and effort some people are willing to commit to see their pet issues win on Wikipedia and other internet projects. A lot of the immature voices on the net also belong to actual kids and teenagers who have not yet been potty-trained in proper social behavior and even learn wrong patterns on 4Chan, on-line games and diverse boards. Felicia Day's book speaks about both issues, albeit in a book with a wrong title.Geek is a relative term. Felicia Day as a math graduate in Hollywood is certainly geekier than traditional Hollywood actresses. Still, she used MS Paint to design the logo of her YouTube web series. No computer geek would ever do that! Then again, if one looks at how computers are used in movies and TV, Hollywood is one of the holdouts ("enhance! enhance!"). Felicia Day's biography thus is better read as an account of a successful internet entrepreneur.This unrealized redefinition of her own role and the futile attempt to be a writer/actor and producer at the same time caused an internal burn-out and major depression whereas she still had to keep up external happy face to her fans (very Stephen Fry-esque). Fortunately, she seems to have managed to overcome it with a healthier work/life balance. The role of her boyfriend in this account is rather strange, as he is a near mystery who would barely get a line in the movie version. Her mother, brother and dog play vastly more important roles. And in times of need, the boyfriend didn't seem to be there to catch and help her (almost girlfriend from Canada-style).For those already familiar with the Felicia Day origin story, there are a few new nuggets such that she and her mother were active Ross Perot supporters. Her acting career is not given much emphasis (apart from the first steps in Hollywood). Felicia Day has been at the forefront of the growing number of women internet and entertainment entrepreneurs. This book offers an interesting look behind the scenes of what happened so far.