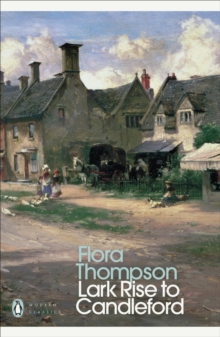 Lark Rise To Candleford
Paperback
Description
Flora Thompson's immortal trilogy, containing "Lark Rise", "Over To Candleford" and "Candleford Green", is a heartwarming portrayal of country life at the close of the 19th century.
This story of three closely related Oxfordshire communities - a hamlet, the nearby village and a small market town - is based on the author's experiences during childhood and youth.
It chronicles May Day celebrations and forgotten children's games, the daily lives of farmworkers and craftsmen, friends and relations - all painted with a gaiety and freshness of observation that make this trilogy an evocative and sensitive memorial to Victorian rural England. With a new introduction by Richard Mabey
Information
Format: Paperback
Pages: 544 pages
Publisher: Penguin Books Ltd
Publication Date: 25/05/2000
Category: Classic fiction (pre c 1945)
ISBN: 9780141183312
Other Formats
Paperback from £9.99
Hardback from £10.95
Paperback / softback from £9.99
Free Home Delivery
on all orders
Pick up orders
from local bookshops
Reviews
Showing 1 - 2 of 2 reviews.
Review by lozzer
16/06/2015
The author provides a vivid and emotional narrative of her Oxfordshire upbringing. This book serves as a poignant reminder of life in rural england in the late 19th Century - a way of life to which we will never return.
Review by wisewoman
16/06/2015
Lark Rise to Candleford, originally published as three separate works in 1939–1943, is part autobiography, part historical documentary, and part social commentary. Other reviewers have described it as a novel (or rather, three novels), but I'm not sure I'd classify it as such. Flora Thompson sets out to recount rural life in England's 1880s and 1890s, and, incidentally, her own childhood. But she distances herself from the narrative by telling it in the third person and calling her character "Laura"—and anyways, Laura's story is secondary to that of Lark Rise and the surrounding areas.And yet it isn't a story in the strict sense, which is why I don't think of it as a novel. Thompson gives her readers chapter after chapter of basic facts about what life was like for the agricultural laborers of the time. There is no villain, unless it be the ever-present poverty these country people faced. We follow the men to the fields and get a sense of their day-to-day lives and relationships. But the majority of the narrative is spent on the women, tracing out their struggles, describing their homes, discussing their love of fashion and gossip, and telling anecdotes of the more colorful or virtuous among them. At first I was a bit restless with the lack of plot, but as I continued to read I found myself drawn into the lives of the people Thompson describes, and I was left with an incredible amount of respect for their hardihood and endurance.I suppose one could argue that the plot is loosely that of a coming-of-age novel, set against a backdrop that refuses to stay behind the characters. But I get the impression that it was more important to Thompson to capture her time and place with accuracy than to tell her own story. Her story comes in, of course, but usually only as a means to further elucidate her setting. This changes somewhat in the later sections, but I'm not sure I've read anything before that has quite this level of authorial detachment when the author is herself a character on the pages. The writing, by the way, is simply lovely.Other works kept coming to mind as I read: L. M. Montgomery's Anne of Green Gables for the character sketches and small-community gossip (and foreshadowings of World War I in Montgomery's later books); James Herriot's All Creatures Great and Small (and the rest) for its reverent handling of a rustic, long-past way of life and its humor; and, most of all, Betty Smith's A Tree Grows in Brooklyn which also features a sensitive young girl living in a poor community and observing it with both eyes wide open. Both Francie and Laura have similar family structures, with a generally absent father, hardworking and attractive mother, and favored younger brother who gets on with their surroundings rather better than his older sister. Both girls snatch at whatever scraps of education and books they can get (unlike the other children), and become both a product of and an outsider to their communities.The social commentary comes in with Thompson's lively disdain for modern psychology and all the ailments it has invented. As I happen to agree with her on this point, I found it quite refreshing to read her observations on how the principle of supply creating demand applies to physical and psychological ills. She also presents a very realistic view of the nature of humanity, demonstrating children's innate savagery (though implying that it can be cured with education). It's clear Thompson has little patience with what she sees as our absurdly over-protective approach to parenting today. She casts herself as a case study, giving several examples throughout the book of her own emotional resilience (and she was a sensitive child, too). One such instance is when she stumbles on a field where a bull was engaged in the act of "justifying his existence." Little Laura slips away before the men see her—and, as she pointedly notes, with absolutely no psychological scars engraved upon her soul.Thompson is very reticent about her own religious beliefs, but goes into great depth concerning those of the country people. There were one or two comments about the historicity of the Bible ("that Jonah story takes a lot of swallowing") and the fact that it was only the older, less educated country people who still believed in the biblical miracles. There was also implicit praise of a preacher who never said anything that could make anyone uncomfortable. As with the rest of the subjects Thompson explores, all is viewed through a lens of forty years' experience and historical hindsight. Indeed, it is the fear of loss and the desire to preserve, in some form, a way of life that is gone forever that seems to be Thompson's primary motive in writing.Overall, this was an excellent read and I enjoyed the immersion in the historical period very much.