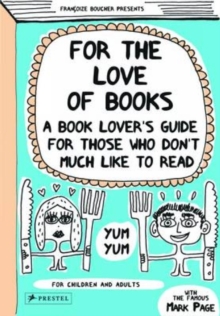 For the Love of Books : A Book Lover's Guide for Those Who Don't Much Like to Read
Paperback
Description
We all know someone who doesn't like to read. Try as we might, it can be impossible convincing them of the joys of a good book.
Filled with completely ridiculous tips and totally bonkers advice, this delightful book somehow makes perfect sense.
This illustrated collection of dozens of good (and some not-so-good) reasons to read is the perfect gift for the millions of people who would rather watch television or play computer games than immerse themselves in a great book, become superheroes and go on fantastic adventures.
Filled with hilarious advice (such as how to read books you don't like reading, how to ward off enemies with a book, and how to always be top-of-the-class,) and common-sense wisdom (such as why a book makes a better present than a rabbit), For the Love of Books gives the answers to life, love, the universe and everything.
This book may just be the thing that turns the book-hater in your life into a book-lover, well, unless they are eaten by aliens first.
Free Home Delivery
on all orders
Pick up orders
from local bookshops