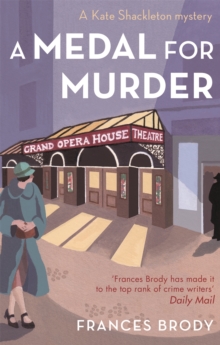 A Medal For Murder : Number 2 in series
Paperback
Description
A pawn-shop robbery- It's no rest for the wicked as Kate Shackleton picks up her second professional sleuthing case.
But exposing the culprit of a pawn-shop robbery turns sinister when her investigation takes her to Harrogate - and murder is only one step behind ...A fatal stabbing- A night at the theatre should have been just what the doctor ordered, until Kate stumbles across a body in the doorway.
The knife sticking out of its chest definitely suggests a killer in the theatre's midst.
A ransom demand- Kate likes nothing better than a mystery - and nothing better than solving them.
So when a ransom note demands GBP1,000 for the safe return of the play's leading lady, the refined streets of Harrogate play host to Kate's skills in piecing together clues - and luring criminals out of their lairs ...
Information
Format: Paperback
Pages: 432 pages
Publisher:
Publication Date: 01/10/2010
Category: Crime & mystery
ISBN: 9780749941925
Free Home Delivery
on all orders
Pick up orders
from local bookshops
Reviews
Showing 1 - 4 of 4 reviews.
Review by AdonisGuilfoyle
16/06/2015
'Medal for Murder' is the second Kate Shackleton mystery by Frances Brody, eagerly awaited and highly enjoyable! Murder mysteries always elude me - watching the detectives is more my style - but the puzzle kept me engrossed, and I was surprised by certain twists and false clues. Now a fully fledged private investigator, with an assistant and a cherrywood filing cabinet, Kate Shackleton is hired to investigate a robbery at a pawnbrokers in Leeds. A strange coincidence leads her investigation to Harrogate, where an eccentric theatre acquaintance is also staging her first production. After the play, Kate and her friend find the body of one of the play's sponsors in a doorway, and a starlet from the cast goes missing. Her grandfather, a veteran of the Boer war, is sent a ransom note, and asks Kate to help find her. Involved in three apparently separate cases, Kate's inquisitive nature is aroused, but the deeper she delves, the more secrets are uncovered.I vastly prefer 'cosy' detective mysteries to the more hardcore police procedural series out there, and the Kate Shackleton books have the added bonus of being set in 1920s Yorkshire! Kate is a thoroughly modern lady of independent means, running a business with former policeman as an assistant, driving her own car, and flirting with Scotland Yard detectives. Although Frances Brody keeps the post-WW1 era in mind, her brave and intelligent heroine is never held back in her determination to find the truth, and even uses her 'gentle sex' and genteel appearance to her advantage. The only time in this novel that I thought Kate was perhaps being rather too daring was the romantic development towards the end, but I suspect that relationship is going to continue with the series, so maybe Kate knows best after all!I really enjoyed the South African backstory and the guided tour around Harrogate, which Frances Brody obviously researched well, and I didn't suspect the real murderer at all. My only gripe is that I had to wait so long for the sequel!
Review by wyvernfriend
16/06/2015
Kate Shakleton is engaged in a simple mission, to inform some people about their missing goods after a pawn-shop robbery, things change when she goes to the theatre and ends up being caught up in a murder mystery alongside a kidnapping, but nothing is as it seems and it's all very complicated.Interesting and it did keep me wondering throughout.
Review by riverwillow
16/06/2015
After the second book in the series I'm still undecided as to whether or not to keep going. The plot was over-complicated and I guessed one of the key clues quite early on in the book.I also didn't warm to any of the main characters in the book as they were just so unlikeable, But I do like the idea of Kate, not quite a war widow, setting herself up as a private investigator and I do like her relationship with Sykes, which looks to develop in interesting ways. Am less convinced by the relationship with Inspector Marcus Charles, but we will see how this develops in the next book.
Review by picardyrose
16/06/2015
If you want to participate in a kidnapping, try harder. And don't stab people with fancy daggers.
Also in the Kate Shackleton Mysteries series | View all