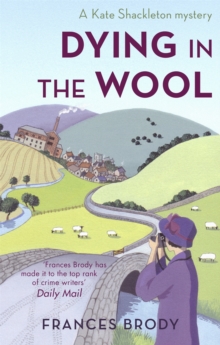 Dying In The Wool : Number 1 in series
Paperback
Description
Take one quiet Yorkshire Village, add a measure of mystery, a sprinkling of scandal and Kate Shackleton - amateur sleuth extraordinaire!Bridgestead is a quiet village: a babbling brook, rolling hills and a working mill at its heart.
Pretty and remote, nothing exceptional happens, except for the day when Joshua Braithwaite, goes missing in dramatic circumstances, never to be heard of again.Now Joshua's daughter is getting married and wants one last attempt at finding her father.
Has he run off with his mistress, or was he murdered for his mounting coffers?
Kate Shackleton has always loved solving puzzles. So who better to get to the bottom of Joshua's mysterious disappearance?
But as Kate taps into the lives of the Bridgestead dwellers, she opens cracks that some would kill to keep closed . . .
Information
Format: Paperback
Pages: 368 pages
Publisher: Little, Brown Book Group
Publication Date: 01/09/2009
Category: Historical mysteries
ISBN: 9780749941871
Free Home Delivery
on all orders
Pick up orders
from local bookshops
Reviews
Showing 1 - 5 of 5 reviews.
Review by AdonisGuilfoyle
16/06/2015
Excellent 1920s murder mystery, set in my neck of the woods. Guilty of judging the book by its cover, I was tempted to read this while processing a reference copy ('local author') for the library where I work. The quaint illustration by Helen Chapman really says it all - mill town, rural setting, figure in a cloche hat snapping a picture - and the story itself does not disappoint.The year is 1922, and Kate Shackleton is one of the 'surplus women' widowed by the Great War, an all too common heartache for a generation of lonely women left behind when their loved ones were killed on the battlefield. Of course, this also means that Kate is now an independent woman living comfortably by herself, although she hasn't quite given up the ghost of her surgeon husband, who has the intelligence and initiative to put her spare time to use helping others. After a couple of 'amateur' investigations helping to trace missing people for friends, Kate receives her first paying case - find the father of a wartime acquaintance. Joshua Braitwaite, wealthy mill owner from 'Worstedopolis' (the area around Bradford and Leeds), disappeared from home in 1916, after apparently attempting to commit suicide. Now his daughter wants answers - is he still alive, and if so, why did he leave? Or did he suceed in taking his own life, broken over the death of his son in France? Kate sets to work, finding skeletons in the Braithwaite closet.I really enjoyed this mystery, not least the local history, and can't wait to read Brody's next Kate Shackleton novel. Kate has all the markings of a famous literary detective - connections, curiosity and a sidekick - but she is also a winsome and amusing narrator, at times vulnerable and motivated by her own loss, but always honest and determined. The era is also perfect, allowing a measure of independence for women emboldened by war work and forced to survive on their wits, yet still unwelcome in a man's world of crime investigation. Kate even has her own car, which is shocking in itself! Frances Brody gets the time and place just right, flavouring a neat mystery with historical detail and Yorkshire humour.
Review by wyvernfriend
16/06/2015
Kate Shakleton's husband is missing presumed dead from World War I and she's part of the surplus women. In some denial about the loss of her husband she started investigating other missing men. Now a former acquaintance from the VAD wants her help to find her father, Tabitha Braithwaite is getting married soon and wants her father to walk her up the aisle. Her father owned a mill and disappeared after an apparent suicide attempt. When Kate starts investigating she finds a lot of skeletons in the cupboard and things aren't straightforward. She also finds assistance in Jim Sykes, a former policeman.Overall it's an interesting story, I'm not sure that the flashbacks quite work but as a first book in a series it does make me want to read more in this series, I'm fond of books set in this period and what to see what happens next. The resolution of the story wasn't completely satisfactory but it wasn't bad.
Review by riverwillow
16/06/2015
Kate Shackleton, a not-quite war widow, her husband is listed as missing and she can't quite accept that he's dead, possibly because she's also helped some of the families of other soldiers listed as missing track them down, and is aware that some men have used the chaos of war to enable them to walk away from their lives. Kate's VAD friend, Tabby, is getting married and wants to find out just what happened to her father, a wealthy mill-owner who disappeared in 1916. Full of period atmosphere I hoped I enjoy this book more than I did, but this may be a series that takes a couple of books to really get going.
Review by picardyrose
16/06/2015
Missing a missing-presumed-dead husband doesn't give this harmless little mystery series any resonance or connection with the war. Stop comparing her to Jacqueline Winspear.
Review by Condorena
16/06/2015
Kate Shackleton is a woman in her thirties who persists in believing that her husband Gerald is still alive but MIA from WWI. Everybody else considers her a widow. She has spent quite a bit of time searching for him in vain but she did acquire the skills necessary to find people. Many others have been rewarded when she found relatives of theirs also MIA. <br/><br/>Kate takes on a case of a missing father for a friend who was also in the VAD, (Volunteer Aid). In other words yet another plucky ambulance driver alá Maisie Dobbs, Jade DeCameron and Phryne Fisher from the pages of other mystery writers who have plucky heroine ex-ambulance drivers as protagonists.<br/><br/>In this case the missing man was not in the armed services, rather he took a tumble, hit his head and everyone stupidly decided he was suicidal so he ran away. The story is more interesting than it sounds but it takes until the last sixth of the book to spark your interest. There are a few gimmeabreak moments in the exposition of this mystery and you can't quite feel any sympathy for the girl who is missing her father, or for the father for that matter.<br/><br/>The depiction of the times was good and the description of the area was nice but it suffers in comparison just a bit with similar protagonists.<br/><br/>I may read the next in the series to see if it gets any stronger.
Also in the Kate Shackleton Mysteries series | View all