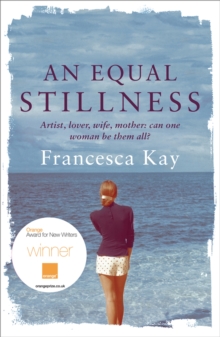 An Equal Stillness
Paperback
Description
An outstanding debut novel about the conflicts of creativity and family and a love affair that survives against all the odds. Jennet Mallow is born in Yorkshire in the 1920s but her interest in art and creativity alienates her from her family, her father who is a priest, her conventional sister and her emotionally stunted mother.
Jennet moves to London in search of a more exciting life and finds it in her new environment and in the handsome and enigmatic figure of the painter David Heaton.
When Jennet falls pregnant, her parents more or less force the two to marry.
In the post-war austerity of the 1940s, the young couple struggles to make ends meet and Jennet finds that her home life is gradually eroding everything she has fought to achieve.
Aware that David is becoming increasingly reliant on drink and tired of the dank and drab bed-sit in which they live, Jennet suggests they move to Spain.
There, the bright blue skies, warm air and sunlit beaches give the couple and their children a new lease of life.
Jennet begins to paint again and an agent takes an interest in her work. But as Jennet's own career begins to take off, her relationship with David sours and the two enter a destructive spiral with tragic consequences.
Information
Format: Paperback
Pages: 336 pages
Publisher: Orion Publishing Co
Publication Date: 03/08/2009
ISBN: 9780753825655
Free Home Delivery
on all orders
Pick up orders
from local bookshops
Reviews
Showing 1 - 3 of 3 reviews.
Review by lesleymc
16/06/2015
I enjoyed the underlying story however I found this a book of three parts. One part story line, one part art discriptions and one part flowery phrases. The story line was interesting enough when you got past the way too many idulgent flowery phrases and art discriptions. Less would definately be more in this case. A few well constructed beautiful phrases can be long remembered after you finish a book but so many just get lost and you find yourself wading through them to get to the meat and bones of the story instead of enhancing it . I found by the end of the book I didn't actually like any of the characters.
Review by FiBee
16/06/2015
Really enjoyed this book, well written, good plot, believable with lots to say.
Review by timswings
16/06/2015
Novel about the sources of creativity. Told is the story of a woman painter, Jennet Mallow (1924-2000) from her youthfull discovery of her love for drawing, till the end of her eventfull, passionate and dramatic life. Described are her childhood, young womanhood, relations with her father (crippled by memories of devasting wars), her disappointed mother, her fat sister, her art schooling, husband, familylife, children and lovers. And foremost her drive to paint and the concentration she need to succeed. A good deal of the book is spent on the description of the paintings. The story is loosely modelled on the life of British sculptor Barbara Hepworth and her circle. The First half of the novel is a good read. Beautiful descriptions about form and colour, but then the concept starts to rankle and looses her credibility. Still I found it a readable book about a subject I love; painting in form, colour and substance.