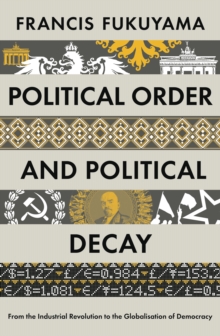 Political Order and Political Decay : From the Industrial Revolution to the Globalisation of Democracy
Hardback
Description
In The Origins of Political Order, Francis Fukuyama took us from the dawn of mankind to the French and American Revolutions. Here, he picks up the thread again in the second instalment of his definitive account of mankind's emergence as a political animal.
This is the story of how state, law and democracy developed after these cataclysmic events, how the modern landscape - with its uneasy tension between dictatorships and liberal democracies - evolved and how in the United States and in other developed democracies, unmistakable signs of decay have emerged.
If we want to understand the political systems that dominate and order our lives, we must first address their origins - in our own recent past as well as in the earliest systems of human government.
Fukuyama argues that the key to successful government can be reduced to three key elements: a strong state, the rule of law, and institutions of democratic accountability.
This magisterial account is required reading for anyone wishing to know more about mankind's greatest achievements.
Other Formats
Paperback from £10.35
EPUB from £7.19
Free Home Delivery
on all orders
Pick up orders
from local bookshops
Reviews
Showing 1 - 1 of 1 reviews.
Review by atticusfinch1048
16/06/2015
Political Order and Political Decay: From the Industrial Revolution to the Globalization of DemocracyFrancis Fukuyama has followed up his previous volume The Origins of Political Order: From Prehuman Times to the French Revolution (2011) with Political Order and Political Decay, which takes us crashing through the 19th century up to current times. This volume is a mighty tome of political and historical analysis that at times does not make it an easy read but at the same time does make it an interesting and challenging read. Having been a practitioner in politics and with a degree and working in history I found this to be an interesting and at times contradictory book that certainly made me think. I can see this being added to many an academic reading list because in reviewing this novel I certainly made some wide ranging notes.The single theme of the book that Fukuyama does set out early to make before anyone can come up with something different is that "There is a political deficit around the world, not of states but of modern states that are capable, impersonal, well organised and autonomous." What we do learn and Fukuyama makes the point throughout the book is that the problems with developing countries are by-products of the fact that they have weak and ineffective states, while pointing out that weak states are not simply just developing countries but a number of modern countries too.Fukuyama gives plenty of examples of various countries and uses them especially when using comparisons and he does not limit himself to established democracies such as the USA, UK, Germany but not afraid to use countries such as Argentina, Greece and Denmark to illustrate his evidence. He sets out how he will use these illustrations when he sets out what his idea of Political Development is settling on three categories of institutions that constitute a political order; 1. The State, 2. The Rule of Law, 3. The mechanisms of accountability. At the same time Fukuyama is not afraid to criticise the USA and how the libertarians would say the problem is government period and the individual is king and where democracy is locked in to the wealthy, powerful and Corporations who use the democratic institutions to pursue and protect their own causes. Fukuyama notes that this will eventually lead to political decay in the USA.He is not afraid to hit head on the "Cancer of Corruption" and that it is not just going to impede the development of poorer countries but it deeply affects the nature of the mature democracies. He also makes it clear that since the Cold War that there has been a major push to combat corruption to aid the broader development to build and strengthen states. When it fails you find even modern countries such as Greece and Italy have problems where corruption can bring an economy to its knees.Fukuyama ends with the question is should we believe in liberal democracy or is it really doomed and is it right that Western Democracies are trying to enforce their version of democracy on developing countries. Is it right that a distorted view of history and politics is right for us to enforce on others. Have we got it democracy right or is it in decay? These are the questions we are asked as if we are a jury about to be sent out, where Fukuyama has laid the evidence before us to make our own decision.Some may find Political Order and Political Decay: From the Industrial Revolution to the Globalization of Democracy rather ponderous and over egging the pudding, others such as myself who find this an engrossing read with excellent examples sometimes it is telling with some countries that are missing such as India. This is a fantastic book for questioning and challenging our thinking and help us look at our own democracy and is it everything we would like it to be and is it fair to force our world view on other countries. I do like that he uses Denmark as what we should strive to be as a modern democracy, but I am not sure some countries and people would be happy with coalition governments.