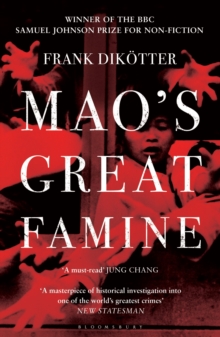 Mao's Great Famine : The History of China's Most Devastating Catastrophe, 1958-62
Paperback
Description
Winner of the BBC Samuel Johnson Prize for Non-Fiction 2011 Between 1958 and 1962, 45 million Chinese people were worked, starved or beaten to death. Mao Zedong threw his country into a frenzy with the Great Leap Forward, an attempt to catch up with and overtake the Western world in less than fifteen years.
It led to one of the greatest catastrophes the world has ever known.
Dikotter's extraordinary research within Chinese archives brings together for the first time what happened in the corridors of power with the everyday experiences of ordinary people, giving voice to the dead and disenfranchised.
This groundbreaking account definitively recasts the history of the People's Republic of China.
Information
Format: Paperback
Pages: 448 pages, Illustrations, map
Publisher: Bloomsbury Publishing PLC
Publication Date: 03/05/2011
Category: Asian history
ISBN: 9781408810033
Free Home Delivery
on all orders
Pick up orders
from local bookshops
Reviews
Showing 1 - 4 of 4 reviews.
Review by jcbrunner
16/06/2015
I long refrained from picking up this book, not certain whether I could stomach the tales of horror and suffering. More than 45 million Chinese people died between 1958 and 1962, solely due to the mad superpower dreams of an uncaring dictator. This is a good account of one of the 20th century's largest human-induced catastrophes (ranking eleventh in Steven Pinker's historical atrocities rating).The truly grizzly narrative thankfully only starts in part four. The first three parts of the book offer an introduction to how and why Mao pushed his country into this hasty and wasteful change. China had long been a Soviet client which supplied it with capital and technology. Mao wanted to break out of the Soviet embrace while continuing to develop China towards superpower status. As a measure to regain independence, China started to pay for Soviet technology with food. As China did not have a surplus of food, these exports deliberately triggered famine for millions of Chinese. A second source of hunger was the shift from agriculture to heavy industry. Lacking (foreign) experts, China started to build up an inefficient heavy industry that destroyed the environment and interrupted the Chinese food supply. The Chinese peasants, living in collective communes, were under the total control of the party bullies who controlled access to food. The level of violence willingly even eagerly inflicted on neighbors is a shocking testament to homo homini lupus, Chinese-style.The perverse benchmarking of the party apparatchiks, fudging the numbers and hiding the truth, escalated and prolonged the disaster. The fault, however, rests with Mao who deliberately refused to listen and care. As Jung Chang argues, when the party finally forced him to stop, he designed the Cultural Revolution to punish them for their intervention. The suffering and death, as told in parts four to six, makes for an uncomfortable read as society's weakest suffered the most (part five: children, women, the elderly). Even the Soviets who knew about inflicting pain were shocked by the Chinese brutality and indifference to the plight of others. A truly dark chapter of human history that deserves wider acknowledgment.
Review by mnicol
16/06/2015
Brilliant account. Horrible reading it.
Review by Eyejaybee
16/06/2015
I found this book fascinating though I was appalled by it contents. Hitherto my knowledge of China under Chairman Mao had been very sketchy, and references to the Great Leap Forward conveyed very little.As a consequence of misguided policies, flawed implementation, endemic corruption and a hefty sprinkling of sheer evil maybe as many as 45 million people died in China between 1958 and 1962.. Frank Dikotter's impressive book achieves the rare double of being incredibly informative (and clearly exhaustively researched) yet still very readable. Well, I say "readable" but perhaps that is not the correct term. I don't mean any reflection on Dikotter's prose – he is always lucid and compelling. However, I found much of his subject matter so ghastly that at times I felt I had to break off for a while. The catalogue of incompetence seems almost endless, and I felt myself moved to anger throughout the whole book. Not only did Mao's regime do stupid things, they seemed impervious to precedent and would continually repeat the same errors, only to find the same dreadful results.Colossal irrigations schemes were tried, but all failed owing to a lack of understand of basic hydrography. There were constant campaigns to boost steel production but these just fell apart, and export orders went unfulfilled. The collectivisation of farming failed completely, with grain yield figures being falsified at every level. There was the world's greatest ever campaign of destruction of property as hundreds of thousands of rural houses were destroyed so that the mud bricks of which they were constructed could be used as fertiliser. Sadly no-one had stopped to consider where the people thus rendered homeless might subsequently live. Many now homeless peasants were reduced to eating the thatch of their former homes as all other food disappeared. Another campaign was waged to deter sparrows and other birds who were thought of as endangering harvests because they might eat grain. Unfortunately the removal of the bird population led to swarms of the various insects that they did actually live off, with dire effects on the arable crops. Yet while millions starved at home, China continued to sell grain overseas or even, in many instances, to give it away as humanitarian aid.Fascinating and enlightening, yet also wholly gruesome.
Review by xuebi
16/06/2015
The Great Famine in China during the Great Leap Forward was one of the greatest man-made natural disasters in all history, with countless millions dying by official negligence and starvation. <br/><br/>Frank Dikötter has had access to formally-closed archives on the Chinese mainland and for the first time chronicles what happened in the higher echelons of the Chinese government during the time in which ultimately forty-five million people died. <br/><br/>Along with <i>:Tombstone: The Great Chinese Famine</i> by Yang Jisheng which catalogues the sheer humanity of this disaster, Dikötter's book helps bring together the experience of ordinary people and the governmental policies that led to the famine in a way that forces us to re-assess modern Chinese history and most importantly the role of Mao Zedong.