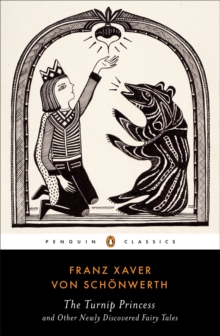 The Turnip Princess,
Paperback
Description
A rare discovery in the world of fairy tales - now for the first time in English.
With this volume, the holy trinity of fairy tales - the Brothers Grimm, Charles Perrault, and Hans Christian Andersen - becomes a quartet.
In the 1850s, Franz Xaver von Schonwerth traversed the forests, lowlands, and mountains of northern Bavaria to record fairy tales, gaining the admiration of even the Brothers Grimm.
Most of Schonwerth's work was lost - until a few years ago, when thirty boxes of manu-scripts were uncovered in a German municipal archive.
Now, for the first time, Schonwerth's lost fairy tales are available in English.
Violent, dark, and full of action, and upending the relationship between damsels in distress and their dragon-slaying heroes, these more than seventy stories bring us closer than ever to the unadorned oral tradition in which fairy tales are rooted, revolutionizing our understanding of a hallowed genre. 'Schonwerth's tales have a compositional fierceness and energy rarely seen in stories gathered by the Brothers Grimm or Charles Perrault' -The New Yorker 'Schonwerth's legacy counts as the most significant collection in the German-speaking world in the nineteenth century' - Daniel Drascek, University of Regensburg Franz Xanver von Schonwerth (1810-1886) was born in Bavaria and had a successful career in law and the Bavarian royal court before devoting himself to researching the customs of his homeland and preserving its fairy tales and folklore. Maria Tatar chairs the program in folklore and mythology at Harvard, and has edited and translated many collections of fairy tales.
Eeika Eichenseer is a historian and preservationist working for the Bavarian government and the director of the Franz Xaver von Schonwerth Society.
Information
Format: Paperback
Pages: 288 pages
Publisher: Penguin Putnam Inc
Publication Date: 24/02/2015
Category: Classic fiction (pre c 1945)
ISBN: 9780143107422
Free Home Delivery
on all orders
Pick up orders
from local bookshops
Reviews
Showing 1 - 4 of 4 reviews.
Review by Strider66
27/08/2015
Pros: fun, wide variety, readable translation, interesting characters, informative introductionCons: commentary could have been more in depthThis is a collection consists of 72 of the lost tales Franz Xaver von Schönwerth recorded in the Eastern Bavarian region of Oberpfalz in the late 1850s. Rediscovered recently and translated into English, this collection allows modern readers more insight into the Germanic oral culture of what we now call fairy tales. There's a short forward by the historian who discovered the papers on how this volume came to be published. The translator of the collection, the chair of folklore and mythology at Harvard, does the introduction and commentary on each of the stories. The introduction explains where these stories fit with the other tales that have come down to us and points out that fairy tales morphed from stories told by and to adults into stories told more often by women (whether mothers or nannies) to children. Which is why there are so many princesses and female rags to riches stories, and so few such tales about boys. This book brings back several tales of 'Cinderfellas' and other disenfranchised young men. The commentaries, coming at the very end of the collection, mention the similarities between these tales and others we're familiar with. There's only room for a little explanation, so some of the commentaries are merely synopses while others have a bit more depth to them.While some of the tales have morals and happy endings, several don't have either, with some truly unscrupulous people getting away with horrible things and curses going unbroken. And since these were oral tales you can expect a lot of twists out of left field, where the stories turn on previously unmentioned characters and events. The collection is separated into seven categories: Tales of Magic, Enchanted Animals, Otherworldly Creatures, Legends, Tall Tales and Anecdotes, and Tales About Nature. It's a decent attempt to separate the stories, but the reality is that most of the stories can fit into several categories and that some stories with similar elements end up in different sections. There are a few with overly Christian themes (including some tales with the devil as the antagonist), and some with more 'pagan' themes. There are a lot of dwarfs and witches/evil women, and a smaller number of elves, gnomes, mermaids and other fantastical creatures. And curses. Lots and lots of curses.One story ended with a very modern idiom, which made me wonder what the original German said, but on the whole I thought the translation was great, immersive and entertaining.The stories are only a few pages each and the collection as a whole is a quick and pleasant read. While most of these wouldn't be considered 'children's stories', they're not overly bloody or ribaldrous. The collection is fantastic for the variety of tales told and for the ways they used the fairy tale tropes we've become familiar with.
Review by Cherylk
16/06/2015
Ok, so I found this to be a great anthology of short stories. Each one just as good as the last. Sometimes I found some stories not as likable or half of the book this way. SO then I feel cheated or let down. Which I did not feel while reading this book. I was familiar with a lot of the stories but a bunch I was not familiar with so I was intrigued by those ones. Yet at the same time it was nice to rediscover and reconnect with the old ones as well. Not every story is warm and fuzzy either. Some where really dark which I really digged. I can't pick just one or two or even five stories. Because as I said before, I enjoyed them all. So if you like fairy tales, then treat yourself to this book.
Review by ivydtruitt
16/06/2015
3.5 starsFranz Xaver Von Schonwerth was a contemporary of the Brothers Grimm and they spoke highly of his efforts to save the folk stories of the Bavarian people. In 2010 a large lost collection was discovered. This is the first English translation of those long misplaced tales.THE TURNIP PRINCESS and Other Newly Discovered Fairy Tales are nothing like the stories of The Brothers Grimm, Charles Perrault, or Hans Christian Anderson. These are the authentic stories just as they were told to Van Schonwerth. Unlike the aforementioned chroniclers there's been no polishing, fleshing out, or gentling of these tales.Readers can imagine themselves sitting round a fire or hearth with stories being told by everyone, from the youngest to the oldest. Some are disjointed, leaping in time and place with little or no logic, as a child might relate. Others are more cohesive and longer but not by much, the longest being only a few pages. These short tales were written and translated directly from the oral tellings. Princes, princesses, enchanted animals, dwarfs, giants, witches, and other requisite fairy tale creatures are all accounted for. These tales lack the polish and panache today's popular fairy tales possess, but readers will have no problem recognizing many modern fairly tales in their most rudimentary forms in THE TURNIP PRINCESS and Other Newly Discovered Fairy Tales. I won't name any names; it's more fun to figure them out for on your own.For readers who have always wondered what fairytales were like before being adapted or sanitized this is the book you've been waiting for.Reviewed for Miss Ivy's Book Nook Take II, Manic Readers & Novels Alive TV
Review by lostinalibrary
27/08/2015
Like so many other readers, fairy tales were a huge part of my childhood. They were my cautionary tales, my morality plays, and my protection against the evil that lurked under the bed. As much as I loved the sanitized versions in the Disney movies, it was the older tales in which there was no huntsman to save Little Red and Bluebeard had ways to deal with curious wives. Even as I grew out of childhood, I never completely outgrew the magic of fairytales. So when a few years ago, a treasure trove of fairy tales were discovered in a vault that had been locked for 150 years, I, like so many others, was thrilled at the prospect of reading them. The tales were originally collected by Franz Xaver Schonwerth in Bavaria in the 1850s. According to the Introduction, he wanted to preserve them in their original form so what we get here are the tales as they were first told to him and as he wrote them down. They were beautifully translated by Harvard Professor and folklorist, Maria Tatar.The Turnip Princess offers 72 of these rediscovered stories. Many are familiar and are clearly regional variations on familiar tales like Cinderella and Snow White but many like the title story are completely unique. The stories are collected into six parts, each representing the type of tale: animals, magic, nature, legends etc. and they are all quite short, some as little as a paragraph. There is also an introduction that explains the history and significance of the discovery and, at the end, a synopsis of the tales.As is pointed out in the introduction, fairy tales were not originally for children but were 'cleaned up' in later years to be more child-friendly. Thankfully, these tales have not been sanitized for a young audience so that we not only get to see fairy tales as they were originally told but, with this, we are given a better understanding of the original audience - there are, for example some interesting scatological references in some of the tales that suggest that a 19th c. audience appreciated a good 'fart' joke as much as we do. There is also an interesting amount of gender-bending in many of these tales so that Cinderella becomes 'Cinderfella' as well as several overt Christian references often linked with more pagan imagery. As Maria Tatar says, these stories are 'almost on steroids' full of sex and violence and they will completely change your perspective on 'happily ever after'.
Also by Franz Xaver von Schonwerth