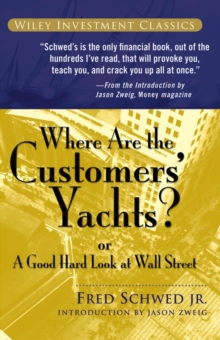 Where Are the Customers' Yachts? Or a Good Hard Look at Wall Street
Paperback
Description
'Once I picked it up I did not put it down until I finished...What Schwed has done is capture fully-in deceptively clean language - the lunacy at the heart of the investment business' - From the Foreword by Michael Lewis, Bestselling author of "Liar's Poker". '...one of the funniest books ever written about Wall Street' - Jane Bryant Quinn, "The Washington Post". 'How great to have a reissue of a hilarious classic that proves the more things change the more they stay the same.
Only the names have been changed to protect the innocent' - Michael Bloomberg. 'It's amazing how well Schwed's book is holding up after fifty-five years.
About the only thing that's changed on Wall Street is that computers have replaced pencils and graph paper.
Otherwise, the basics are the same. The investor's need to believe somebody is matched by the financial advisor's need to make a nice living.
If one of them has to be disappointed, it's bound to be the former' - John Rothchild, Author, "A Fool and His Money", Financial Columnist, "Time" magazine.
Humorous and entertaining, this book exposes the folly and hypocrisy of Wall Street. The title refers to a story about a visitor to New York who admired the yachts of the bankers and brokers.
Naively, he asked where all the customers' yachts were?
Of course, none of the customers could afford yachts, even though they dutifully followed the advice of their bankers and brokers.
Full of wise contrarian advice and offering a true look at the world of investing, in which brokers get rich while their customers go broke, this book continues to open the eyes of investors to the reality of Wall Street.
Information
Format: Paperback
Pages: 208 pages
Publisher: John Wiley and Sons Ltd
Publication Date: 01/12/2005
Category: Investment & securities
ISBN: 9780471770893
Free Home Delivery
on all orders
Pick up orders
from local bookshops
Reviews
Showing 1 - 2 of 2 reviews.
Review by drewfull
16/06/2015
A fun book that offers no solutions nor concrete advice, but does it's darndest to illustrate the problems on 1930's Wall Street, most of which are as poignant today as they were then. Schwed is consistently entertaining, self-deprecating and fair minded towards those oft villified wall street bankers and brokers. A key point Schwed makes that's worth remembering (especially these days) is that mistakes are made more often out of well-intentioned idiocy than crookery, but that each are equally damaging. While Schwed spends most of his time explaining and lamenting the situation instead of proferring answers, he manages to get away with it due to the humorous treatment he gives investing and finances in general.
Review by dougb56586
16/06/2015
This book is a humorous review of the Stock Market. It was written about 10 years after the 1929 stock market crash by an author who had been working on Wall Street at the time. His definitions of speculation ("an effort, probably unsuccessful, to turn a little money into a lot") and investment ("an effort, which should it be successful, to prevent a lot of money from becoming a little") seem to sum up his views on the function or futility of buying and selling stocks. Most of the book serves to convince the reader of the validity of his definition of speculation. He does not provide details for how to achieve the goal investing as he defines the term. However, his biography indicates that he continued to work in the financial industry even after his experience of 1929, so it appears that, at the least, he believed successful investing was feasible. In spite being written more than 50 years ago, the book is probably still relevant. First, because his definition of "speculation" remains accurate in describing a lot of stock trading. And secondly, because the lack of a reliable approach to successful "investing" is still the case. And the book is both informative and witty.
Also in the Wiley Investment Classics series | View all