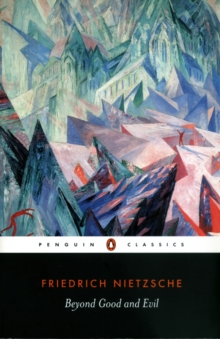 Beyond Good And Evil
Paperback
Description
Friedrich Nietzsche's Beyond Good and Evil is translated from the German by R.J.
Hollingdale with an introduction by Michael Tanner in Penguin Classics. Beyond Good and Evil confirmed Nietzsche's position as the towering European philosopher of his age.
The work dramatically rejects the tradition of Western thought with its notions of truth and God, good and evil.
Nietzsche demonstrates that the Christian world is steeped in a false piety and infected with a 'slave morality'.
With wit and energy, he turns from this critique to a philosophy that celebrates the present and demands that the individual imposes their own 'will to power' upon the world. This edition includes a commentary on the text by the translator and Michael Tanner's introduction, which explains some of the more abstract passages in Beyond Good and Evil. Frederich Nietzsche (1844-1900) became the chair of classical philology at Basel University at the age of 24 until his bad health forced him to retire in 1879.
He divorced himself from society until his final collapse in 1899 when he became insane.
A powerfully original thinker, Nietzsche's influence on subsequent writers, such as George Bernard Shaw, D.H. Lawrence, Thomas Mann and Jean-Paul Sartre, was considerable.
If you enjoyed Beyond Good and Evil you might like Nietzsche's Thus Spoke Zarathustra, also available in Penguin Classics. 'One of the greatest books of a very great thinker' Michael Tanner
Other Formats
Paperback from £4.20
Hardback from £8.59
PDF from £1.94
EPUB from £1.94
Paperback / softback from £5.50
eAudiobook MP3 from £14.24
Free Home Delivery
on all orders
Pick up orders
from local bookshops
Reviews
Showing 1 - 3 of 3 reviews.
Review by pingdjip
16/06/2015
Some of my colleagues are infatuated with Nietzsche, and judging by this book it's easy to understand why. In places it sounds considerably poststructural (I work in a literature department). It's about complexity ("our body is, after all, only a society constructed out of many souls", section 19), determinism and power-relations. Nietzsche considers language a constituating force (20), tightly linked to experience (268). He undertakes a typology of value systems (186), meaning to expose and to undermine them. He subordinates truth to interest and he questions the reality of oppositions: "we can doubt whether opposites even exist" (2). This was funny and familiar. But gradually I grew irritated, because of what seemed a continuous promotion of arrogance and rudenes. Please stop bullying supposedly "ill" and "degenerated" people, i thought. To make matters worse, he debunked Madame de Stael (233). I'm a fan of hers. But then my opinion swung again. He deals with the downsides of intellectual distance (chapter 6) in an intriguing way. In chapter 8 he makes broad sweeping statements about european culture, that are, if not really convincing, still interesting. Then, in the concluding chapter, he zooms in on his favorite subject, the "noble" person. Surprisingly this figure now loses its arrogant looks and adopts an almost tragic countenance, prone to self-destruction and loneliness (269-284). The writing here is very serious and passionate, and results in an embrace of Dionysos, "that great ambiguity and tempter god" (295).
Review by AJBraithwaite
16/06/2015
The passage which really summed up this book for me was "Every deep thinker is more afraid of being understood than of being misunderstood." Yep, right there. It's what annoys me about a lot of philosophy - I just want people to be able to write clearly and honestly about what they actually mean. Nietzsche's language is so dense and impenetrable (and clearly deliberately so) that it is frustrating to read. There's definitely a whiff of the emperor's new clothes about this book.And don't get me started on his views about women: "nothing is more foreign, more repugnant, or more hostile to woman than truth - her great art is falsehood, her chief concern is appearance and beauty." Oh dear, too late, I can't stop now: "When a woman has scholarly inclinations there is generally something wrong with her sexual nature. Barrenness itself conduces to a certain virility of taste..."."Comparing man and woman generally, one may say that woman would not have the genius for adornment, if she had not the instinct for the <em>secondary</em> role."I thought Erasmus's views were bad, but he lived four hundred years before Nietzsche. I had hoped that by the late nineteenth century 'deep thinkers' might have become more enlightened. Apparently not.
Review by joeydag
27/08/2015
required reading in college. I got ignored by the professor as I ignored N as a blathering anti-semite. Little did I know how to read anti-jewishness as an intellectual category and a tool for analysis of a cultural trend.