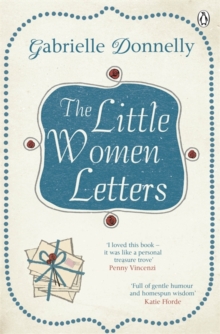 The Little Women Letters
Paperback
Description
When Josephine March's great-great-granddaughter stumbles across her letters, the "Little Women" shed a glorious light on a new generation of sisters.
The Atwaters are a loving, sprawling mess of a family and Fee's three daughters, Emma, Lulu and Sophie couldn't be less alike if they tried.
Emma is planning her wedding, Sophie is an up-and-coming actress, but Lulu - the cleverest of them all - is more than a little lost.
If life is for living, why is she stuck in a series of dead-end jobs?
Grandma Jo's letters had been gathering dust in the attic for decades, but when Lulu gets her hands on them, everything seems to change and different worlds begin to open up. And even though dark family secrets emerge, Jo's words offer comfort and guidance across the centuries.
Sometimes family is all that matters. And sisters are the closest friends you can find.
Information
Format: Paperback
Pages: 448 pages
Publisher: Penguin Books Ltd
Publication Date: 26/05/2011
ISBN: 9780718156589
Free Home Delivery
on all orders
Pick up orders
from local bookshops
Reviews
Showing 1 - 2 of 2 reviews.
Review by mnleona
16/06/2015
Gabrielle Donnelly has brought the Little Women of the late 1880s into contemporary times with letters from the past. This is a book about the Atwater family and the ancestors of Fee and her daughters. The daughters, Emma, Lulu and Sophie are all different as were the March girls. The March family lived in Boston and the Atwater family live in London. Lulu has gone into the attic to find family recipes for Great Aunt Amy who lives in Boston. As she goes through old papers, she finds letters written by Jo. I will say the letters are so real, there is a lot of emotions while reading them. For those who have read the books and watched the movies on the Little Women, the reader will go back into time. The Letters make the book. The book is based around the family and even though the girls, all women, have sarcastic remarks to each other at times, I personally see a great family closeness.The parents of Emma, Lulu and Sophie were at one time hippies. David is a publisher and travels a lot; Fee is interested in her garden. Emma is planning her wedding, Sophie is a upcoming actress and Lulu is still looking for her place in life. Charlie is a close friend that is like a member of the family and Matthew is the boyfriend of Sophie. There are other characters in the book and the author fits everyone into place.The book goes back and forth from letters that Lulu reads in secret while in the attic to the modern lives of the characters in the book. The "crisis" might be shoes, food or where to live. I have been to London and so liked the references to the different areas. This is an easy read and also a fun read. Very entertaining.I liked The Little Women Letters and find it is a re-read for me. I will give it four star. I wish to thank Gabrielle Donnelly for the complimentary copy of The Little Women Letters.
Review by sunnycouger
16/06/2015
I read Little Women so much growing up that when I saw this book it almost became a must have. It's an interesting and fun concept - a woman finding the letters of her ancestor who just so happened to be Jo March and the author is very successful with it. We have a modern day family (the Atwaters) with three sisters (Emma - the Meg equivelant, Lulu - the Jo who finds the letters and Sophie - the Amy) who can trace their line via their mother back to Boston and the infamous 'Grandma Jo' - a legendary figure within the family that the sisters have long since grown tired of hearing about. Their mother asks Lulu to go look through some old things in the attic and she finds these old letters, written by a young Jo March to her sisters and so begins her obsession with getting to know the ancestor she has previously shown no interest in.<br/><br/>The author successfully captures the individual voices of the very different strong female characters in the book and in particular the letters from Jo feel like they could have been written by the Jo March from the original books. The modern characters have a very sibling like relationship and although there are a few minor niggles (I found Lulu a little irritating at times - she was supposed to represent a modern Jo but lacked the warmth at times), the representation of strong female relationships without the man bashing that happens elsewhere was one that I welcomed. It's strange to have a book like this that doesn't actually have much to do with romance (Emma's wedding is a subplot, but not really a major issue) - and I felt like the actual romance, although well done, was a bit of a late addition to the story - perhaps an editor somewhere figured that you couldn't possibly have a book where the main character doesn't find a boyfriend at the end of it, but regardless, it was cute and didn't really detract. In fact, and I am probably a traitor to my sex for saying this, but I found it refreshing that for 90% of the book that the most intriguing romance story in it was Lulu discovering who it was that Jo ended up with. That's not to say that Lulu finally finding a man wasn't a nice touch, it was just nice not to have to spend so much of the book with a will they/won't they sort of thing.<br/><br/>I think this book would appeal to a lot of people - both fans of the original books and people unfamiliar with it, who will hopefully check out the originals on the back of this. If you want a fun way to kill a couple of evenings then this is definitely the type of book I think you would enjoy.