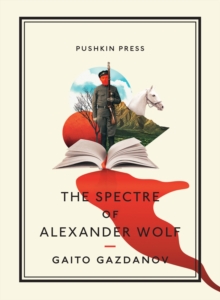 The Spectre of Alexander Wolf
Paperback
Description
A superb early postmodern classic by one of Nabokov's fellow emigre writers, rediscovered after more than half a century"A mesmerising work of literature" Antony Beevor"A work of great potency ... it punches very much above its weight, and I have a hunch that what's in it will stay with you for the rest of your life" Nicholas Lezard, Guardian"This is an original at work, that originality perceived as it were through a veil, as an intrigue, an enigma ... offering a perception of reality, of death and guilt and the effects of both" George Szirtes, The Times"Quick-paced, taut prose ... rendered beautifully in Karetnyk's accomplished new translation" Ivan Juritz, Independent on Sunday"A masterpiece of modern literature" Die Zeit"If Proust had been a Russian taxi driver in Paris in the 1930s..." L'ExpressA man comes across a short story which recounts in minute detail his killing of a soldier, long ago-from the victim's point of view.
It's a story that should not exist, and whose author can only be a dead man.So begins the strange quest for the elusive writer "Alexander Wolf".A singular classic, The Spectre of Alexander Wolf is a psychological thriller and existential inquiry into guilt and redemption, coincidence and fate, love and death.Gaito Gazdanov, the son of a forester, joined Baron Wrangel's White Army aged just sixteen and fought in the Russian Civil War.
Exiled in Paris from the 1920s onwards, he took on what jobs he could and during periods of unemployment slept on park benches or in the Metro.
A job driving taxis at night eventually allowed him to attend lectures at the Sorbonne and write during the day; he soon became part of the literary scene, and was greatly acclaimed by Maxim Gorky, among others.
He died in Munich in 1971.
Information
Format: Paperback
Pages: 192 pages
Publisher: Pushkin Press
Publication Date: 20/06/2013
Category: Classic fiction (pre c 1945)
ISBN: 9781782270089
Free Home Delivery
on all orders
Pick up orders
from local bookshops
Reviews
Showing 1 - 2 of 2 reviews.
Review by wandering_star
16/06/2015
This odd little novella has a compelling premise. It starts with the narrator remembering the time he killed a man. It was during wartime, but only the two of them were on the scene; it's one of the narrator's most intense memories, and one which comes back to him unbidden from time to time. One day, many years later, he picks up a book of short stories and finds the exact same scene described - but from the point of view of the man he thought he'd killed. The narrator tries to find out more about the author, whose name is Alexander Wolf - but he hears vastly different things about him. He's a cultivated Englishman who rarely travels abroad; or he is a wild, womanising Russian. All this happens in the first 10% of the book, and is then followed by a rambling, philosophical story of the narrator's life and a romance that he starts with a mysterious woman. He does meet Alexander Wolf by the end of the book, but the focus is not on the mystery but on the author's musings about, well, split personalities and mirror images, the impact of violent events on a person's life and character, the inevitability of death, the possibility of happiness in the face of the inevitability of death... what else have you got?If you think that sounds interesting you'd probably enjoy this book. I found the sudden change of pace disconcerting, and wasn't very interested in the romance. I think I prefer my philosophy a bit better integrated into the story!<i>Assuming that the origin of this long chain of events was my outstretched hand holding a revolver and the bullet that pierced Wolf's chest, then in this brief space of time, as quick as a flash, a complex process was born, which could be neither foreseen nor accounted for by any human mind possessed of even the most powerful, grotesque imagination. Who could have known that the bullet's spining, instantaneous flight actually contained that town on the Dnieper, Marina's inexpressible charm, her bracelets, her singing, her betrayal, her disappearance, Voznesensky's life, the ship's hold, Constantinople, London, Paris, the book <u>I'll Come Tomorrow</u> and the epigraph about the corpse with the arrow in its temple?</i>
Review by berthirsch
27/08/2015
The Spectre of Alexander Wolf, by Gaito GazdanovThis stylish short novel set in Paris in the 1920's/30's tells the story of a white Russian émigré now making his way as a freelance journalist.Haunted by a near-death event when he was 16 fighting in the early years of the Bolshevik Revolution the horse he is riding on is shot out from under him. Dazed he spies the man who shot him ride up on a great white horse and instinctively he grabs his own revolver and shoots knocking his enemy down, the 16 year old rides off on the white horse.Years later, in Paris, working as a freelance journalist he reads a book written by one Alexander Wolf in which the incident that haunts him is depicted detail for detail. Unmistakably he understands only the man he shot down could have written this story. Off he goes to London where the book was published only to be told that the author's whereabouts are unknown and, indeed, Wolf's publisher wishes nothing more to do with him. The journalist, undaunted, makes it his goal to somehow keep searching until he finds Wolf. He is driven by his own nightmares, his haunting feelings of guilt he has lived with at having killed another man. This mystery will drive him through the rest of this novel.Back in Paris, assigned to cover a boxing match between a French champion and an American contender (the description of which compares to the best of Budd Schulberg or Ring Lardner) he ends up sitting next to a young attractive widow, her American husband having died in London the past year. They strike up a conversation, spend hours at a café, talking, flirting and getting to know one another, by which time he discovers she, too, is a white Russian émigré. They become lovers but this is interrupted after she relates to him her last affair to an erudite morphine addict, obsessed with a deep streak of fatalism and an overriding awareness of death. Indeed, the subject of fate is a major theme of this small masterpiece.Astoundingly, while slumming in a café he befriends another Russian, a cavalierish lout who knows everyone and through him ends up meeting Alexander Wolf. Both, haunted by their near death experiences, meet to discuss their crossed paths. They share their guilt, fatalism, lost innocence and cynicism. Wolf asks, "who will give us back the time, and who will change your fate or mine? And do you think, after all this, that it's still possible to harbor any naïve illusions?" The journalist replies, "it is possible to understand that all illusions are vain and that in the end there's no consolation…so, as we're still alive, perhaps not all is lost".More passages illuminate the powerful message of this tale, and speak to the probable post traumatic stress both Wolf and the journalist, former combatants in war experience, that paradoxical dread and awe a soldier feels when he survives war: "Where exactly did the allure of this type of crime lie…those few seconds it takes to terminate a person's life comprise the idea of an incredible, almost superhuman, power"."Only those who have pulled the trigger would truly understand the fragility of life""the constant threat of death in all its endless diversity hangs over every man, every life: catastrophe, train crash, earthquake, tempest, war, illness, accident, all manifestations of a blind and merciless power, a peculiarity of which consists in our inability ever to predict the moment when it [death]…will happen."Gazdanov throws in a memory of what a college teacher had taught the journalist while relating how a 24 year old coed had committed suicide, that Dickens had written somewhere that "we are given life with the vital stipulation that we bravely defend it to the last breath".Indeed this is a thoughtful tale with a deep message about life and death. It moves quickly with style, energy and suspense. Having recently read some Stefan Zweig I see a resemblance in style, yet Gazdanov is a unique writer and this is a most memorable tale.One criticism I do have, is that given the power of the story it ends too suddenly as in the last 10 pages Gazdanov brings all the characters in place to tie the pieces together. Despite this , it is a book that will stay with you in a haunting and enjoyable manner.