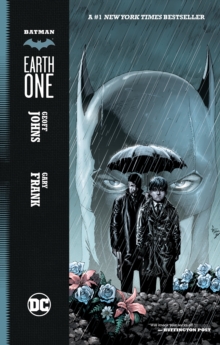 Batman : Earth One
Hardback
Description
A #1 "NEW YORK TIMES" BESTSELLER Batman is not a hero. He is just a man. Fallible, vulnerable, and angry. In a Gotham City where friend and foe are indistinguishable, Bruce Wayne's path toward becoming the Dark Knight is riddled with more obstacles than ever before.
Focused on punishing his parents true killers, and the corrupt police that allowed them to go free, Bruce Wayne's thirst for vengeance fuels his mad crusade and no one, not even Alfred, can stop him. In the tradition of the #1 "New York Times" bestselling "Superman: Earth One," writer Geoff Johns and artist Gary Frank re-imagine a new mythology for the Dark Knight, where the familiar is no longer the expected in this long-awaited original graphic novel from DC Comics."
Information
Format: Hardback
Pages: 144 pages, colour illustrations
Publisher: DC Comics
Publication Date: 01/07/2012
Category: Superheroes
ISBN: 9781401232085
Free Home Delivery
on all orders
Pick up orders
from local bookshops
Reviews
Showing 1 - 5 of 9 reviews.
Previous | Next
Review by RoeschLeisure
16/06/2015
Trying to restart the Batman storyline just as Christopher Nolan is ending his Dark Knight film trilogy is a tough task. Geoff Johns, to his credit, does an able job. A rethinking of Alfred's role is very creative and the backstory for Bullock is even better. Much is missing, however, from the Batman story. The secondary characters always seem more effective when they keep Batman's humanity intact. This Batman seems to lack the grit and determination (obsession) associated with the best tellings of the past. Too fallible? Perhaps.
Review by DanieXJ
16/06/2015
Another re-imagining of Batman and Batman mythology. This time it seems (at least at the beginning) to be less about justice and more about vengeance. It goes back to before the nineties re-imagination where it was less about becoming Batman to find Joe Cool, and more about 'the greater good'.I liked what they did with most of the characters, making them slightly different. Harvey Bullock's journey, who Cobblepot was, who Detective Gordon was. In one of the last GCPD panels there were even some familiarish looking faces there too.But of course the biggest change was Alfred. Wow, and yet, I really really liked the change. Then again, he's one of my favorite characters, so I think someone giving him a deep and interesting back story is always awesome.
Review by burnit99
16/06/2015
A re-telling of the Batman's beginning, with quite a few twists on the familiar story, and quite an energetic and capable Alfred. Very interesting as a one-shot, but this may be the basis for a re-set of the Batman legend, and I really hope that's not the case. There are aspects of this telling that I find less compelling than what I grew up with.
Review by akmargie
16/06/2015
A fairy okay origin story although kinda choppy and uneven. I would have given it more stars if the art wasn't so obnoxious when it came to it's depiction of women. Ugh.
Review by Kurt.Rocourt
16/06/2015
Good art but bad story. A complete miss on what makes Batman an interesting character. Not really a Batman book more of a, "guy in costume" book.