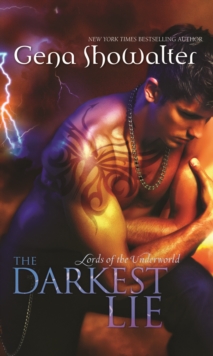 The Darkest Lie
Paperback
Description
Forced to his knees in agony whenever he speaks the truth, Gideon can recognize any lie-until he captures Scarlet, a demon-possessed immortal who claims to be his long-lost wife.
He doesn't remember the beautiful female, much less wedding-or bedding-her.
But he wants to...almost as much as he wants her. But Scarlet is keeper of Nightmares, too dangerous to roam free.
A future with her might mean ultimate ruin. Especially as Gideon's enemies draw closer-and the truth threatens to destroy all he's come to love...
Information
Format: Paperback
Pages: 448 pages
Publisher: Mira Books
Publication Date: 18/06/2010
Category: Fantasy
ISBN: 9780778303824
Free Home Delivery
on all orders
Pick up orders
from local bookshops
Reviews
Showing 1 - 5 of 8 reviews.
Previous | Next
Review by mthomas1975
16/06/2015
So far this has been my favorite book in the series. The Darkest Lie tells the story of Gideon, the keeper of Lies, and Scarlet, keeper of Nightmares. I simply adore Gideon. He is cursed to spend eternity unable to tell the truth without excruciating pain and I found that somewhat annoying in some of the other books; in this book I found it to be charming. It's kinda funny that you'll find more truth with the keeper of Lies than you will with anyone else and to me that makes him more trustworthy than the other Lords. Gideon, with his blue hair, piercings and tattoos is an open book and boy is he a hot, twisted, pervy mess.I know that others have had negative things to say about Scarlet but I have only positive things to say about her. I really liked her and if I were to be cursed with a demon I hope it would be Nightmares. Scarlet's demon is a bad ass! Hell hath no fury like a woman scorned and though misguided, Scarlet sets out to get her revenge on Gideon. Watching their story unfold was heartbreaking and beautiful. After seeing all that Scarlet had been through in her life I really wanted her to have a happy ending. It's the first time I've really felt that way about a heroine in this series. Don't get me wrong, I like the other girls; especially Anya, Goddess of Anarchy, but I guess I just connected more with Scarlet. The Darkest Lie set up the scene for Amun's story, The Darkest Secret and I can't wait to see what happens. April can't come fast enough.
Review by Krumbs
16/06/2015
Not to my taste, for several reasons.<br/>--Lots of violence, and for what seemed little purpose. A bit too casual, as well. Everybody gets limbs cut off, but oh well! They'll regrow eventually. Casual torture. Casual horribleness. Ick.<br/>--In this one, the "hero" couldn't tell a lie, so he spoke in double-speak. "Don't tell me" means "do tell me", etc. The problem: everything he says is translated either by his inner monologue, or by another character thinking or saying "he really means...". This got really old. It might have worked if done slightly differently, but this got annoying.<br/>--The book is slightly later in the series, so a lot of extra characters are included. I wasn't interested in them at all, and the additional story threads just interrupted the narrative (often just when it finally started moving!). <br/>--I think the author has a built-in audience; there was no need for so much set-up of the next book (IMHO); it took away from this story.
Review by Lauren2013
16/06/2015
The Darkest Lie
4 Stars

Synopsis
Gideon, the Keeper of Lies, has met his match in Scarlet, the Keeper of Nightmares, for he cannot tell if her tales of their marriage are true or false. While they try to work through their questions, Scarlet and Gideon are confronted with threats from the past that may destroy the future they seek together.


Review
Surprisingly refreshing and engaging.

The "Gideon Speak" takes some getting used to but it becomes easier as the book progresses. In fact, it is the repetitious and unnecessary translation and explanation of his true meaning that almost ruins the story.

Gideon and Scarlet are a cute couple and their romance is rather sweet and poignant. Despite his language difficulties, Gideon is a wonderful hero - sweet, open and, yes, honest. Scarlet is a strong and powerful heroine, and the descriptions of her traumatic life in Tartarus are heart-wrenching. She is, in many ways, the most dangerous and fearsome of all the Lords, and she is far more likeable than Olivia.

The plot, based on the theme of truth and lies, can be difficult to follow but the compelling twists and turns are exciting. As soon as you think you have a handle on what's going on, everything is turned on its head.

The developments in William, Sienna, Strider and Amun's stories are also intriguing and provide a necessary respite from the confusion of Gideon's speech. Moreover, the insights into Cronus and Rhea's characters and their motivation - the petty conflicts and jealousies - are true to the conventions of Greek mythology and add another interesting dimension.

Given the nature of Gideon's demon and the themes in the book, the writing is simply excellent and Showalter does an admirable job of merging everything together into a cohesive whole that mostly flows smoothly.

All in all, a good addition to the series and the next installment should be interesting to say the least.

Review by mlsimmons
16/06/2015
I enjoyed this book, although "Gideon Speak" could get annoying at times. I really liked Scarlett. She had a great personality.
Review by CMBlaker
16/06/2015
This is probably my least favorite of this series, which is unfortunately since I was really looking forward to Gideon's (LIES) story. The heroine, well, she drove me crazy! I love 2/3's of the book, the big secret, the dialogue/Gideon speak, & how she slowly revealed the secret, but when Scarlet's world came crashing down she became a weak, whiny bitch. Totally out of character for her & I know one could argue its to show how rocked she was to her core by the "truth". But is the only option to dramatize that by making her annoying?? Really? Plus there were a few plot holes at the end, the most glaring one being that the big bad Goddess's "power" was such a concern once the "truth" is revealed, right up until the last fight scene. Where, conveniently, our hero & heroine forget to consider she may use it against Scarlet. Come on! It's the whole reason they didn't hunt down the Goddess to fight before. And, I just don't get the whole "we can't be together even though we're in love cuz eventually I'm going to get hurt & thus hurt you. So I have to leave you now, so that doesn't happen", huh?
Also in the Lords of the Underworld series | View all