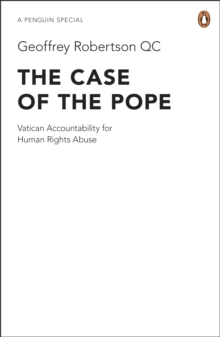 The Case of the Pope : Vatican Accountability for Human Rights Abuse
Paperback
Description
In The Case of the Pope Geoffrey Robertson QC delivers a devastating indictment of the way the Vatican has run a secret legal system that shields paedophile priests from criminal trial around the world.
Is the Pope morally or legally responsible for the negligence that has allowed so many terrible crimes to go unpunished?
Should he and his seat of power, the Holy See, continue to enjoy an immunity that places them above the law?
Geoffrey Robertson QC, a distinguished human rights lawyer and judge, evinces a deep respect for the good works of Catholics and their church.
But, he argues, unless Pope Benedict XVI can divest himself of the beguilements of statehood and devotion to obsolescent canon law, the Vatican will remain a serious enemy to the advance of human rights. 'Robertson is an adept QC and this is a devastating case' Daily Telegraph 'Combines moral passion with steely forensic precision ...It is one of the most formidable demolition jobs one could imagine on a man who has done more to discredit the cause of religion than Rasputin and Pat Robertson put together' Terry Eagleton, Guardian 'Forceful, wide-ranging' The Tablet 'Robertson has not become a successful lawyer by muddling his arguments and distorting his facts . ..He writes clearly, at times passionately, as counsel for the prosecution' John Lloyd, Financial Times Geoffrey Robertson QC is founder and head of Doughty Street Chambers, the largest human rights practice in the UK.
In 2008, he was appointed as a distinguished jurist member of the UN Justice Council.
His books include Crimes Against Humanity: The Struggle for Global Justice, a memoir, The Justice Game and The Tyrannicide Brief, an award winning study of the trial of Charles I.
Information
Format: Paperback
Pages: 240 pages, illustrations
Publisher: Penguin Books Ltd
Publication Date: 08/09/2010
Category: Religion: general
ISBN: 9780241953846
Free Home Delivery
on all orders
Pick up orders
from local bookshops
Reviews
Showing 1 - 3 of 3 reviews.
Review by Suva
16/06/2015
Robertson demolishes, one-by-one, the defences the Vatican have used to excuse themselves from the charges of abetting child-rape over the years with controlled and pin-pointed anger throughout. Although there are legal questions raised and answered throughout it never becomes too complex to follow and as a whole constructs a thorough run through of the scandal, dealing with it in detail from 2002 onwards. The level of the crimes, and of their cover-ups, are staggering in their almost Kafkaesque awfulness to the point that Robertson's wry humour creeps in as the only way left to respond to the pure lunacy of the catholic church.At its heart, this report shows what can happen when worldly and ecumenical powers collide and muddy each other. A problem that is as old as religion itself. Maybe it is a good sign that this type of corruption is no longer being ignored and that no authority is now above question and the law. Enough is finally enough.
Review by broughtonhouse
16/06/2015
With forensic skill Geoffrey Robertson builds a case against the Vatican for its apparent callous disregard of the thousands of children who have been sexually molested by Catholic clergy. This is a terrible story about temporal ambition and the breathtaking hypocrisy of those who rule the church.
Review by Voise15
16/06/2015
One-sided but withering attack on the Vatican's failure to cooperate with agencies to address the scandal of child Abuse. A critique of Ratzinger's personal responsibility and some proposed solutions for the RC Church and the victims.