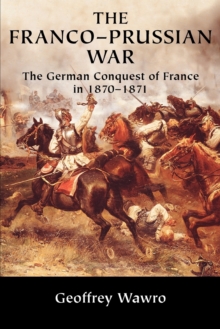 The Franco-Prussian War : The German Conquest of France in 1870-1871
Paperback
Description
The Franco-Prussian War of 1870-1 violently changed the course of European History.
Alarmed by Bismarck's territorial ambitions and the Prussian army's crushing defeats of Denmark in 1864 and Austria in 1866, French Emperor Napoleon III vowed to bring Prussia to heel.
Digging into many European and American archives for the first time, Geoffrey Wawro's The Franco-Prussian War describes the war that followed in thrilling detail.
While the armies mobilized in July 1870, the conflict appeared 'too close to call'.
Prussia and its German allies overwhelmingly outnumbered the French.
But Marshal Achille Bazaine's grognards ('old grumblers') were the stuff of legend, the most resourceful, battle-hardened, sharp-shooting troops in Europe.
From the political intrigues that began and ended the war to the bloody battles at Gravelotte and Sedan and the last murderous fights on the Loire and in Paris, this is a stunning, authoritative history of the Franco-Prussian War.
Information
Format: Paperback
Pages: 346 pages, 18 b/w illus. 13 maps
Publisher: Cambridge University Press
Publication Date: 21/02/2005
Category: Military history
ISBN: 9780521617437
Free Home Delivery
on all orders
Pick up orders
from local bookshops
Reviews
Showing 1 - 1 of 1 reviews.
Review by alibrarian
16/06/2015
The work is a highly readable account of the Franco-Prussian War particularly interested in the conduct of the war. The defeat of France is not a foregone conclusion despite the general superiority of the Prussians in military organization, training, and manpower. The superiority of French arms (the chassepot and the mitrailleuse) cost the Prussians high casualities. But the French lose due to their poor leadership and inferiority in artillery. The ability of the Prussians to blast the French positions to pieces after frequently fruitless infantry assaults is their key to victory. Key also is the French ability to throw away almost every opportunity to exploit Prussian weaknesses and hunker down in defensive positions. Wawro also presents good early chapters on why the war occured when it did and the state of the opposing armies.