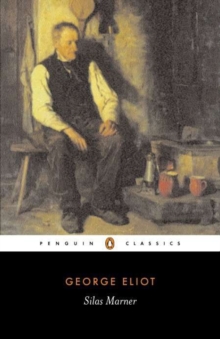 Description
George Eliot's tale of a solitary miser gradually redeemed by the joy of fatherhood, Silas Marner is edited with an introduction and notes by David Carroll in Penguin Classics. Wrongly accused of theft and exiled from a religious community many years before, the embittered weaver Silas Marner lives alone in Raveloe, living only for work and his precious hoard of money.
But when his money is stolen and an orphaned child finds her way into his house, Silas is given the chance to transform his life.
His fate, and that of Eppie, the little girl he adopts, is entwined with Godfrey Cass, son of the village Squire, who, like Silas, is trapped by his past.
Silas Marner, George Eliot's favourite of her novels, combines humour, rich symbolism and pointed social criticism to create an unsentimental but affectionate portrait of rural life. This text uses the Cabinet edition, revised by George Eliot in 1878.
David Carroll's introduction is complemented by the original Penguin Classics edition introduction by Q.D.
Leavis. Mary Ann Evans (1819-80) began her literary career as a translator, and later editor, of the Westminster Review. In 1857, she published Scenes of Clerical Life, the first of eight novels she would publish under the name of 'George Eliot', including The Mill on the Floss, Middlemarch, and Daniel Deronda. If you enjoyed Silas Marner, you might like Nathaniel Hawthorne's The Scarlet Letter, also available in Penguin Classics. 'I think Silas Marner holds a higher place than any of the author's works.
It is more nearly a masterpiece; it has more of that simple, rounded, consummate aspect ...which marks a classical work' Henry James
Information
Format: Paperback
Pages: 272 pages
Publisher: Penguin Books Ltd
Publication Date: 27/03/2003
Category: Classic fiction (pre c 1945)
ISBN: 9780141439754
Other Formats
Paperback from £2.50
Hardback from £5.95
EPUB from £0.99
Part-work (fasciculo) from £9.75
Audio disk from £18.65
eAudiobook MP3 from £7.20
Mixed media product from £11.64
PDF from £1.29
Free Home Delivery
on all orders
Pick up orders
from local bookshops
Reviews
Showing 1 - 5 of 6 reviews.
Previous | Next
Review by brianfstevenson
16/06/2015
I don't like my chances of being able to say anything new about something that has been around since 1861. The story is a simple one, and the themes are both eternal and easily discerned : redemption, the emptiness of money compared to love and the hypocrisy of those vested with wealth, prestige and power. For me, the novel sagged after the first few chapters, but picked up again, and then some, shortly after the half way mark. Even in a more leisurely age, Eliot must have had a purpose in introducing villagers that seem to spend a lot of time sitting around looking jolly, and taking many pages to do so. A couple of prominent characters, the pristine Eppie and her consort Aaron are less than interesting, but Silas and the tortured Godfrey Cass more than make up for it. The last couple of chapters really tugged at the heart, but it was honestly a bit of a slog to get there.
Review by booksweremyfirstlove
16/06/2015
One of the best books I've ever read. Eliot has a great insight into the human mind. Very touching.
Review by gbill
16/06/2015
A memorable story and a good read. While some of the plot turns seem somewhat "too convenient", the overall effect adds to the book's Biblical and mythological overtones. The wrongs Marner endures and the evilness of the Cass brothers have you really pulling for him at the end. Eliot's descriptions of rural life and its people are what she's known for, but my favorite passage of Silas Marner was:"She was perfectly quiet now, but not asleep - only soothed by sweet porridge and warmth into that wide-gazing calm which makes us older human beings, with our inward turmoil, feel a certain awe in the presence of a little child, such as we feel before some quiet majesty or beauty in the earth or sky - before a steady glowing planet, or a full-flowered eglantine, or the bending trees over a silent pathway".
Review by HighlandLad
16/06/2015
I read somewhere that no-one reads George Eliot these days. Well, her writing can be a bit dense at times, but <i>Silas Marner</i> is well worth reading. The plot is almost fairytale-like. Silas, a weaver, has been driven from his home in a northern industrial city after (false) accusations of stealing money from the chapel sect he belonged to – and the guy he knows did it, his best friend, then stole his girlfriend! He now lives by an old quarry outside the close-knit English village of Raveloe. Not surprisingly, he's now bitter and twisted, his faith in god and humanity gone. He has nothing left in life except his work – and the gold he accumulates from it. He's grudgingly tolerated but not welcomed in the village, and has turned into a sad lonely miserable miser, suffering occasional fits, truly an outsider. One day, his hoard of gold is stolen, and on a snowy day soon after, a golden-haired toddler wanders into the open door of his cottage, the girl's presumed mother found dead nearby. Silas sees the girl as a gift from providence in exchange for his gold, adopts the baby girl and things develop from there... The girl grows up... Silas changes... The plot is credible and realistic, despite some improbable coincidences. It's fascinating to see how superstitious views still flourished, how people weighed and interpreted evidence about unusual happenings, weighing up rational against superstitious interpretations, echoing lively controversies in theology and philosophy at the time about the nature of evidence that George Eliot was herself very deeply involved in.What's really wonderful is that this is a story of ordinary village life among the poorer classes, with all its characters, prejudices and superstitions, church, pub, all pictured just as they would have been in the early 19th century. This no doubt comes from George Eliot's childhood recollections. No-one else was writing this sort of stuff in English literature at the time. Farm hands, farriers and the like were supposed to be just forelock-tuggers and cap-doffers with walk-on parts. Novel readers were upper class (the only ones who could afford books) and expected upper class people doing upper-class things in their books; they didn't see 'the common people' as suitable central figures in their literature. The antagonistic reviews of the time – even her own publisher's views – show how dangerous this was seen. One contemporary review refers to "...these dull clowns... whose ideas and imagery seldom rise above the level of their native dunghills", another says "We see the people amid all their grovelling cares, with all their coarseness, ignorance and prejudice – poor, paltry, stupid, wretched, well-nigh despicable." Perhaps, but fascinating too.No well-bred woman at the time would have ventured into the public bar of a village pub, but George Eliot gives us an extraordinary chapter of the bar talk and banter between the farrier, the butcher, etc. at <i>The Rainbow</i>. In the closing chapters, <b>(spoilers warning)</b> when Eppie (the golden-haired baby girl) has grown into a beauty, and her higher class origins (daughter of the village squire from a shameful marriage he kept secret) made public, she gets the offer of being accepted by the squire and his new wife as their daughter... but she and Silas Marner turn it down. This must have seemed revolutionary, and in very bad taste at the time. It's the complete opposite of the popular plot of the time, where the waif discovers his upper crust origins, his rightful inheritance, reveals the skulduggery involved to disinherit him, and takes his 'proper' place in society. What a girl George Eliot was!After <i>Silas Marner</i> was published, ordinary people started appearing in more books, and literature was all the better for it... A short, important, memorable and heart-warming book with a good story, albeit a little difficult to get through the dense writing style at times.
Review by raschneid
16/06/2015
The introduction writer was correct - this novel is rather like Thomas Hardy but *not annoying*. Possibly because the characters are actually likable and understandable in their motivations.<br/><br/>Generally a fun, moving little tale. I found Dunsie a cartoonish villain and the disposal of Eppie's mom rather heartless, but I loved the themes of chance and choice that thread through these characters lives - they can't control their lives, but whenever they give up their moral agency, bad stuff happens.<br/><br/>I also loved the narratorial voice at the beginning. It was like George Eliot was telling me a bedtime story.