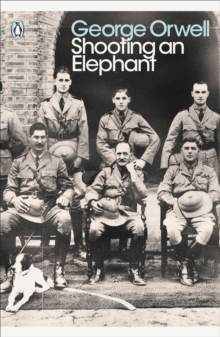 Shooting An Elephant And Other Essays
Paperback
Description
'Shooting an Elephant' is Orwell's searing and painfully honest account of his experience as a police officer in imperial Burma; killing an escaped elephant in front of a crowd 'solely to avoid looking a fool'.
The other masterly essays in this collection include classics such as 'My Country Right or Left', 'How the Poor Die' and 'Such, Such were the Joys', his memoir of the horrors of public school, as well as discussions of Shakespeare, sleeping rough, boys' weeklies and a spirited defence of English cooking.
Opinionated, uncompromising, provocative and hugely entertaining, all show Orwell's unique ability to get to the heart of any subject. A collection of witty and incisive non-fiction, George Orwell's Shooting an Elephant includes an introduction by Jeremy Paxman in Penguin Modern Classics.
Information
Format: Paperback
Pages: 360 pages
Publisher: Penguin Books Ltd
Publication Date: 05/06/2003
Category: Literary essays
ISBN: 9780141187396
Other Formats
Mixed media product from £26.89
Free Home Delivery
on all orders
Pick up orders
from local bookshops
Reviews
Showing 1 - 3 of 3 reviews.
Review by edgeworth
16/06/2015
A few months ago I was quite impressed by George Orwell's Down And Out In Paris And London, in which he recounts his experiences on the fringes of society with a healthy measure of social commentary and sparkling wit. I was keen to read some more of Orwell's non-fiction, and this collection of essays seemed to fit the bill quite nicely.The essays span a period from the early thirties to the late forties, shortly before Orwell's premature death in January 1950. They cover a number of topics, some personal and some political, ranging from his experiences as a policeman in Burma, lofty dissections of the works of Charles Dickens and Jonathan Swift, all the way down to simple observations about the coming of spring.I didn't enjoy this book as much as Down And Out, because a lot of the political essays were largely theoretical - I preferred those in which Orwell discusses his own experiences, such as Shooting An Elephant, How The Poor Die, and Such, Such Were The Joys. Unfortunately these were a minority in the book, and it was somtimes hard going reading about politics sixty-five years out of date, or a 60-page analysis on Dickens when I've never read a lick of the man's writing.Nonetheless, Orwell was one of the most gifted writers of the 20th century (and easily its greatest journalist), and even when discussing unfamiliar subjects his prose is easy and enjoyable to read. He is exceptionally articulate, and his similes are quite imaginative:<i>[Dickens'] imagination overwhelms everything, like a kind of weed.When there is a gap between one's real and one's declared aims, one turns as it were instinctively to long words and exhausted idioms, like a cuttlefish spurting out ink.At eight years old you were suddenly taken out of this warm nest and thrown into a world of force and fraud and secrecy, like a goldfish into a tank full of pike.</i>He also expresses some thoughts I've had myself while travelling through Asia:<i>With one part of my mind I thought of the British Raj as an unbreakable tyranny, as something clamped down, in saecula saeculorum, upon the will of prostrate peoples; with another part I thought that the greatest joy in the world would be to drive a bayonet through a Buddhist priest's guts.</i>While I didn't enjoy this as much as Down And Out, I still believe that all of Orwell's non-fiction is worth reading. Orwell was above all an honest writer, a man who could admit his errors and confront what he truly believed and write in plain English what he thought. That's a rare thing. He was not just one of the greatest writers of our age, but also one of the noblest. He also totally shot an elephant in the face. What a man!
Review by DinadansFriend
16/06/2015
A George Orwell essay is like a good glass of Scotch. Yes it is astringent, yes, it is obvious built for a purpose, and yes, in half an hour you will feel better, if only for a short period. yes, I feel my intellectual and emotional journey through life is a good deal like his.I don't smoke, however, and I drink a good deal less. Am I is heir, and why am I talking about myself so much?Because "shooting an elephant" is the discovery by an intelligent man of how far he will go, to please a crowd, and the steps whereby he brings himself to a terribly distasteful act. It turns out, It's a very long way. So don't pride yourself, "I'll never do that!" until you've actually been tried by a similar or the same temptation and circumstance.This book also contains "A Hanging", not for the squeamish, that one. It is very honest. Unless you can read it without a tremor, you are not entitled to an opinion on capital punishment, unless you saw that episode of the TV show, "In the Heat of the Night", where a prisoner is executed by chemical injection, and the process is honestly portrayed. After that, you are entitled. IT also contains, "The Prevention of Literature", which is also wonderful...and full of warnings to the real writer, who then will see clearly.For laughs it also has "Confessions of a Book Reviewer". This perhaps one of the most explosive books ever collected if you want to be:1) hated by the right2)hated by the left, v3) viewed as dangerous by the middle, 4) not being sure you will have any friends left by to-morrow. 5)reprinted a lot when you are dead. (but not while they will give you money for it.George Orwell was an intelligent man of the left, and hated a dogmatic approach to any question. Tea-partiers should have to read this, and contrast it with the incredible shallowness of Ayn Rand. Lefties should read this collection as well, and take its lessons equally to heart. I am conscious that other collections of Orwell may have been altered to avoid the most controversial essay "Second Thoughts on James Burnham", which does describe the world we are suffering today.
Review by JonArnold
27/08/2015
A largely chronological compilation of Orwell's shorter pieces which incorporate all his best known essays. Even a passing familiarity with Orwell's work and favoured subject will give you an idea of the subjects here – Britain and its empire, the British class system, poverty, totalitarianism and literature. Orwell's great strength lay in reportage (arguably his best known fictions are merely reportage in disguise) and this collection demonstrates exactly why.The collection is bookended by the two pieces presented out of order and their placing marks them as the most important pieces. Why I Write begins the book by exploring the question suggested by the title and Politics and the English Language closes by unifying Orwell's literary and political sides by linking a perceived decline in standards of English with the way politicians debase it. Clearly it's a subject which still has currency, particularly as I read this during a General Election campaign where all parties are attempting to hammer messages by repetition. In between there's a clear-eyed yet affectionate piece on Charles Dickens, reminiscences of the mundane horrors of Burma, the Spanish Civil War, poverty and the English public school system, and intelligent pieces covering both highbrow and lowbrow literature. Most wonderful of all is the shaft of rare and pure joy Orwell derives from the common toad – he may be an unsparing critic for the most part but here there's an all too rare joy. As an extra treat, there's a fine introduction from Jeremy Paxman which manages to admire without being rose tinted. A fine microcosm of Orwell's work, and the book to start with if you've never read any of his books before.