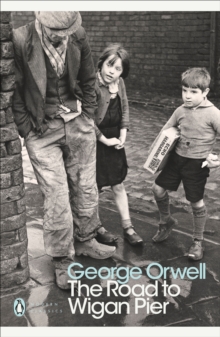 The Road To Wigan Pier,
Paperback
Description
A searing account of George Orwell's observations of working-class life in the bleak industrial heartlands of Yorkshire and Lancashire in the 1930s, The Road to Wigan Pier is a brilliant and bitter polemic that has lost none of its political impact over time.
His graphically unforgettable descriptions of social injustice, cramped slum housing, dangerous mining conditions, squalor, hunger and growing unemployment are written with unblinking honesty, fury and great humanity.
It crystallized the ideas that would be found in Orwell's later works and novels, and remains a powerful portrait of poverty, injustice and class divisions in Britain. Published with an introduction by Richard Hoggart in Penguin Modern Classics. 'It is easy to see why the book created and still creates so sharp an impact ...exceptional immediacy, freshness and vigour, opinionated and bold ...Above all, it is a study of poverty and, behind that, of the strength of class-divisions' Richard Hoggart
Information
Format: Paperback
Pages: 240 pages
Publisher: Penguin Books Ltd
Publication Date: 24/02/2001
Category: Literary essays
ISBN: 9780141185293
Other Formats
Paperback from £6.65
CD-Audio from £17.99
Hardback from £17.79
EPUB from £4.99
eAudiobook MP3 from £9.74
Paperback / softback from £6.95
Free Home Delivery
on all orders
Pick up orders
from local bookshops
Reviews
Showing 1 - 2 of 2 reviews.
Review by SimonW11
16/06/2015
Last months book club read took ages to read I felt that I was forcing my way through the Darien Gap. This month It took also as long a time but mainly because I kept stopping for picnics.This really was a most pleasant walk in the park. There was no need to hurry. Orwell's clarity and his ability to find the memorable phrase made for easy reading. The book consists of two parts in the first he launches us without explanation straightinto a scene of the most squalid poverty. Then leads us around the towns and cities of the north illustrating the grim economic servitude that brings such conditions about.All the time struggling to be fair in his description for this is no mere polemic, no need to preach since it was originally writtenfor the Left Book Club. Instead throughout he assumes that the audience is as they say on side. Thus as outsiders it is only gradually by and by implication that it it becomes clear what Orwell thinks all reasonable men believe.In part two Orwell addresses the problem of disseminating that message to a largeraudience. The obstacles are many: There are numerous cranks within the movement, that harm its reputation. There is lack ofsolidarity amongst a people who's perceived social classes have little resembance to the economic groupings that Marxian theory envisioned. The fears of a dehumanising state and of course the spectre of Fascism.To modern eyes many of the problems presented by these obstacles are overwhelming.But Orwell continues with an idealistic naif intelligence. Urging a reformation in approachand changes with the socialist novement This is "leak3ed Memo"stuff but he is uncaring as to how it might read outside the readingcircle of the left book club. As it is number of times I found myself wanting to tell himHe would be first against the wall when the revolution came.I did enjoys his side swipes at other literary figures.Now if they were to do a series of Big Brother where they locked orwell in a house with a christian apologian, say Chestertonor Lewis and some reactionary, maybe Waugh. I might watch it.In conclusion the historical pespective has inevitably removed much of the heat From this book. The times when people from my home town would boast about dropping brownshirtson their heads, when idealists went to fight in Spain are no longer with us. The work remains urbane, informative and well written but there is no fire left no cause to rally. The battle is lost and won. This battle flag just one more museum display.
Review by seisdedos
16/06/2015
Orwell's anti-communism is primarily seen through his two great works, 'Animal Farm' and '1984.' But for a deeper understanding of his beliefs it is necessary to read his two major works of non-fiction. The events described in "The Road to Wigan Pier' and 'Homage to Catalonia' take place well before he achieved any fame and acclaim and go a long in explaining why he initially achieved infamy in left-wing circles. In 'Wigan Pier' Orwell travels to the north of England and describes in exacting detail the living and working conditions of its laborers. Orwell's language is very straight-forward and accessible. Nothing pretentious or overly scholarly here. He completely immerses himself in the working-class environment and culture of the region - the cramped and unsanitary lodgings, the meager and debilitating diet and even comments on the centrality of the pub to the worker's lives and working-class slang. But Orwell's most harrowing description is of the miners "going down to the pit" and discovering for the first time in his life the grueling and almost inhuman work which, according to him, constitutes the backbone of industrial society. In the second half of the book, Orwell discusses how the large gulf between Britain's intelligentsia and its working-class could ultimately pave the way for fascism or a government sympathetic towards it. He counsels democratic socialist and Labour party leaders to be less concerned with dogma, orthodoxy, Marxist rhetoric and to instead focus on the basic ideas of social justice and equality. He also takes some shots at feminism, pacifists, and vegetarians which modern readers would find offensive if not down right reactionary. But it's hard to argue with his main argument that radical intellectuals of the 1930s were every bit as outside the mainstream as a member of the House of Lords.