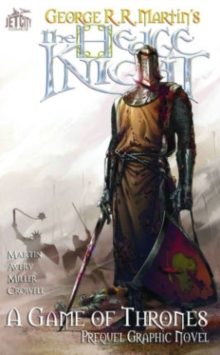 The Hedge Knight : The Graphic Novel
Paperback
Description
- Set one hundred years before the events in George R.R.
Martin's epic fantasy series, A Song of Ice and Fire, The Hedge Knight graphic novel chronicles a young squire as he travels the cruel and complex path to knighthood in the Seven Kingdoms.
Shouldering his fallen master's sword and shield, Duncan (or "Dunk") is determined to reinvent himself as a knight in a nearby tournament.
But first Dunk needs a sponsor, and that requirement sends him down a road studded with friends, foes, adventure, and hidden agendas.
One such friend is Egg, who becomes Dunk's squire, yet even he may hold secret motivations of his own.
Information
Format: Paperback
Pages: 184 pages, illustrations
Publisher: Amazon Publishing
Publication Date: 17/12/2013
Category: Fantasy
ISBN: 9781477849101
Free Home Delivery
on all orders
Pick up orders
from local bookshops
Reviews
Showing 1 - 3 of 3 reviews.
Review by JGolomb
16/06/2015
I'm not a regular reader of graphic novels. But I do love me some George R.R. Martin and his world in <i>A Song of Ice and Fire</i>.This graphic novel aggregates 6 stand alone comics and makes for a beautifully rendered story that predates the activities that start with Martin's <i>A Game of Thrones</i>. The graphic novel is based upon Martin's own short story, and the narration and dialogue read very true to the nature of Martin's work and will be immediately recognizable for any fan of ASOIAF.The art is very 'mature', bright, bold, detailed, descriptive and not cartoonish. Combined with the vivid coloring, the entire <i>Hedge Knight</i> 'package' does a terrific job evoking Martin's world. I highly recommend this to any existing fan of AWOIAF or anyone who's interested in dipping their toe in a <i>Game of Thrones</i> without committing to a 1,000 page read. And if you're not into 'fantasy', there's no worries here. While there are references to dragons, the action is all medieval.
Review by Crazymamie
16/06/2015
This is my son Daniel's book, which I borrowed to read as it is a prequel to Martin's famous Song of Ice and Fire series. I just read Game of Thrones for the first time last year, and it was a five star read for me - highly entertaining and well written with characters that have depth. This book, The Hedge Knight is a graphic novel that is based on a series of novellas that Martin wrote as prequels to Game of Thrones. This story takes place about 90 years before the Game of Thrones story. Here, Dunk, a young squire to a Hedge Knight that has just died must decide what he will do next. With limited options available to him, he decides to compete in an upcoming tourney as a knight (he will claim to have been knighted by his previous master). So, taking the dead knight's armor and his remaining possessions, Dunk morphs into Ser Duncan the Tall, heads to Ashford, meeting up with Egg, a young boy, on the way. Egg is not happy with his job at an inn and offers to become Duncan's squire, but Duncan turns him down. Egg follows him anyway, eventually talking Duncan into taking him on as squire. Getting entered into the tourney, however, is easier said than done. Someone must sponsor Duncan, getting armor that fits him is much more expensive than he thought, and because he is not a blood relative of the knight that he served, he cannot inherit his arms - he must come of with a sigil of his own for his shield. Still, things are coming together nicely until Duncan comes to blows with the wrong man - Prince Aerion Targaryen. What unfolds is legend and sets events into play that will lead to the rich history that precedes the story in A Game of Thrones. Not only is the storyline very interesting and well written here, but the artwork is just excellent. Rich and detailed, it brings the story to life. This was a fun and fast read that did not disappoint on any level. I am giving it 5 stars (for a GN). Highly recommended.
Review by mattries37315
27/01/2016
The graphic novel adaptation of the first of George R.R. Martin's Dunk & Egg novellas, not only stays true to the originally written story but gives it life with fantastic renderings of all the characters, the locales, and the action. Drawn by artist Mike S. Miller and livened by colorist Mike Crowell, "The Hedge Knight" gives both "Game of Thrones" book and show fans a great look into the history of the Seven Kingdoms by seeing the beginnings of two individuals, Ser Duncan (Dunk) the Tall and the future King Aegon (Egg) V, who impact the series even a century later.The story begins with Dunk burying his mentor Ser Arlan Pennytree before taking his arms and horses to the Tourney at Ashford Meadow in an attempt to win a place in a lord's house by winning a tilt and becoming a champion if only for a little while. Unfortunately Dunk finds himself broiled in a family feud, but this family happens to be the dynasty of the dragonkings--the Targaryens. Not only does Dunk find his temporary squire to be a Prince, but he punches and kicks Egg's older (cruel) brother Aerion which could either leave him dead or maimed. Dunk's fate comes down to a unique form of trial by combat, which has ramifications not only for him but knightly families and the realm itself.Of the work surrounding the graphic novel itself, I can only praise the work of Miller and Crowell who not only brought into visual life Dunk and Egg but so many other historically important characters in very consistent way throughout the entire book. It is hard to find fault with the work of these two men save with pointing out a few continuity errors, which unfortunately happen in every graphic novel. If anything after viewing their work I'm tempted to find more graphic novel either man has worked on given the good quality of work each put in this book.If you're a fan of the "A Song of Ice and Fire" world and haven't gotten this book yet I recommend you get it; if you're a television fan of "Game of Thrones" I highly recommend you get this book to see how the ancestors of some of your favorite and least favorite characters interacted while also seeing the Targaryens on the throne.