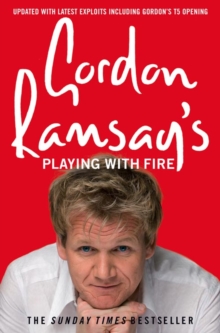 Gordon Ramsay's Playing With Fire
Paperback
Description
The bestselling follow-up to Humble Pie, now in paperback.
When he was struggling to get his first restaurant in the black, Gordon Ramsay never imagined he'd be famous for a TV show about how to run profitable eateries, or that he'd be head of a business empire.
But he is and he did. Here's how. "In the beginning there was nothing. Not a sausage - penniless, broke, fucking nothing - and although, at a certain age, that didn't matter hugely, there came a time when hand-me-downs, cast-offs and football boots of odd sizes all pointed to a problem that seemed to have afflicted me, my mum, my sisters, Ronnie and the whole lot of us.
It was as though we had been dealt the 'all-time dysfunctional' poker hand.
I wish I could say that, from this point on, the penny dropped and I decided to do something about it, but it wasn't like that.
It would take years before the lessons of life, business and money began to click into place - before, as they say, I had a pot to piss in.
This is the story of how those lessons were learned." This is Gordon Ramsay at his raw, rugged best.
PLAYING WITH FIRE is the amazing story of Gordon's journey from sous-chef to superstar. In his no-holds-barred style, Gordon shares his passion for risk and adventure and his hard-won success secrets.
Information
Format: Paperback
Pages: 304 pages
Publisher: HarperCollins Publishers
Publication Date: 01/05/2008
Category: Autobiography: general
ISBN: 9780007259885
Free Home Delivery
on all orders
Pick up orders
from local bookshops
Reviews
Showing 1 - 2 of 2 reviews.
Review by rightantler
16/06/2015
This reads like Gordon dictated it to someone who then wrote it up. As a result, the book has a blinding pace, even if it jumps about a bit in places. Interesting update on the Ramsay story although I wonder whether the wide diversification of the brand will hold up in these challenging economic times. Gordon does demonstrate the energy required to be successful and that in many cases attention to detail is key.
Review by reading_fox
16/06/2015
Gordon's second autobiography in the space of justa few years, and it shows that he's just in it for the money. On the otherhand throughout the book it's very clear that for the most part of his entraprenurial career he's just been in it for the money.This is nothing to do with Gordon the Chef. There are no recipes, no dishes, no confrontations in the kitchen ... and no details. This is how Gordon went from a restaurant owning chef to being a millionaire business man who happens to specialise in restaurants. It's split up into fairly short chapters detailing the series of steps that took place from owning one restaurant to owning two, and then many, and then having Gordon Ramsay the Brand. I say 'detailing' but he doesn't, at best he lists them, sometimes he skips right over all the bits that would make it interesting or informative for the reader. In part this is because most of it went over Gordon's head and was handled by his father-in-law Chris, who gets plenty of praise throughout the book. It gets a bit better towards the end where there are a few anecdotes of problems, their solutions and actual people involved. Gordon's writing is pretty terse, which works in a kind of high pressure kitchen environment but as he would put it 'quickly gets fucking annoying'. I can quite undestand swearing in a kitchen when you're sweating a million details at once. It becomes extremely gratuitious in a book like this and is, I think, effected and only as an image of his chef personna.It is at times interesting, and it's abundently clear that Gordon has worked very hard to get to where he is today, and he should neither be envied or scorned for this. It's just a shame that much of the effort is now devolved into Image Manipulation and Brand management. Rather than cooking he's spending his time doing thing like writing this somewhat lame book.