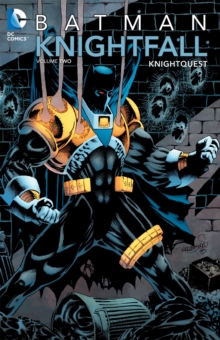 Batman Knightfall : Knightquest Volume 2
Paperback
Description
Mentally defeated and physically broken, Bruce Wayne suffered a crippling blow while battling the brutal Bane.
Now, the mantle of the Bat must be passed on to another, and Jean Paul Valley answers the call!
But as the new Caped Crusader slowly loses his grip on sanity, his idea of justice takes a violent and deadly turn.
Witnessing this dangerous behavior firsthand, Nightwing and Robin try to come to grips with Bruce's highly controversial decision while the new Batman sets his sights on taking revenge against Bane!
This volume collects Detective Comics #667-675, Shadow of the Bat #19-20, #24-28, Batman #501-508, Catwoman #6-7 and Robin #7.
Information
Format: Paperback
Pages: 656 pages, colour illustrations
Publisher: DC Comics
Publication Date: 23/05/2012
Category: Superheroes
ISBN: 9781401235369
Free Home Delivery
on all orders
Pick up orders
from local bookshops
Reviews
Showing 1 - 2 of 2 reviews.
Review by DanieXJ
16/06/2015
The second mega volume in the reprinted version of the Knightfall saga. This one is basically all about Jean-Paul, aka Azrael, who's now taken over the mantle of the Bat, and boy oh boy does he run with that. It's amazing how the costume art goes right along with the story as well. If someone only had the art in this comic, they'd have a very good chance of telling what was going on in the written story as well. That doesn't always happen in comic books.I wish that there had been more Robin/Jean-Paul (as Batman) interactions, but what there was was great (and Robin got a cool little car too). I also liked how they did the other characters (who didn't already know) slowly realizing that under the Batman mask was a new person. And hey, there was even some Renee Montoya (and in one dialogue balloon, a 'Rene' too, heh). Not a badly done saga at all. And now onto Knights End. Go real Batman!
Review by ptdilloway
16/06/2015
For the most part I really enjoyed this but it annoys me that some of the issues didn't seem properly grouped, so a new story would start before a previous one had been wrapped up. And of course some issues from the whole arc (mostly those concerning Bruce Wayne) are not in here, but at 656 pages I guess they felt it was already too long. Still glad I finally got a chance to read these issues; about time DC put them in a somewhat convenient paperback like the rest of the Knightfall/Knightsend stories.