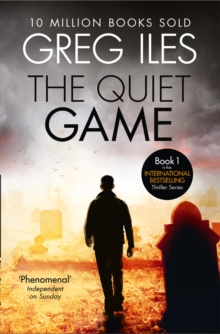 Description
The first thriller in the New York Times No.1 bestselling series featuring Penn Cage: a prosecutor in a corrupt system, a husband whose wife has died, and a father who must protect his daughter. 'An engrossing, page-turning ride' (Jeffery Deaver).
Penn Cage is no stranger to death. As a Houston prosecutor he's sent sixteen men to death row - and now he's lost his wife to cancer.
Returning home to Natchez, Mississippi with his only daughter, Penn seeks a gentler life.
No chance. After discovering that his father is being blackmailed over a long-forgotten homicide by the killer he never turned in, Penn is soon up to his neck in the town's murky undercurrents of passion, power and racial tension.
This is a community with a dark past. A place where a thirty-year-old crime lies buried. A place where everyone plays the quiet game but Penn Cage cannot stay silent.
Information
Format: Paperback
Pages: 640 pages
Publisher: HarperCollins Publishers
Publication Date: 27/02/2014
Category: Crime & mystery
ISBN: 9780007545704
Free Home Delivery
on all orders
Pick up orders
from local bookshops
Reviews
Showing 1 - 2 of 2 reviews.
Review by JudithDCollins
16/06/2015
The Quiet Game (Penn Cage #1) by talented Greg Iles, delivers a stellar performance with another Southern Gothic suspense thriller with juicy details, violence, scandal, conspiracy, courtroom drama, a murder mystery, and race relations in the small town of Natchez, MS.

The Quiet Game opens, with Penn Cage a prosecuting attorney turned bestselling novelist, (yummy) returns to his hometown of Natchez, MS with his four-year-old daughter, to recover from the tragedy of his wife's death from cancer. He finds himself caught in his own past, his dad's past, both which comes with dark secrets and risk to his family.

Penn discovers his father, a respected physician is being blackmailed by a Ray Presley, and meets intriguing sexy and beautiful, Caitlin Masters on a plane which later be finds out is a former ambitious former Boston publisher of The Natchez Examiner. (No time for grieving, now)

Caitlin and Penn (love this duo) find themselves working together in a trail of lies, a notorious race crime, the murder of Del Payton, and a black factory worker killed by a car bomb and helping Del's widow, Althea Payton to re-investigate her husband's murder. To make things interesting, there is much pressure and corruption and a conspiracy, with those dangerous players, protecting their past secrets and threatening those who want to uncover them, even involving the FBI.

The Payton murder case opens an old can of worms and intersects with the Cage family and the secrets of Livy Marsden, Penn's former lover and Leo Marsden's daughter, and of course, the former J. Edgar Hoover. (This is exciting stuff)! Forced to confront powerful Judge Leo Marston, who nearly destroyed his father in pursuing an unrelated, unfounded malpractice accusation decades before, Cage must also face Marston's daughter, Livy, his old high school sweetheart, (scandalous), who tries to persuade Cage to let things remain as is.

From the witty southern humor to the violence from Natchez to the Colorado Mountains, this legal thriller, will keep you turning well into the night to learn the fate of those involved.

An engrossing novel which can only be told by Iles, as he tackles all sorts of moral issues to protect his family, leading to redemption. I agree with the other reviews, the novel is edgy, and written brilliantly, for a satisfying thriller! Read them all – you will not be disappointed! Tom Stechschulte, narrator of the audiobook, delivered an outstanding performance!

Since I started with Iles latest, Natchez Burning #4 (5 Stars), I jumped back to #1 in the series, to The Quiet Game, as was intrigued and wanted to learn more about the characters (these two are my favorites in the series, thus far)!

"I will do those things which make me happy today and which I can also live with ten years from now." ? Greg Iles, The Quiet Game

Review by gogglemiss
27/08/2015
Very enjoyable read.Considering what Penn Cage went through, being shot at, his house burnt to the ground and FBI on his back, I am really amazed that he survived, and made it to the courtroom.The finale was rather rushed with a lot of loose ends, but it was tense, thrilling with diverse characters.