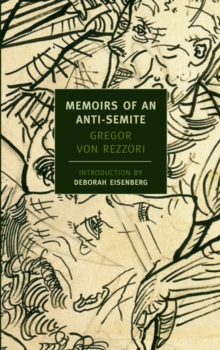 Memoirs Of An Anti-Semite
Paperback
Information
Format: Paperback
Pages: 320 pages
Publisher: The New York Review of Books, Inc
Publication Date: 01/11/2007
Category: Biography: literary
ISBN: 9781590172469
Free Home Delivery
on all orders
Pick up orders
from local bookshops
Reviews
Showing 1 - 5 of 5 reviews.
Review by yhaduong
16/06/2015
The title is deceptive for the book is not really about an anti-Semite but is more the portrait of a man living in Eastern Europe in the times leading up to the Holocaust. An extremely well written and hilarious (satirical) account.
Review by michiy
16/06/2015
Beautifully written and entertaining. Prior to the book having been written one of the stories was published in the New Yorker. It gives insight into the more benign anti-semitic sentiment that prevailed in germanic europe which, in my opinion, speaks of all forms of racism and discrimination that still occur and that we are all guilty of today. However, the story telling is quite light and very readable.
Review by DieFledermaus
16/06/2015
This is a gorgeously written book but it took me awhile to finish it because there was a high level of unpleasantness, which might be expected given the title. There are five episodes in the narrator's life – his background generally remains the same, but each is a stand alone story. All five, however, deal with encounters with Jews and generally end badly. The writing was really fluid and descriptions of both places and the narrator's rationalizations are compulsively readable and nuanced. Because of this, I'll definitely be getting the other books by von Rezzori that are published by NYRB (had been holding off until I read this one).The narrator is from a good family in a far off outpost of the former Austro-Hungarian Empire and some nostalgia for the old regime is felt. He isn't as dogmatically anti-Semitic as his parents and relatives but stereotypical ideas color his encounters with the Jewish men and women he meets. At the same time – possibly because of the taboos on associating with Jews – the narrator is attracted to them. For example, a childhood friend fascinates him because he is so different from what the narrator expects a Jewish boy would be like (and in fact contrasts to the poor Jewish children in the town). The narrator also has a tendency to romanticize the Jews, thinking of them as from an old lineage, more spiritual than normal people and with a sad past (though he does nothing to oppose the creeping events of the 1930's). Besides his boyhood friend, the other Jews he encounters are women and their relationships usually have some kind of romantic component. A widow with whom the narrator has an affair attracts and repels him –his ambivalent feelings about Jews combine with his contempt for her bourgeois sentiments and can be difficult to differentiate. The narrator judges a boarder in his house as a Jew but helps her clean out the flat of some relatives and becomes involved in the past romance between her uncle and aunt, who hid her Jewish identity. He forms a fast friendship with an intelligent and somewhat flighty Jewish neighbor and joins her social circle while the Nazis move into Vienna. In the last section, which takes place after the war, the narrator thinks back on his second wife, a Jewish woman, and how the marriage disintegrated.Though the narrator is often narrating from the present and one story is set after the traumas of WWII, his views on Jews are still based on separation and stereotypes. Often in older books, these ideas aren't examined in detail, are just casually mentioned in passing or are embodied in some sort of stereotypical Jewish character. Here were get a close-up, unfiltered view of anti-Jewish feelings though the narrator probably considers himself enlightened on the Jewish question – after all, he has had Jewish friends, lovers and married a Jewish woman. It was at times uncomfortable to be in the narrator's head but more detailed than many other portrayal of anti-Semitism. His thoughts on what Jews are 'like' are bound up with other prejudices as well – anti-bourgeois sentiment or the division of women into wives and others. Besides all the conflicting feelings, the narrator casually accepts instances of anti-Semitism shown by others. He's not bothered by his relative relating an incident where a Jewish man was humiliated or hearing his fellow boarder praise Hitler and mention that it's democracy if 51% wants to kill the other 49%. He also takes the Nazis entering Vienna in stride – that's the problem of his Jewish friends. The lightness contrasts to the final story and would also provide a counter to reader expectations since the stories were published after WWII.
Review by deebee1
16/06/2015
It is not what you think it is. On the contrary, these are the semi-autobiographical reflections of an elderly gentleman on memorable and dear events in his long life which brought him into more than just passing contact with a people whom he should despise, as he was brought up to believe. Growing up in the easternmost reaches of the dying Austro-Hungarian empire before the 1920s (now Romania), in an upperclass Austrian family who held fast and pathetically to the illusion of imperial injunction to represent civilising influences in this backward region, part of his instruction was to keep clear of Jews. The Jews were of course numerous in this part of Europe and hopelessly for our hero, he is torn between repulsion and fascination by these people who seem to be more clever, more sophisticated (at times more goodlooking even!), and led far more interesting lives than everybody else around him. This uneasy ambivalence followed him from boyhood through adulthood in the early aftermath of the 2nd world war. Despite appearances to the contrary especially to his family, he did not particularly avoid circumstances that would eventually create a special bond and relationship between him and certain Jews. The memoirs are composed of 5 such episodes -- as a young boy, his summer friendship with a piano prodigy of the same age, as a young man -- a strange arrangement with a girl to secretly go through and dispose of the belongings of her dead relations, a secret affair with a widow which ended in a humiliating way, an intense friendship with an interesting girl who introduced him to the literati of Vienna, and last, his falling in love with and marrying a frighteningly beautiful and intelligent girl broken by the experiences of war and whom even his love could not put back together again. Those experiences marked him in subtle ways for many years to come, all the more for being a witness to the unfolding of the grim events which led these people to the death camps. Despite these bonds, he recalls the times when he acted in petty contempt or perhaps jealousy toward these same people for being "other" and we realise at the end that commiting his recollections to paper many decades after was the gentlest and most loving act he could do to honor them. von Rezzori crafts each story so beautifully, with subtle humor and humanity. Without sentimentality, he conveys his love for and deep connection with a place and a way of life in that sad, remote part of Europe that now exists only in his memory. As only the best of writers can, he draws us deftly into his world and mind without our being conscious of the transition that we go through each time we open a page of his book. He does this in a fluid way I rarely feel about other equally excellent authors' works, and this is what makes him, in my opinion, a cut above the rest. It's a pity he is not more widely read.
Review by William345
16/06/2015
This is a wonderful novel. The title is ironic. The writing dazzles. Occasionally, just occasionally, I come across a book that wallops me into silence. . . .<br/>
Also by Gregor von Rezzori