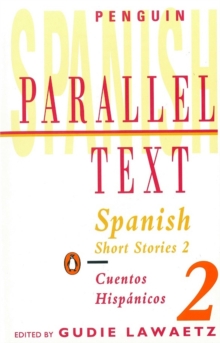 Spanish Short Stories
Paperback
Description
This second volume of short stories contains more diverse and lively writing from the Spanish-speaking world.
Again much of it is from Latin America, Carlos Fuentes being Mexican, Norberto Fuentes Cuban, and the other writers having their roots in Uruguay, Chile, Peru, Colombia and the Argentine.
Only Ana Maria Matute is a native of Spain. This highly entertaining selection of stories, together with a chapter from Mario Vargas Llosa's novel 'Conversation in the Cathedral', explores stylistic contrasts and gives an insight into the cultural and social milieu of the Spanish-speaking world.
With notes on unusual Spanish words and phrases, it will be of great value to English students of the language as well as a helpful companion to Spanish-speaking students of English.
Information
Format: Paperback
Pages: 208 pages
Publisher: Penguin Books Ltd
Publication Date: 25/05/1972
ISBN: 9780140033786
Free Home Delivery
on all orders
Pick up orders
from local bookshops
Reviews
Showing 1 - 1 of 1 reviews.
Review by cammykitty
16/06/2015
This is certainly a better collection than Spanish Short Stories 1. It includes (wow) 1 woman, and represents a wider range of countries than the first collection. Like the first collection, the text is carefully spaced side-by-side to make it easy to double check your understanding or to find the meaning of a new word. The footnotes, though, don't add a lot of information. Most of the footnotes just say "slang" and you wind up wondering how the word "chupa" which means "suck" also became slang for "lose weight." Huh??? The stories themselves are all from literary masters: Carlos Fuentes, Mario Vargas Llosa, Julio Cortazar etc. Most of them had twist endings and were very psychological. I enjoyed them, but didn't love them. I also noticed my reading in Spanish is very different than my reading in English. When I read in English, my mind goes all over the place. I think about other things that are similar to what I'm reading. I pick up nuances. I predict what is going to happen. In Spanish, nuances? Ha! As for making connections and predictions, little of that happens. I'm too busy working with the language and my limited vocabulary. Pronouns confuse me! I'm constantly getting tripped up by words that sound like other words I know, and if the author was going for a double entendre, hey, it went over my head. I have a feeling that if I keep working on my Spanish skills, when I read these same stories a year from now, I will come to love them.