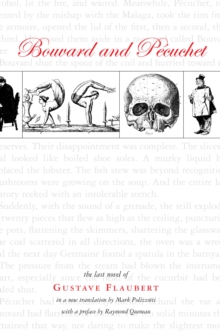 Bouvard and Pecuchet : A Novel
Paperback
Description
Although unfinished during his lifetime, Bouvard and P cuchet is now considered to be one of Flaubert's greatest masterpieces.
In his own words, the novel is "a kind of encyclopedia made into farce...A book in which I shall spit out my bile." At the center of this book are Bouvard and P cuchet, two retired clerks who set out in a search for truth and knowledge with persistent optimism in light of the fact that each new attempt at learning about the world ends in disaster.In the literary tradition of Rabelais, Cervantes, and Swift, this story is told in that blend of satire and sympathy that only genius can compound, and the reader becomes genuinely fond of these two Don Quixotes of Ideas.
Apart from being a new translation, this edition includes Flaubert's Dictionary of Received Ideas.
Information
Format: Paperback
Pages: 328 pages
Publisher: Dalkey Archive Press
Publication Date: 07/07/2005
Category: Classic fiction (pre c 1945)
ISBN: 9781564783936
Free Home Delivery
on all orders
Pick up orders
from local bookshops
Reviews
Showing 1 - 3 of 3 reviews.
Review by HadriantheBlind
16/06/2015
An incomplete masterpiece. <br/><br/>A vast rambling, hilarious journey throughout all of human history and science and endeavor. The antics of the title characters are jabs and scorns at everything from agriculture to history. Despite the age and distance of the book, so much is still relevant today - the hilarity of their archaic medicine is particularly funny.<br/><br/>The end notes and dictionary of terms are also excellent.
Review by Kristelh
27/01/2016
This unfinished work by Flaubert was both enjoyable and a slog to read. I liked the whole idea but it just kind of wears on and on. Two men become friends and one receives and inheritance, they both retire and move to the country where they try various things to find something to fill their days, end at never doing anything well, losing most of everything they had, including friends, contemplate suicide and the book ends with Christmas Eve. What a perfect timing to read this book. For that reason I appreciate it.
Review by stillatim
16/06/2015
Too bad he never got to finish it- sounds like the complete two volumes would have been hilarious. What we have is still pretty funny, but I think the most impressive thing is that the usual progress of Flaubert's novels is inverted. Usually I'm filled with indignation at the way society treats an individual, but come to despise the idiotic protagonists. Here, the protagonists are complete and utter morons who don't seem to deserve any pity whatsoever. It slowly becomes clear, though, that their idiocy isn't their own fault. In fact, the world they live in is even stupider than they are, and offers them no resources to improve their lives. Hence the second volume, parts of which are printed with B&P as 'The Dictionary of Received Ideas.' French editions often include quotes to illustrate the stupidity of primary texts. In short, if you hate everything and love everyone, you'll love this book.