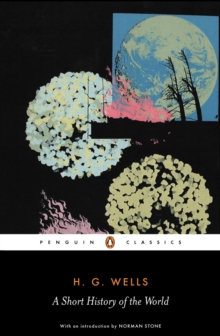 A Short History Of The World,
Paperback
Description
Spanning the origins of the Earth to the outcome of the First World War, this is a brilliantly compelling account of the evolution of life and the development of the human race.
Along the way, Wells considers such diverse subjects as the Neolithic era, the rise of Judaism, the Golden Age of Athens, the life of Christ, the rise of Islam, the discovery of America and the Industrial Revolution.
Breathtaking in its scope and passionate in its intensity, this history remains one of the most readable of its kind.
Information
Format: Paperback
Pages: 400 pages
Publisher: Penguin Books Ltd
Publication Date: 30/03/2006
Category: General & world history
ISBN: 9780141441825
Free Home Delivery
on all orders
Pick up orders
from local bookshops
Reviews
Showing 1 - 2 of 2 reviews.
Review by uh8myzen
16/06/2015
This is by no means an in depth history of the world and is certainly outdated, however it is a fascinating read and there are still many interesting things to be learned from it. As a student of history myself, I enjoy reading historical texts written in other time periods for a number of reasons, but the most relevant and interesting to me is what such a text can teach you about the time in which it is written, in this case Victorian England. There is much information to be gleaned about the England that Wells inhabited even when he is discussing other historical periods. The cliche "History is told by the victors" is very true, but it is also told in voice of the teller. That is to say, history is a very "political" endeavor, always hued in whatever colours the teller favours. A United Empire Loyalist writes a very different account of the American Revolution than a revolutionary patriot. A Darwinist sees a different origin of our species than a Christian and so different events will have differing significance to each. Everything from our politics to our religion combine with our place and period to taint the histories we encounter which means the way histories are told can give us remarkable insight into the people telling it.Give this book a read if you are a fan of history, HG Wells or Victorian England. It is a very fascinating read in my opinion.
Review by beabatllori
16/06/2015
I'm giving this 5 stars because it may become "the book that ended the Non-Fiction and History Curse". For a proper review though, you'll have to wait until I've read more history and can compare. Or until Alex reads it, whatever happens first. For now, I just thought it was awesome.