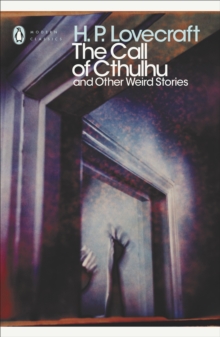 The Call Of Cthulhu And Other Weird Stories,
Paperback
Description
Collecting uniquely uncanny tales from the master of American horror, H.P.
Lovecraft's The Call of Cthulhu and Other Weird Stories is edited with an introduction and notes by S.T.
Joshi in Penguin Modern Classics. Credited with inventing the modern horror tradition, H.P.
Lovecraft remade the genre in the early twentieth century.
Discarding ghosts and witches, and instead envisaging mankind at the mercy of a chaotic and malevolent universe, Lovecraft's unique works would prove to be a huge influence on modern horror writers such as Stephen King.
This selection of short stories ranges from early tales of nightmares and insanity such as 'The Outsider' and 'The Rats in the Walls' through the grotesquely comic 'Herbert West - Reanimator' and 'The Hound', to the extraterrestrial terror of 'The Call of Cthulhu', which fuses traditional supernaturalism with science fiction.
Including the definitive corrected texts, this collection reveals the development of Lovecraft's mesmerising narrative style and establishes him as a hugely influential - and visionary - American writer. Howard Phillips Lovecraft (1890-1937), born in Providence, Rhode Island was self-educated and lived in his birthplace all his life, working as a freelance writer, journalist, and ghostwriter.
Using many pen names, he contributed his supernatural/horror and science fiction/fantasy stories to various pulp magazines but his reputation as a writer rests mainly on the 60 or so stories he published in the pulp magazine Weird Tales starting in 1923.
If you enjoyed The Call of Cthulhu, you might also like Arthur Machen's The White People and Other Weird Stories, available in Penguin Classics. 'The twentieth century horror story's dark and baroque prince' Stephen King
Information
Format: Paperback
Pages: 448 pages
Publisher: Penguin Books Ltd
Publication Date: 01/07/2002
Category: Anthologies (non-poetry)
ISBN: 9780141187068
Free Home Delivery
on all orders
Pick up orders
from local bookshops
Reviews
Showing 1 - 4 of 4 reviews.
Review by razorhack
16/06/2015
This collection includes some of the best short stories written by H.P. Lovecraft. The stories themselves have been recollated and proofed against the original sources and are the definitive texts. Good introduction to Lovecraft for novices.
Review by bookwitch
16/06/2015
What I like about Lovecraft's short stories is the way he created a whole mythology that not only links them together but pulls in strands from the stories of other horror writers of the era. A little Internet investigation will confirm this – whole dissertations have been written about it and The Necronomicon, that hideous and blasphemous text, supposedly written by the mad Arab, Abdul Alhazred, but in reality a fiction and construct of Lovecraft's imagination. I read somewhere that he used to edit and improve the stories of other writers, giving him further opportunity to extend the web of his fiction until one almost begins to wonder where imagination begins. These stories have become modern classics, although sometimes they feel overlong and dated in their formality. There are passages of marvellous writing and glimpses into the mind of the writer himself: somehow one feels the presence of Lovecraft in all his narrators, so it's almost as though one knows the author (although some darkish mystery remains) by the end of the book. I'm not sure how these stories would compare to the modern equivalent because I haven't read any to speak of; all I can say is that the horror in Lovecraft's work doesn't rely on gore or explicit violence and there's no sex. It's more the creeping fear of the unseen, the presence in the darkness, that builds gradually to alien and unspeakable happenings, some of which seem almost to tap into primeval memories. Clever stuff!
Review by soylentgreen23
16/06/2015
I struggled with this one - in fact, no other book has taken me longer to read. I first took a look at it in 2005, and slowly worked my way through the first half dozen stories. Then, sadly, I shelved it as a project I couldn't finish. I didn't take to Lovecraft's style of writing at all. I found it to be too idiosyncratic and somehow distant, and definitely too pensive. I can understand the cult that's grown up around his work, and I did get a real kick out of reading "The Shadow Over Innsmouth," but I think this is where my horror adventure ends.
Review by iansales
16/06/2015
I'm pretty sure I've read Lovecraft in the past – in fact, I have a quite vivid memory of the cover art of a Lovecraft collection which, I think, I borrowed from Coventry City Library back in the early 1990s. It's hard to be sure, given there's so many different ways to pick up knowledge of his oeuvre and the Cthulhu mythos – I used to play the Call of Cthulhu RPG when I was at school, for example. Having said that, none of the stories in The Call of Cthulhu and Other Weird Stories seemed especially familiar. I'd always thought Lovecraft's prose of poor quality, and despite a recent discussion on that subject, I suspect I may be revising my opinion. The early stuff is pretty bad – Q: when is a door not a door? A: when it's a "panelled portal"; and Lovecraft had a bad habit of saying something is indescribable… and then going on to describe it. But by the late 1920s, his writing had improved hugely, and in stories like 'The Call of Cthulhu' (1928) and 'The Shadow of Innsmouth' (1931), he'd toned down his love of adjectives to great effect; and while he might still recycle his favourite words a few times too often, the less-is-more approach was certainly better at evoking eldritch horror. I have to admit, I enjoyed this collection a lot more than I'd expected. Happily, I bought all three of the Penguin Modern Classic Lovecraft books, so I have The Dreams in the Witch House and Other Weird Stories and The Thing on the Doorstep and Other Weird Stories, all in nice matching paperback editions.