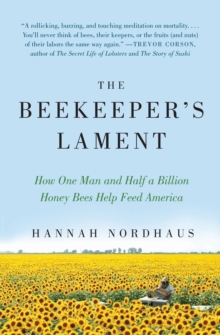 The Beekeeper's Lament : How One Man and Half a Billion Honey Bees Help Feed America
Paperback
Description
The honey bee is a miracle. It is the cupid of the natural world. It pollinates crops; making plants bear fruit and helping farmers make money.
But in this age of vast industrial agribusiness, never before has so much been asked of such a small wonder. And never before has its survival been so unclear - and the future of our food supply so acutely challenged.
In steps John Miller, or rather in he bounds. Miller tasks himself with the care and safe transportation of billions of bees.
He is descended from N.E. Miller, America's first migratory beekeeper, and trucks his hives from crop to crop, working the North Dakotan clover in summer and the Californian almonds in winter.
He provides the crucial buzz to farmers who are otherwise bereft of natural pollinators, and does so for a price.
But while there is steady demand for Miller's miracle workers, especially from the multi-billion-dollar almond industry (without bees an acre of almonds produces no more than 30 lbs of nuts; with bees, 2,000 lbs), he's faced with ever-mounting hive losses. In addition to traditional scourges like bears, wax moths, American foulbrood, tracheal mite, varroa mite, Africanized bees, overturned tractor trailers, bee thieves, PPB (piss-poor beekeeping), etc., beekeepers now lose hives in the most mysterious of ways, when whole colonies simply fly away, abandoning their combs, in an epidemic known as Colony Collapse Disorder.
While bad news is in constant supply, Miller forges ahead because he can't imagine doing anything else.
He copes and moves on. He works and sometimes triumphs, all with an inspiring sense of humor. "The Beekeeper's Lament" tells his story and that of his bees, creating a complex, moving, and unforgettable portrait of man in the new natural world.
Information
Format: Paperback
Pages: 288 pages, 10 black and white illustrations
Publisher: HarperCollins Publishers Inc
Publication Date: 05/07/2011
Category: Apiculture (beekeeping)
ISBN: 9780061873256
Free Home Delivery
on all orders
Pick up orders
from local bookshops
Reviews
Showing 1 - 5 of 8 reviews.
Previous | Next
Review by TooBusyReading
16/06/2015
The age of mass production has not been kind to bees.Before humans intervened, before the days of agribusiness, bees left to their own devices had hard, short, and sometimes violent and vicious lives. Since we've started helping them, their lives are worse. And we owe them a huge debt of gratitude.This fascinating book looks at the lives of bees and at one cantankerous commercial beekeeper, John Miller. It is no small irony that someone who "isn't fond of death," who takes it personally is involved in death everyday; it is part of the business.Like many, I had heard of CDC, Colony Collapse Disorder, that has wreaked havoc among bees and their keepers. What I didn't realize that CDC is only a part of the problem, that bees are susceptible to a whole host of fatal and really nasty diseases. And the solutions of dosing the bees with drugs, forcing them into unnaturally early springs, transporting them around the country, feeding them with cheap corn syrup instead of their own honey – these things are not making the situation better. Neither is monocropping.The politics of beekeeping is really eye-opening. Beekeepers are a dying breed, and agriculture as it is practiced today couldn't exist without them. You don't have to be especially interested in bees to find this book very informative. If you eat, their lives affect your life more than you probably know.There were a couple of places in the book where the writing seemed a touch dry to me. Statements like "in the wild, honey bees have disappeared entirely" made me wish for footnotes and a bibliography, although the statement was explained later in the book. As was "bees began bringing that nectar home to evaporate into honey...." Even in my ignorance, I knew that honey isn't just evaporated nectar, oh no, not anything that straightforward, burp.The next time you are spreading that big ol' glop of honey on your English muffin, give thanks for the dozen bees who together spent their whole lives making just a teaspoon of the stuff.
Review by nyiper
16/06/2015
I knew nothing about bees but I did hear Hannah interviewed on the radio and that grabbed my interest. The book is non-fiction, of course, but reads like a novel---hard to put down as you read about John Miller and about bees. Such a group of hardworking creatures---the beekeepers and bees alike---it's a fascinating, incredible story--more than worth reading. Hannah Nordhaus could probably handle any subject and make it a valuable experience to absorb--she just plain knows how to write.
Review by debs4jc
16/06/2015
Most of us have a vague admiration for bees (as long as they don't sting us) and the hard work that they do producing honey and pollinating our food supply. We have heard that the bees are in danger, but we don't really understand how grave the danger is or the implications. Read this book and you will understand so much more about bees and the strange breed of men (and a few women) who keep them.Hannah Nordhaus embedded herself in the culture of beekeeping by following John Miller--who has one of the largest beekeeping operations in North America. As she relates her experiences, she also includes informatoin on the history of beekeeping, the inner workings of a beehive, and the modern day threats to the bee population. Stories such as that of a beekeeper who was also a drug runner (who would look for drugs in a beehive?) add a great deal of levity and human interest to the scientific information presented. Indeed, Nordhaus has giftedly interwoven the stories of people in with information that could be dull if presented in a more straightforward manner.I highly recommend this book to anyone who loves to learn about new topics, and if you have any sort of an interest in bees and/or beekeeping you must put it at the top of your reading list. 
Review by frisbeesage
16/06/2015
The Beekeeper's Lament explores the mysterious and deadly Colony Collapse Disorder (CCD) through the eyes of one of the largest, and most charismatic commercial beekeepers in the US. It follows the history of this strange and mostly unprofitable profession from the first keepers who brought bees to North America all the way to the present day characters who battle mites and pesticides to keep their bees alive.You couldn't ask for a better person to introduce you to the magic of bees than John Miller. His quirky humor combined with a down-to-earth recognition of the facts and his vast knowledge of the beekeeping world keeps the reader entertained and informed at the same time. Through his story Hannah Nordhaus convinces the reader that bees are important, fascinating creatures and we should care about their fate. When the narrative strays from Miller into the historical parts it gets a bit dryer and harder to follow. As it flies into the future with the incredible, cutting edge research being done on bees, the pace quickens again. It's guaranteed that this book will change the way you look at bees and honey!
Review by jpe9
16/06/2015
An engaging tale of the joys (but mostly trials and tribulations) of modern large-scale beekeeping and its relationship with our food supply, told through the eyes of John Miller, who, along with his beehives, splits his time between Central Valley, California (near almond groves where he gets paid for tree pollination on Valentine's Day), and Gackle, North Dakota (where the summer yields high-grade alfalfa honey).