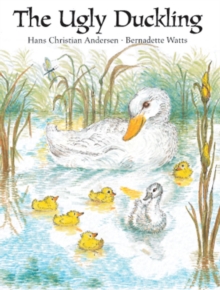 Information
Format: Paperback
Pages: 32 pages, col
Publisher: North-South Books
Publication Date: 22/06/2007
Category: Classic
ISBN: 9780735821460
Free Home Delivery
on all orders
Pick up orders
from local bookshops
Reviews
Showing 1 - 5 of 8 reviews.
Previous | Next
Review by juju1220
16/06/2015
The cover is different than the one that is displayed on library thing!This book was a story about a little duck that is born ugly and his family and friend ostracize him for his lack of beauty. Throughout the book the duckling is faces with the challenges of resentment and being picked on. Finally in the end he is reunited with a group of beautiful swans and then realizes that he has transformed into one of them The duckling learns the meaning of beauty and belonging. The illustration of the story is beautiful reflecting nature and animal life in a realistic way. Great story for young and old students as well as adults!
Review by lmckeon
16/06/2015
This classic tale of an ugly duckling by Hans Christian Anderson has enchanted children for years. As many classic folktales The Ugly Duckling has a moral to learn. This story has great illustrations that children love. This book is great for young children. This story is part of my personal library collection.
Review by emilyann93
16/06/2015
The ugly duckling is a about when the little duck was born, he was different than everybody else. He was born with two big feet, was fully white and had a fuzzy body. He wasn't like the yellow ducks. He was made fun of because of the way he looked and that's why he felt ugly. Everybody was mean to him and also didn't want to play with him. I feel like students today can be bullies towards somebody if they have something wrong with them. I feel like it shouldn't matter what's on the outside, it counts what's on the inside.
Review by Madison94
27/08/2015
I love this book because of how it shows to not judge a person based on appearances. It makes me sad and angry how no one likes the "ugly duckling." For example, "…and what a queer looking object one of them is…" The swan is a living breathing thing with feelings. He is not queer looking object as the other ducks believed him to be. It maddens me reading this book and the other ducks are judging the duckling based on looks. I enjoy the plot because in the end the other swans get what is coming to them and now the "ugly duckling" is the most beautiful swan. The illustrations show how saddened the duckling is because the illustrations have the duckling walking with his head down. When someone is walking like that it just shows how much they do not want to be looked at. The illustrations for me make me even more mad because it shows how mean the ducks were to him and how much he felt he didn't deserve to be alive basically. But towards the end the illustrations are more uplifting and they do aid in the telling of the story.
Review by StephanieWeiner
27/08/2015
This story is a classic that I enjoyed revisiting. I liked it because of the character of the ugly duckling. This character was relatable because of issues with comparing himself with his siblings and not feeling confident. I also loved the end of the story when he turns into a swan and becomes confident and proud of his body. I think the big idea is to be proud what you look like despite the issues you may have about the body you are in.
Also by Hans Christian Andersen | View all