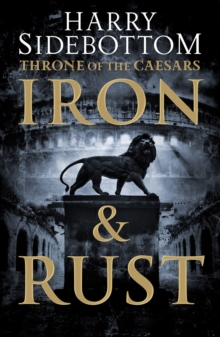 Description
'An amazing story of bloodlust, ruthless ambition and revenge' The Times From the bestselling author of WARRIOR OF ROME comes the first book in a new series set in third century Rome; a dramatic era of murder, coup, counter-rebellions and civil war.
In a single year six Emperors will lay claim to the Throne of the Caesars...SPRING AD235 Dawn on the Rhine.
A surprise attack and the brutal murder of the Emperor Alexander and his mother ends the Severan dynasty and shatters four decades of Roman certainty.
Military hero Maximinus Thrax is the first Caesar risen from the barracks.
A simple man of steel and violence, he will fight for Rome.
The Senators praise the new Emperor with elaborate oratory, but will any of them accept a Caesar who was once a shepherd boy? And in the streets of the eternal city, others merely pray to escape imperial notice.
In the north, as the merciless war against the barbarians consumes men and treasure, rebellion and personal tragedy drive Maximinus to desperate extremes, bloody revenge and the borders of sanity. Iron & Rust, the first book in a major new series, creates a world both sophisticated and brutal, yet firmly rooted in history; a world of intrigue, murder, passion and war, a world where men will kill to sit on the Throne of the Caesars.
Information
Format: Hardback
Pages: 432 pages
Publisher: HarperCollins Publishers
Publication Date: 22/05/2014
Category: Historical fiction
ISBN: 9780007499847
Free Home Delivery
on all orders
Pick up orders
from local bookshops
Reviews
Showing 1 - 2 of 2 reviews.
Review by janerawoof
16/06/2015
Dio Cassius: " Our history now descends from a kingdom of gold to one of iron and rust." I was never interested in the author's Ballista series, but I'm thrilled to read this one! Choice of title for this political thriller was really a propos since one could say this is the beginning of Rome's downward slide into mediocrity and weakness. This was the first volume of a planned tetralogy based on the fateful 238 AD [Year of the 6 Emperors]. This first in the series deals with Maximinus Thrax [The Thracian], an equestrian acclaimed emperor by the Roman Army in Germania. Soldiers assassinate the inept, cowardly, and corrupt Alexander Severus and his evil mother. Maximinus is hated by patricians even from his accession to the purple, because of his barbarian, uncouth, and [to patricians] lower class background. The novel deals with his reign. There are 4 distinct subplots that finally come together: The situation in Germania; Gordian [both father and son] in Africa; People in Rome that surround Maximinus--Pupienus, the City Prefect; appointees, family and plebs, the last group represented by a simple die-cutter at the Mint; andThe war with Ardashir's Sassanid Persians. Most of Maximinus' policies are not well thought-out and finally everyone turns against him for his decisions. The coup de grace, so to speak, is his restriction of the 'bread and circuses' of the lower classes. He also unleashes a purge of his political enemies, real and imagined. He goes berserk at the death [murder? suicide?] of his beloved wife, Paulina, who is no longer around to put a bridle on his impetuosity and bad temper. Two plots involving usurpers claiming the throne, are nipped in the bud, one of which Maxentinus uncovers. The battle scenes were very well-done: in different theaters of war: Ad Palmam, an oasis in Africa; a pass in Harzhorn mountains [Germania]; fight against Sassanid Persians in northern Mesopotamia and against Sarmatians on Hierasos River [present-day Ukraine].The historical research was impeccable, but sometimes the style was dry. On the whole, I found the novel gripping. The action moved right along. Although I know something of the history of that period, I liked the author's assigning plausible motivations for the action. I did feel sympathy for Maximinus although he became a tyrant; he struck me as a fish out of water and no one was willing to cut him any slack. He certainly angered people from all levels of society. I felt he became paranoid after the death of his wife.. I think characters were portrayed realistically. There was an extensive dramatis personae; I'm glad there was a section on who was who. I had to keep referring to this list. The maps, glossaries and Historical Afterword were very informative. I can't think of any other novels on this rather obscure period of history, so this novel does fill a much-needed lacuna.
Review by adpaton
27/08/2015
I really did try to read this because Roman history, and in particular the fall of the Roman Empire, is fascinating. The book was too dry, cull and boring for me.
Also in the Throne of the Caesars series | View all