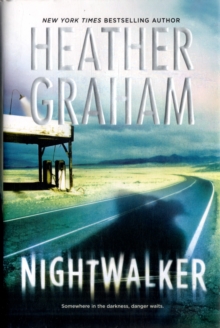 Nightwalker
Hardback
Part of the Import HB series
Description
Jessy Sparhawk has seen firsthand how gambling can ruin lives.
But one night, desperate for money, she places the bet that will change her life forever.
Just as she's collecting her winnings, a man stumbles through the crowd, a knife protruding from his back, & crashes into her, pinning her to the craps table.
Information
Format: Hardback
Pages: 352 pages
Publisher: Mira Books
Publication Date: 15/05/2009
Category: Crime & mystery
ISBN: 9780778326373
Free Home Delivery
on all orders
Pick up orders
from local bookshops
Reviews
Showing 1 - 3 of 3 reviews.
Review by jjmachshev
16/06/2015
Reviewed for queuemyreview.com; book release Apr09"I see dead people." That line from The Sixth Sense, delivered by that child actor, has become one of the more famous, and infamously parodied, in recent history. It sent chills up my spine when I saw the movie and even now, just remembering gives me the shivers. I'm not sure what the continuing lure is for stories about ghosts, but it's certainly an enduring part of every society and every generation. Heather Graham's latest romantic suspense, "Nightwalker", provides a peek into her take on ghosts and those who can communicate and see them. Luckily for us, they use this power for good.Jessy is a native of Las Vegas, so she's well versed on the odds of winning a bit pot at the craps table; and when it happens to her, she's thrilled…until seconds later a stranger crashes into her and dies…trapping her under his body and the word "indigo" uttered with his dying breath. Now all of a sudden, she's seeing the dead man everywhere. And the starkly handsome private investigator who dragged the dead body off her is dogging her steps for information…and maybe just a bit more.Dillon sees dead people, and that's NOT a joke. For him it began after the death of his parents, and he was lucky enough to meet up with a man who understood and nurtured his talent. Now he works for that man with a group of others like him…the Nightwalkers. They provide assistance for the ghosts, helping them to move on. Dillon is in Vegas working on a case when he spots Jessy at the craps table. Something about her draws him in and it's not just her gorgeous looks. Both Dillon and his ghostly pal have a baaad feeling that Jessy's in danger as it looks like whoever killed the dead man is doing a little clean-up since everyone who came in close contact with him is dying…violently.This story begins in the distant past in a Wild West saloon, and ends a few miles away in Vegas. Most everything in the story has meaning to both the past and the present. I found it fascinating the way Graham's plotting pulled in descendants of the original story for the spine-tingling finale. The book is really more of a mystery/suspense with a bit of romance than the other way around, so if this is something that bugs you, consider yourself warned! The hints and clues to the mystery are sprinkled throughout the read and I didn't fully figure out 'whodunit' until the author's dénouement.My only complaint with "Nightwalker" would be the dearth of back-story development of the main characters. We only get a glimpse into the 'whys and wherefores' of the whole 'seeing ghosts' ability. Ditto for anything other than the most cursory exploration of the backgrounds of the hero and heroine. I still enjoyed Heather Graham's latest for what it is…a good mystery, with some action, suspense, and a tinge of romance.
Review by kysmom02
16/06/2015
This book was not for me. I finished it, but I didn't enjoy it. I found it to be a cheesy ghost story that didn't have enough depth. I actually liked Ringo (one of the ghosts in this story) more than I liked either Dillon or Jessy. I can't tell you why I even kept reading this. I guess I just wanted to finish it, but there wasn't any pull to even figure out what was really going on. I wasn't interested or even intrigued with the plot line and the death of the bodyguard. I wasn't even really into the whole hookup between Dillon and Jessy. For me, usually I'm at least into one part or the other!Overall, the book isn't written badly, it just wasn't my cup of tea. I can't say that I'll give up on this author, but I won't be rushing for another one anytime soon.
Review by oldriverbooks
16/06/2015
I have always enjoyed read Heather Graham's novels. This one has some interesting characters, especially Ringo.<br/><br/>One night, desperate for money to support her grandfather, Jessy Sparhawk places the bet that will change her life forever. Just as she's collecting her winnings, a man stumbles through the crowd, a knife protruding from his back and crashes in to her pinning her to the table. <br/><br/>Hired to investigate the murder, private detective Dillon Wolf fins himself fascinated by the gorgeous redhead who'd been trapped beneath the victim - and by the single word the dying man has whispered in her ear.