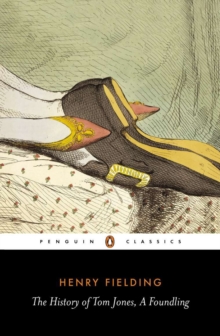 The History Of Tom Jones,
Paperback
Description
Henry Fielding's picaresque tale of a young man's search for his place in the world, The History of Tom Jones is edited with notes and an introduction by Thomas Keymer and Alice Wakely in Penguin Classics. A foundling of mysterious parentage brought up by Mr Allworthy on his country estate, Tom Jones is deeply in love with the seemingly unattainable Sophia Western, the beautiful daughter of the neighbouring squire - though he sometimes succumbs to the charms of the local girls.
But when his amorous escapades earn the disapproval of his benefactor, Tom is banished to make his own fortune.
Sophia, meanwhile, is determined to avoid an arranged marriage to Allworthy's scheming nephew and escapes from her rambunctious father to follow Tom to London.
A vivid Hogarthian panorama of eighteenth century life, spiced with danger and intrigue, bawdy exuberance and good-natured authorial interjections, Tom Jones is one of the greatest and most ambitious comic novels in English literature. In his introduction Thomas Keymer discusses narrative techniques and themes, the context of eighteenth century fiction and satire, and the historical and political background of the Jacobite rebellion. This volume also includes a chronology, further reading, notes, a glossary and an appendix on Fielding's revisions. Henry Fielding (1707-1754) born at Sharpham Park, in Somerset, was a dramatist, novelist, political agitator and founder of London's first police force, the 'Bow Street Runners'.
As a playwright he was a thorn in the side of Sir Robert Walpole's Whig government, who effectively legislated his retirement from the theatre with the Licensing Act of 1737.
Undeterred, Fielding launched his career as a novelist in 1740 with Shamela (a parody of Samuel Richardson's Pamela), followed by Joseph Andrews (1741), an anticipation of his masterpiece, the comic novel Tom Jones (1749). If you enjoyed The History of Tom Jones, you might like Henry Fielding's The Life and Opinions of Tristram Shandy, Gentleman, also available in Penguin Classics.
Information
Format: Paperback
Pages: 1024 pages
Publisher: Penguin Books Ltd
Publication Date: 28/04/2005
Category: Classic fiction (pre c 1945)
ISBN: 9780140436228
Other Formats
Paperback from £7.09
Paperback / softback from £17.99
Hardback from £23.95
EPUB from £3.99
Free Home Delivery
on all orders
Pick up orders
from local bookshops
Reviews
Showing 1 - 3 of 3 reviews.
Review by Terpsichoreus
16/06/2015
Who reads this and laughs not at all may be forgiven only as a simpleton, and does not comprehend.Who reads this and laughs but a little is too dour and prideful to be of much use, and only laughs when he cannot help it.Who reads this and laughs a score is the wretched false-wit, and only laughs when it suits his crowd.Who reads and laughs but once a chapter has a mirthful soul, if no great love for words.Who reads and laughs at every page shall be my boon companion, and a kiss for each grinning cheek.Who reads and laughs at twice and thrice a page shall be my worthy better, and may they forgive my endless queries.
Review by stillatim
16/06/2015
So, I give this five stars, but, you know, not every five star book should be read by every person. If you have great patience, and are willing to admit that your tastes have been formed by the nineteenth century novel and then by certain aspects of modern literature; if you're willing to test your (my) assumption that novels are best when they're realistic or modernist; if you don't mind a bit of slap and tickle... then you should read this. If you want to judge a book based on whether its characters are 'round;' if you think the best book doesn't really have a narrator at all, let alone one who keeps talking at you; and, most importantly, if you're the sort of reader/critic Fielding spends about two pages out of every hundred mercilessly slagging off, then you should probably avoid this like the plague. If you're not sure what kind of person you are, read 'Joseph Andrews.' It's much shorter, and nowhere near as good, but a good litmus test. If you're the second kind of person listed here, don't worry, I'm not judging you for being completely bound by your historical moment. Much. But you are missing out on one of the greatest stories in English lit.
Review by dbsovereign
02/03/2016
Fielding is a master craftsman! In this book he managed to make loving into an art and embellished it with great humor. Don't we all wish we lived life with the same vigor?!