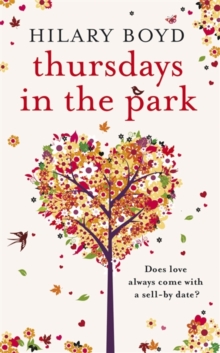 Thursdays in the Park
Paperback
Description
Jeanie has been a loving wife to George for over thirty years, a devoted mother to their daughter and, recently, an adoring grandmother - all this despite the fact that several years ago, George withdrew from their marital bed with no reason given.
At first Jeanie was determined to confront him, but days rolled into weeks, then years, and still she has no idea why it happened.
Did she do something wrong? Is he in love with someone else? George won't talk about it. Every Thursday, Jeanie takes her granddaughter to the park, and there she meets Ray, who performs the same weekly duty for his grandson.
Ray seems to be everything George isn't - a listener, easy to talk to, open-minded - and sexy.
Suddenly Jeanie feels attractive again and, against her will, finds herself falling in love with him.
She knows all too well that her new passion threatens everything she holds dear.
She must make a choice. Family ties, dramas, secrets and lies all weave their way though this beautiful and insightful first novel written by an author who has the perfect experience to write it.
Information
Format: Paperback
Pages: 352 pages
Publisher: Quercus Publishing
Publication Date: 04/08/2011
ISBN: 9780857385161
Free Home Delivery
on all orders
Pick up orders
from local bookshops
Reviews
Showing 1 - 1 of 1 reviews.
Review by jtck121166
16/06/2015
A novel about a woman who begins a love affair at sixty: new literary phenomenon? Invention of a new genre? Well ...Although I'm not yet (anywhere near!) 60, I wondered what all this 'gran-lit' stuff was about, and thought I really ought to read it. Well, it's the very definition of a 3-star rating: it's OK.There's a rather cosy, middle-class setting, peopled with characters you know already, because they're the sort of characters who appear in novels like this: financially secure but personally flaky north London types, apparently happy but (oh, I get it!) only apparently so.The central character, Jean, is 'old' only in the sense that she has has a grown-up daughter and she's been married to the same man for 32 years, but of course she's really just your common-or-garden chick-lit heroine (of the bitter-sweet, rather than the rom-com variety; mental age about 24), but, hey, it says here she's celebrating her 60th birthday.There's clock symbolism, and the birth of new life, and the year fading before beginning again, etc., etc. Jean risks her marriage, returns to it, leaves it, doesn't know what to do, makes a decision, regrets it, comes to terms with it, misinterprets something - oh no! - but - phew! - the misunderstanding is cleared up, things turn out for the best, all will be well. At least we hope so, for, never forget, this is real life, and who can tell?In spite of a couple wobbly moments (I laughed out loud at the epiphany on the bench, and I don't think I was meant to), this is by no means a bad yarn, indeed I rather enjoyed it.It's just no big a deal.