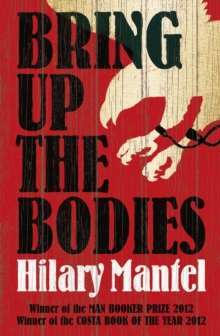 Bring Up The Bodies
Paperback
Description
Winner of the Man Booker Prize 2012, the 2012 Costa Book of the Year and shortlisted for the 2013 Women's Prize for Fiction.
With this historic win for 'Bring Up the Bodies', Hilary Mantel becomes the first British author and the first woman to be awarded two Man Booker Prizes (her first was for 'Wolf Hall' in 2009).
By 1535 Thomas Cromwell is Chief Minister to Henry VIII, his fortunes having risen with those of Anne Boleyn, the king's new wife.
But Anne has failed to give the king an heir, and Cromwell watches as Henry falls for plain Jane Seymour.
Cromwell must find a solution that will satisfy Henry, safeguard the nation and secure his own career.
But neither minister nor king will emerge unscathed from the bloody theatre of Anne's final days.
An astounding literary accomplishment, 'Bring Up the Bodies' is the story of this most terrifying moment of history, by one of our greatest living novelists.
Information
Format: Paperback
Pages: 432 pages
Publisher: HarperCollins Publishers
Publication Date: 06/05/2013
Category: Historical fiction
ISBN: 9780007315109
Other Formats
Hardback from £15.79
EPUB from £4.49
CD-Audio from £15.15
Paperback from £8.65
eAudiobook MP3 from £6.79
Free Home Delivery
on all orders
Pick up orders
from local bookshops
Reviews
Showing 1 - 5 of 6 reviews.
Previous | Next
Review by LARA335
16/06/2015
Written in the present tense - the reader is with Thomas Cromwell as he gathers and stores information and gossip and uses these in the cause of Henry VIII. Mantel brings history alive and immediate by not signposting 'ye olde historical detail' but by seeming to live it and write it in the moment, with amazing wit and vividness.
Review by Janet_Corcoran
16/06/2015
Read this soon after reading Wolf Hall. It is much easier to read but less based around history and more a work of fiction and for that reason I didn't enjoy it nearly as much.
Review by JonArnold
16/06/2015
Not as good as Wolf Hall. Better.Better because, while the second person narrative isn't as surprising, this is inexorable. Essentially it's the tragedy of Anne Boleyn. Spoiler warnings are redundant; anyone who's even faintly au fait with the Henry VIII's marital history knows how this is going to end before the first page is turned. It fashions the ambiguities around Anne's demise into slow burning revenge from Thomas Cromwell on all who've wronged him, here the masterly manipulator he was moving toward becoming in the first book. He weaves his plans carefully, building up to it through the first half of the book before unleashing damnation on his opposition in the book's second half – the temptation to compare it to a spider spinning its web is likely to be irresistible. And yet, as we see things from Cromwell's viewpoint throughout, we cannot pity those he breaks. Most are led there by their own foolishness and ignorance of who might be paying attention to their careless cruelties. And sooner or later they pay for that carelessness. This is a bleak world where money and power is all and everything depends on a capricious king.This strikes me as the crucial book in the trilogy in terms of character. Wolf Hall was about Cromwell's rise, The Mirror And The Light will be about his fall. This is Cromwell in his pomp, the invincible master of fate. This is where we see what makes him enough of a fascinating character for a novelist to exhume his story nearly five centuries later. Of course caveats about artistic licence apply, but Mantel convinces by weaving her tale around the facts we know of the time. In terms of modern storytelling, this is the showing of Cromwell's genius, not the telling. And in those terms, hooking the crux of Cromwell's tale around one of the most infamous events in the history of the British monarchy, Mantel cements Wolf Hall's success and turns the trilogy into one of the finest literary achievements of modern times.Sometimes, with what seems the infrequency of sun drenched British summers, the Booker judges do get things right. On the evidence so far, we can expect another fine summer soon enough with the concluding volume.
Review by lozbeth1
16/06/2015
I found this book really hard going. The writing style making it a slog to get through; it was enjoyable only in small parts.
Review by passion4reading
16/06/2015
In this second volume of Hilary Mantel's trilogy, Thomas Cromwell comes across as an even more complex character than in Wolf Hall in that here his ruthless streak is revealed as he pursues a personal vendetta against men he perceives to have wronged his old master, Cardinal Wolsey, in the name of serving King Henry VIII. A naturally imposing figure, he strikes terror into the souls of his enemies without needing to resort to threats or violence. Again Hilary Mantel's prose brings all the characters to colourful life, so that you feel certain parts of dialogue or facts must be based on surviving documentary evidence. Both books (and no doubt the third as well) will certainly benefit from repeated readings to coax out every nuance and hidden layer. I still feel that there could be other ways to circumvent the somewhat clumsy use of male personal pronoun when there is a need to clarify as to who is referred to (he: Cromwell), as this jarred a little in a text that was otherwise fluid. I have no doubt the final volume will prove equally fascinating.