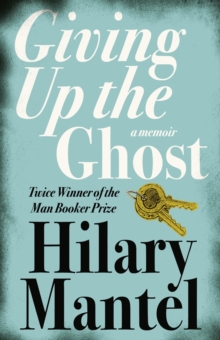 Giving up the Ghost
Paperback
Description
From the double Man Booker Prize-winning author of 'Wolf Hall', a wry, shocking and beautiful memoir of childhood, ghosts, hauntings, illness and family. 'Giving up the Ghost' is award-winning novelist Hilary Mantel's uniquely unusual five-part autobiography.
Opening in 1995 with 'A Second Home', Mantel describes the death of her stepfather which leaves her deeply troubled by the unresolved events of her childhood.
In 'Now Geoffrey Don't Torment Her' Mantel takes the reader into the muffled consciousness of her early childhood, culminating in the birth of a younger brother and the strange candlelight ceremony of her mother's 'churching'.
In 'Smile', an account of teenage perplexity, Mantel describes a household where the keeping of secrets has become a way of life.
Finally, at the memoir's conclusion, Mantel explains how through a series of medical misunderstandings and neglect she came to be childless and how the ghosts of the unborn like chances missed or pages unturned, have come to haunt her life as a writer.
Information
Format: Paperback
Pages: 272 pages
Publisher: HarperCollins Publishers
Publication Date: 11/05/2004
ISBN: 9780007142729
Free Home Delivery
on all orders
Pick up orders
from local bookshops
Reviews
Showing 1 - 1 of 1 reviews.
Review by SandDune
16/06/2015
This short memoir by Hilary Mantel focuses on two main aspects of her life: her somewhat difficult childhood and her long periods of (misdiagnosed) ill-health. Of the two, it was the first that I found most interesting. Growing up as a young child in a Irish Catholic home in England she seems to have had a poor but loving early childhood, surrounded by parents, grandparents and aunts and uncles. But as she was about to start secondary school her life changed for ever: after a period of a somewhat curious ménage a trois, her mother left her father to live with another man, taking the young Hilary and her two brothers with her. Hilary never saw her father again. At this stage I desperately wanted to know more about the background of this separation, but as these recollections are very much told from the point of view of the child observing them those details are never forthcoming. And with a new and difficult step-father, and a place at a convent school while the child of a woman who had left her husband to live with another man, Hilary's teenage years become much more difficult.What I found a more challenging part of the book was the story of Hilary Mantel's battle with ill-health, which left her infertile by her late twenties. While this is a horrendous story of misdiagnosis by doctor after doctor, I found that I got more and more frustrated with Hilary herself: I just couldn't understand why either she or her husband or parent didn't make more fuss, when it was clear that she wasn't getting the treatment she required. Why didn't you argue, I kept wanting to say to her. Why don't you insist on a second opinion? And it's clear that Hilary Mantel does not completely understand her attitude either:'There are several possible explanations, on several levels. One is that, in the time and place where I grew up, expectations of health were low, especially for women. The proper attitude to doctors was humble gratitude; you cleaned the house before they arrived. The deeper explanation is that I always felt that I deserved very little, that I would probably not be happy in life, and that the safest thing was to lie down and die'Overall, an interesting read, although the recollections are interspersed at times with a number of supernatural elements (the ghost of the title being a case in point) which rather left me cold. But recommended nonetheless.