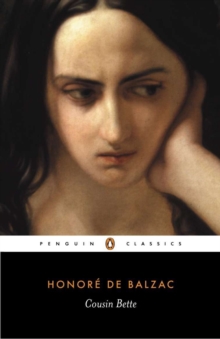 Description
A gripping tale of violent jealousy, sexual passion and treachery, Honore de Balzac's Cousin Bette is translated from the French with an introduction by Marion Ayton Crawford in Penguin Classics. Poor, plain spinster Bette is compelled to survive on the condescending patronage of her socially superior relatives in Paris: her beautiful, saintly cousin Adeline, the philandering Baron Hulot and their daughter Hortense.
Already deeply resentful of their wealth, when Bette learns that the man she is in love with plans to marry Hortense, she becomes consumed by the desire to exact her revenge and dedicates herself to the destruction of the Hulot family, plotting their ruin with patient, silent malice.
The culmination of the Comedie humaine, and a brilliant portrayal of the grasping, bourgeois society of 1840s Paris, Cousin Bette is one of Balzac's greatest triumphs as a novelist. Marion Ayton Crawford's lively translation is accompanied by an introduction discussing the novel's portrayal of rapidly changing times, as the new, ambitious middle classes replaced France's old imperial ways. Honore De Balzac (1799-1850) failed at being a lawyer, publisher, printer, businessman, critic and politician before, at the age of thirty, turning his hand to writing.
His life's work, La Comedie humaine, is a series of ninety novels and short stories which offer a magnificent panorama of nineteenth-century life after the French Revolution.
Balzac was an influence on innumerable writers who followed him, including Marcel Proust, Emile Zola, Charles Dickens, and Edgar Allan Poe. If you enjoyed Cousin Bette, you might like Balzac's Old Goriot, also available in Penguin Classics.
Information
Format: Paperback
Pages: 464 pages
Publisher: Penguin Books Ltd
Publication Date: 30/08/1965
Category: Classic fiction (pre c 1945)
ISBN: 9780140441604
Other Formats
Paperback from £8.89
Hardback from £9.15
PDF from £2.54
eAudiobook MP3 from £6.89
Paperback / softback from £7.99
Free Home Delivery
on all orders
Pick up orders
from local bookshops
Reviews
Showing 1 - 2 of 2 reviews.
Review by startingover
16/06/2015
"Books and flowers are as necessary as bread to a very great many people."Set in 1840s Paris, the novel revolves around the family, friends and acquaintances of Baron and Baroness Hulot. The Baron is a kind-hearted womaniser who squanders all his money on the mistress of the moment, leaving his long-suffering and martyrish wife almost destitute. "The look with which the Baron rewarded his wife's fanatical devotion confirmed her in her belief that gentleness and submissiveness were a woman's most powerful weapons. She was mistaken in this. Noble sentiments pushed to extremes produce results very like those of the worst vices".In this novel Balzac is particularly interested in the nature of the new France, the age of the middle class. As Monsieur Rivet puts it, "Our times have seen the triumph of trade, hard work, and middle-class good sense". The Baron represents the generation who look back fondly to the Imperial past. "Madame Hulot dated her Hector's first infidelities from the final dissolution of the Empire".The Baroness was born Adeline Fischer, and as the novel opens she is rejecting the advances of Crevel (her son's father-in-law), who threatens the Baroness that he will prevent her making a good match for her dowry-less daughter Hortense unless she submits to his amorous advances (partly in revenge for the Baron having stolen Crevel's mistress).Hortense falls in love with a young sculptor whom Adeline's cousin Bette has taken under her wing. Bette loves the young man but he falls in love with and marries Hortense. Meanwhile the Baron takes a new mistress, the married Valerie Marneffe. Dangerous Bette is everyone's confidante and resentful of the fact that throughout their lives Adeline has been the lucky, petted one and she, Bette, always the poor relation. She wants her revenge, and she is terribly, frighteningly patient about getting it. "Madame Marneffe had recoiled in dismay when she found both an Iago and a Richard III in [Bette], who to all appearances was so harmless, so humble, and so little to be feared".Bette and Valerie are, in their different ways, completely manipulative, ruthless and effective (until the final scenes of the book). They create havoc within Baron Hulot's family in particular. The Baron, charming but foolish about women, is finally undone by money, ruined by Valerie. (However, even in disgrace, in poverty, he takes a series of young mistresses.) Valerie achieves her aim of marrying Crevel (for his money, of course), but shortly afterwards the couple are poisoned by Valerie's jealous Brazilian lover. (I couldn't help thinking of Zola's Nana, who came to a similar pustulant end).If this seems like vice getting its just desserts, the same does not apply to the Baron. He is invited home to his now-wealthy family, and the Baroness has every hope that her husband has seen the error of his ways or, at least, is now too old for chasing girls. She is wrong. The Baron is beyond saving: he is discovered by his wife in a compromising scene with the new kitchen maid. For the saintly Baroness, this is the final nail in the coffin of her marriage. Following her death, the Baron marries the kitchen maid. As his son so rightly says, "Parents can oppose their children's marriages, but children have no way of preventing the follies of parents in their second childhood". [Oct 2004]
Review by AdonisGuilfoyle
16/06/2015
Cousin Bette is my first taste of Balzac, and although I found him very clever and his characters amusing and sharply drawn, getting through this novel was hard work. The story, such as it is, sinks beneath the weight of the author's social commentary on mid-nineteenth century Parisian society, and the ending is horrendously moralistic, clunky and very disappointing. Valerie Marneffe, the irresistible courtesan, was my favourite character - all the men in the book are pathetic and the 'virtuous' women are spineless creatures - but I should have known that a male novelist would have to 'punish' such a dangerous temptress for 'abusing' male weakness!The plot is all about revenge and greed. Cousin Bette, a bitter old spinster replete with monobrow, desires revenge on her wealthy, aristocratic relatives, Hector and Adeline Hulot. The Baron is a dirty old man who grooms young girls to be his mistresses, and his long suffering wife is the type of 'noble' Victorian lady who turns a blind eye to her husband's affairs. Cousin Bette teams up with a notorious courtesan, or kept woman, called Valerie Marneffe to socially disgrace and bankrupt the Baron, and destroy his wife's flimsy happiness. Valerie, whose husband is dying from some kind of wasting disease, also gets her hooks into the Baron's friend and love rival, the bourgeois Crevel, and a hotheaded Brazilian count, to see who she can wring the most money and status out of. At this point, the tangled web of the Hulots, Valerie and Cousin Bette gives way to Balzac's pointed observations about men and women ('Women always persuade men that they are lions, with a will of iron, when they are making sheep of them'), love and money, taste and greed, morals and religion, class, politics and post-Napoleonic France ('From now on, there will be great names but no more great houses'). Nothing escapes his stinging notice, and he can be funny, but I was more involved with the characters, and not Balzac's ranting.