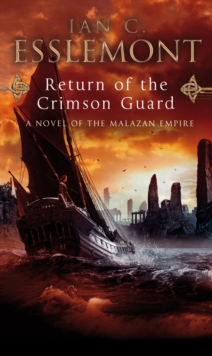 Return Of The Crimson Guard : A Novel of the Malazan Empire
Paperback
Description
The return of the Crimson Guard could not have come at a worse time for an empire exhausted by warfare and weakened by betrayals and rivalries.
Into the seething cauldron of Quon Tali - the Malazan Empire's heartland - they march, and with their return comes the memory of their vow: undying opposition to the Empire.
But elements within the Guard's elite, the Avowed, have set their sights on far greater power, while other, more ancient entities are rising up, intent on furthering their own arcane ends. And what of the swordsman called Traveller who, with his companion Ereko, seeks a confrontation from which none have ever returned?
As the Guard prepare to wage war, the Empress Laseen's generals and mages grow impatient at what they perceive as her mismanagement of the Empire.
Is she losing her grip on power or has she outwitted them all?
Could she be using the uprisings to draw out and finally eliminate the last irksome survivors from the days of Kellanved, her illustrious predecessor?
Information
Format: Paperback
Pages: 1056 pages, Maps
Publisher: Transworld Publishers Ltd
Publication Date: 01/06/2009
Category: Fantasy
ISBN: 9780553824476
Free Home Delivery
on all orders
Pick up orders
from local bookshops
Reviews
Showing 1 - 1 of 1 reviews.
Review by iftyzaidi
16/06/2015
This is a monster of a novel, clocking in over 1000 pages. And, apparently Ian Cameron Esslemont has said that he had to do a large amount of trimming to reduce the length of the novel to something publishable in one go! Actually, it is possible that some of the issues I had with this book may be related to just this fact.First the pros: The Malazan world about which Esslemont's co-creater Erikson has already written several books is extremely well developed with a very rich history and so forth. We meet and follow many characters we have either already heard about before, or have already met. The events of this book apparently happen concurrently with the events of Toll the Hounds. This book is vast, covering numerous storylines and events and spread over the Malazan universe. There is a convergence of these storylines in the end which results in some major world-shaking events for the Malazan world. This is not a minor side-story to Erikson's novels (as Esslemont's first book, Night of Knives was) but is very much part of the tale the two authors are telling. Some of the characters are well drawn, and all the storylines interesting and entertaining, so that even as the POV jumps around every few pages, one remains glued to the book (or at least I did).Esslemont's writing style seems to have improved from his first book, certainly this is a much more ambitious work. But unfortunately he is no Erikson. The writing is more ordinary, and the dialogue often fails to be as distinctive. It is not just that he lacks Erikson's style, but there are often some jarring sequences and descriptions which seem very un-Malazan like (such as occasional modern swear-words). Furthermore, many of the characters that were surrounded with so much mystery in Erikson's works here come across as very mundane - whether it is Anomander Rake's (who has a short cameo), the Empress Laseen or the commander of the Crimson guard K'azz (who is particularly pedestrian) or the Wickan warlocks Nil and Nether. The book also lacks the emotional depth and social commentary of Erikson's works (which may be just as well, given the length that would have added). Another issue is that occasionally we are left scratching our heads over just why certain characters are doing whatever they are doing. Certain mysteries seem to be built up to be left unexplained, or indeed, abandoned. (What was Ereko's purpose? Why did the 3 deserters join Kyle?) Finally there seem to be some minor inconsistencies in descriptions of various warrens, characters or powers.My review may seem to be overly critical of the book, but when it comes down to it, many of these issues are bound to arise when two authors play in the same pen. And when it comes down to it, this is a hugely enjoyable and entertaining book, made all the more remarkable for its sheer volume and length. Given the amount of stuff that happens here, this would easily have been a trilogy for most other authors. While Esslemont's book does not have the emotional depth or give the intellectual satisfaction Erikson's work does, it still complements that work well, focusing more on a fast-paced narrative that keeps one glued to the page.
Also by Ian Cameron Esslemont | View all
Also in the Malazan Empire series | View all