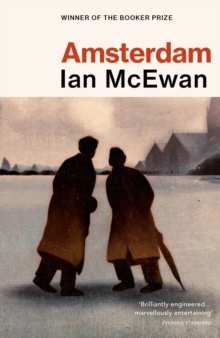 Amsterdam : Winner of the Booker Prize 1998
Paperback
Description
On a chilly February day two old friends meet in the throng outside a crematorium to pay their last respects to Molly Lane.
Both Clive Linley and Vernon Halliday had been Molly's lovers in the days before they reached their current eminence, Clive as Britain's most successful modern composer, Vernon as editor of the quality broadsheet, The Judge.Gorgeous, feisty Molly had had other lovers too, notably Julian Garmony, Foreign Secretary, a notorious right-winger tipped to be the next prime minister.
In the days that follow Molly's funeral Clive and Vernon will make a pact that will have consequences neither has foreseen.
Each will make a disastrous moral decision, their friendship will be tested to its limits and Julian Garmony will be fighting for his political life.
Information
Format: Paperback
Pages: 192 pages
Publisher: Vintage Publishing
Publication Date: 01/04/1999
ISBN: 9780099272779
Free Home Delivery
on all orders
Pick up orders
from local bookshops
Reviews
Showing 1 - 5 of 15 reviews.
Previous | Next
Review by piefuchs
16/06/2015
Creepy, fast read with some stretched of exceptional prose detailing human behaviour at its most honest. That said, the plot failed to inspire and outside of a few passages I didn't think it was worthy of the raves reviews.
Review by dylanwolf
16/06/2015
There are times when McEwan is just annoying. The serious gravitas mixed with the ridiculous culmination. Amsterdam is one such novel where he mixes both and you feel let down as though some trick has been performed in front of you and you are the dupe. I'm not sure why this quite slight novel should be so highly regarded. McEwan's style is effective, absorbing and entertaining, its just where he takes it that is frustrating. Amsterdam is an easy and quick enough read and there is enough there to admire but McEwan has done better work - this is a poor one to have won the Booker Prize with.
Review by lmckend
16/06/2015
I enjoyed the read, literate, considered prose as always, however nowhere near as good as Enduring Love, for which he should have won the Booker.
Review by msprint
16/06/2015
Well crafted story with wry ending. Black humor in an easy to read book. McEwan's ability to describe characters and background is flawless and his writing style is outstanding.
Review by Sauvik
16/06/2015
Atonement is a really good work by McEwan. But before that he actually won Booker for Amsterdam, a much shorter novel, in 1998.The plot deals with an absent character called Molly who is dead and two former lovers of Molly meet at her funeral. One of them, Vernon, is a newspaper editor and the other is Clive, a successful composer commissioned to compose a Millennium Score. A third character called Julian is the foreign secretary and also a former lover of Molly, who can't get along with Vernon because of the scissor-paper relationship politicians and newspaper editors naturally share.I will not divulge the plot. However, I might say that two moral mistakes are committed by both the lead characters and each of them becomes the other's enemy fighting on moral grounds until they both reach Amsterdam to fulfill a promise they made to each other during their days of friendship.Let me tell that I did not like the closure. The closure has a strange and cunning hint at euthanasia - only the ailment here is not physical but mental and moral. The thing one must know is that Netherlands is the only country to legalise euthanasia and probably that's why the author chose such a place. However, the other part is that non-Dutch are not legally allowed euthanasia. Whatever may be the case, the strange ending will linger in your head and will surely vex you until you find a reasonable argument for the actions, like I have tried to relate it to a form of euthanasia, or will leave a bitter taste.I own a trade paperback edition of this novel and I would not recommend buying it for appx. 350 INR.