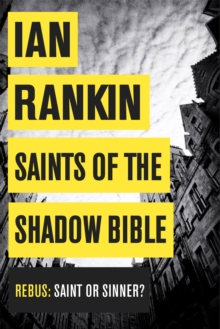 Saints of the Shadow Bible
Hardback
Description
When a young woman is found unconscious at the wheel of her car, evidence at the scene suggests this was no ordinary crash.
Especially when it turns out her boyfriend is the son of the Scottish Justice Minister and neither of them is willing to talk to the police. Meanwhile, John Rebus is back on the force, albeit with a big demotion and an even larger chip on his shoulder.
A new law has been passed allowing the Scottish police to re-prosecute old crimes and a thirty-year-old case is being reopened, with Rebus and his team from back then suspected of corruption and worse. Known as 'the Saints', his colleagues swore a bond of mutual loyalty on something called 'the Shadow Bible'.
But with Malcolm Fox as the investigating officer - and determined to use Rebus for his own ends - the crimes of the past may not stay hidden much longer. With political turmoil threatening to envelop Scotland, who really are the saints and who the sinners? And can the one ever become the other? SAINTS OF THE SHADOW BIBLE not only reaches back to the past to find out what John Rebus did, but also to discover who he really is.
Information
Format: Hardback
Pages: 336 pages
Publisher: Orion Publishing Co
Publication Date: 07/11/2013
Category: Crime & mystery
ISBN: 9781409144748
Free Home Delivery
on all orders
Pick up orders
from local bookshops
Reviews
Showing 1 - 5 of 7 reviews.
Previous | Next
Review by riverwillow
16/06/2015
A change in rules has allowed Rebus back on the force but is now working as Siobhan Clarke's Detective Sergeant. Malcolm Fox is also on his case, the Complaints are about to be wound up but Fox has one last case to investigate, a group of probably corrupt CID officers who operated out of Summerhall Police Station thirty years ago, Rebus's first station as a detective, known as 'the Saints of the Shadow Bible'. Although Rebus isn't directly implicated he may have information useful to the investigation. There are several threads to the story – and its nice to see Fox taking more a central role in this book as he's a lovely foil to Rebus and Clarke – which Rankin pulls together really well. Fabulous storytelling.
Review by Eyejaybee
16/06/2015
It must be difficult for a writer who creates a popular and successful character to avoid letting them become stale. That fate certainly befell Colin Dexter's Morse who subsided almost into self-parody in the later novels in the canon (though at least the later Morse books avoided the mawkish failings of the final instalments of the television version), and even Sherlock Holmes seemed rather tired and despairing by the time Conan Doyle churned out "His Last Bow". Ian Rankin seems so far to have avoided these pitfalls. In this novel John Rebus makes his nineteenth outing and is, as my mother might say, as "thrawn" as ever. One explanation for Rankin's success where many others has failed is that he has always had his character age in real time. Consequently he had to face retirement a few books ago ("Exit Music" had seemed to be his swan song, with the action taking place in his final week on the Lothian and Borders force). However, possibly mirroring the plethora of "cold case" review dramas currently crowding the television schedules, in "Standing In Another Man's Grave" Rebus returned from retirement to help review an old case in the light of newly uncovered evidence. In "Saints of the Shadow Bible" he has managed to find his way back onto the mainstream force, though now demoted to Detective Sergeant while his former protegee Siobhan Clarke is now an Inspector and his superior at the Gayfield Square station. As the novel opens the two of them are inspecting the wreckage of a car which had crashed on a seemingly open and deserted stretch of road between Edinburgh and Livingston. As always with Rebus novels, the seemingly innocuous accident is not quite what it seems, though Rebus and Clarke are themselves initially baffled as to why they suspect something more dubious lying behind it.Meanwhile Inspector Malcolm Fox, the new lead character that Rankin created in the immediate aftermath of Rebus's retirement, is investigating alleged malfeasance at Summerhall Police Station thirty years ago. That was Rebus's first station as a detective, and while there he had been inducted into the self-styled "Saints of the Shadow Bible", a group of CID officers who seldom allowed the regulations and rules of engagement to get in the way of their own mission to keep the streets clean.As ever with Rankin, the plot (well, plots - there are several sub-stories competing for the reader's attention) is tightly-constructed and the tensions between the characters is very plausible. The book does have the customary Rankinesque dialogue - readers new to Rankin might be better advised to start on one of his earlier cases - but that adds to, rather than detracts from, the effect.
Review by gypsysmom
16/06/2015
In this book Ian Rankin brings together John Rebus, policeman who follows his own rule book when it comes to solving crimes, and Malcolm Fox, lately of the Complaints Division who investigate cops just like Rebus. You would think they would be at each others' throats within minutes but they develop a grudging respect for one another. Could this be the start of a new partnership?Rebus is back working with Siobhan Clarke but this time Ms. Clarke is the senior officer. They are called out to a car accident involving a young female University student, Jessica Traynor. There are no other vehicles involved, no-one else in the car and seemingly no reason for them to be there. But the young woman's father, a wealthy entrepreneur in London with contacts in the Metropolitan police force, exerted some pull. Rebus suspects someone else was driving the car and abandoned it and Jessica after the accident.However, Rebus doesn't get much time to investigate this as his presence is requested by Malcolm Fox who has been tasked with investigating a murder from twenty years before. Rebus was a junior officer then with the Summerhall detective squad who were in charge of the investigation. The squad called themselves The Saints of the Shadow Bible. They bungled the investigation allowing the man they charged with the murder to get off with a verdict of Not Proven. Recently the law about double jeopardy was changed so the Solicitor General wants the case to be reopened. Fox is charged with looking into whether the Saints deliberately sabotaged the case and he thinks Rebus can help him.Both these cases get considerably more complicated before being wrapped up and dead bodies turn up. Rebus observes one autopsy which involves a new pathologist, one Professor Deborah Quant. Rebus is impressed with her skills but even more impressed with her looks. We don't see too much of Professor Quant but I suspect she will turn up again.It's nice to have Rebus back doing what he does best and I like how he and Fox are developing a relationship.
Review by the.ken.petersen
16/06/2015
Five stars aren't enough for this book: Ian Rankin is incredible! When Rankin retired Rebus, I was sad that another series of guaranteed quality crime stories had come to an end, but I thought that he was probably right so to do. When Rebus' return was announced, I wasn't sure. I should have had faith in Rankin's writing ability. Rebus has come back stronger than ever. This book is a tour de force! Rankin takes, what appears to be several disparate cases andnweavesbthem together with a storyteller's skill so that a highly improbable series of events seems to be the most natural thing in the world.I will not spoil the tale by giving any details, but from the first page to the last, I was gripped: even when one thinks that it is all over, Rankin manages to tuck in another closure. It is books such as this that make me grateful for my poor memory - a couple of years time, and I'll be able to re-read this cracking piece of detective fiction with nothing more than a heightened ability to be level with Rebus (One is never ahead of John Rebus!)
Review by perkybookworm
16/06/2015
This was my first time reading anything by Rankin, and I'm quite happy I decided to pick it up as I thoroughly enjoyed it. There was plenty of intrigue and just enough plot twists to keep me guessing. I loved the character development, and how Rebus, Fox and Clarke progressed as individuals AND as a team. I also loved Rankin's narrative style. This book was quite a change from the typical American murder mysteries/thrillers that I'm accustomed to. Although there were some shady dealings, this story wasn't about a rogue officer speculating wildly and chasing multiple red herrings. Instead, there was actual detective work involved! I loved that aspect, as well as the change of setting. Somehow, Scotland makes a better backdrop for this type of story than the United States.
Also in the A Rebus Novel series | View all