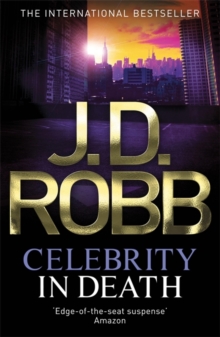 Celebrity In Death : 34
Hardback
Part of the In Death series
Description
'We've got a corpse that looks like one of the investigators, a houseful of Hollywood and a media machine that's going to eat it like gooey chocolate.' Lieutenant Eve Dallas is panicking - and she's not at a crime scene.
Forced to attend a celeb-packed party for a new movie based on her most famous case, she is surrounded by actors who look like everyone in her life.
Just as the end is in sight, brutal reality crashes through the sparkly facade.
There's been a murder. The obnoxious actress playing Eve's partner, Peabody, has been found face down in the pool.
As Eve hastily interviews the guests, it's hard to find anyone who didn't have a motive for the crime.
But with a murdered Personal Investigator, a missing tape recording and a hugely expensive movie in the mix, Eve must fight to keep a clear head and stop a calculated killer.
Information
Format: Hardback
Pages: 400 pages
Publisher: Little, Brown Book Group
Publication Date: 01/02/2012
Category: Crime & mystery
ISBN: 9780749955915
Other Formats
Paperback from £7.85
EPUB from £4.99
Free Home Delivery
on all orders
Pick up orders
from local bookshops
Reviews
Showing 1 - 4 of 4 reviews.
Review by Bitchie
16/06/2015
I enjoyed this one, being back in New York, but still dealing a bit with the fallout from Dallas. I did feel that the tension was missing in this one. I never felt any real emotion at all, towards the victim, towards the killer, not even any tension or stress between Eve and Roarke. I mean, it's nice they're good, but I missed that extra element. No one was even at any personal risk this time, everything just felt like it was tied up so easily. I guess I missed the blood and the danger this time around.<br/><br/>I'd give this one more of a 3-3.5, but bumped it to 4 because it's Eve and Roarke, it was a good story, and it still kept me engaged to the end.
Review by cranberrytarts
16/06/2015
I really enjoyed this installment. My favorite books are the ones were Eve and Roarke are at odds, and though that wasn't the case here I found the case interesting and the usual cast of characters engaging. There was quite a bit of humor laced throughout. The whodunit was pretty easy to figure out but I enjoy watching Eve puzzle her way through the evidence. <br/><br/>
Review by trishaj
16/06/2015
I seem to be in the minority on my opinion of this book. I'm a huge fan of Nora Roberts and the In Death series. Huge. But I felt this installment was lacking. There was no action at all and little emotion. Maybe I'm just getting bored with the series, but I was disappointed. I judge a book by how easy it is to put it down and it took me 3 days to read it when normally I get through an In Death in less than a day.
Review by ChristineEllei
27/08/2015
Favorite "In Death" reporter Nadine Furst wrote "The Icove Agenda" based on one of Eve Dallas' previous cases. The book is now being made into a film and Eve, Roarke, et al are at a cast party celebrating the upcoming wrap of the film. It is a little eerie socially with the actors who look and sound so much like the people in Eve's life. It becomes even more frightening when the actress portraying Peabody in the film is found murdered. Getting to the bottom of the homicide, when all the suspects are trained actors is a little tricky, but Eve and her crack team get the job done yet again.<br/><br/>I like these books very much and it was nice to see this one back on Eve Dallas' home turf of NYC. All the major players made an appearance in this one, which I also enjoyed as I found I missed them in the last book (New York to Dallas). Another thing I have to praise about this book is that it stepped out of the usual "cookie cutter" format of the books … Eve didn't get slammed or beaten nor did she find herself in a life threatening scenario at the end of the book. Good job by Ms. Robb (aka Nora Roberts).<br/><br/>To any other fans of the In Death books: I enjoy revisiting these characters with every new installment to the series and I love Roarke … BUT … is it just me or does Roarke seem to get just a tad more controlling in each book? And does Eve seem to lose a little of her grit with every new story? I know they are trying to meld their separate worlds and meet in the middle, but I miss the fireworks.<br/>