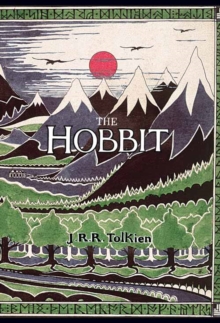 The Hobbit : Or There and Back Again
Hardback
Description
The definitive edition of J.R.R. Tolkien's most beloved book, sporting a facsimile of his original cover design and complete with colour plates of his own paintings, brand new reproductions of all his drawings, and colour versions of both maps.
Bilbo Baggins enjoys a quiet and contented life, with no desire to travel far from the comforts of home; then one day the wizard Gandalf and a band of dwarves arrive unexpectedly and enlist his services - as a burglar - on a dangerous expedition to raid the treasure-hoard of Smaug the dragon.
Bilbo's life is never to be the same again. Seldom has any book been so widely read and loved as JRR Tolkien's classic tale, The Hobbit.
Since its first publication in 1937 it has remained in print to delight each new generation of readers all over the world, and its hero, Bilbo Baggins, has taken his place among the ranks of the immortals: Alice, Pooh, Toad...
Information
Format: Hardback
Pages: 320 pages, 8 b/w illus, (2 x colour maps)
Publisher: HarperCollins Publishers
Publication Date: 29/11/1995
Category: Fantasy
ISBN: 9780261103283
Free Home Delivery
on all orders
Pick up orders
from local bookshops
Reviews
Showing 1 - 5 of 5 reviews.
Review by Louise_Waugh
16/06/2015
I have read this many times, over many years. It gets better and truer with time, the humor and the admiration for Hobbitty culture stand out to me now. In another 35 years (how long its been since my first reading) who knows?
Review by Cait86
16/06/2015
I have not read The Hobbit in a few years, and my Dad and I were talking about it yesterday, so I decided to give it a quick re-read. I am a big Lord of the Rings fan, and read it frequently, but I had forgotten how different The Hobbit is from its sequel.The Hobbit tells the tale of Bilbo Baggins, a perfectly normal hobbit who, like all of his kin, hates adventures. Unfortunately for Bilbo, Gandalf the Grey, a wizard, had decided that Bilbo is just the person to go on an adventure. Along with a group of thirteen dwarves led by Thonin Oakenshield, Bilbo journeys to the Lonely Mountain on a mission to kill Smaug, a dragon who has stolen the dwarves' gold. This journey is, of course, fraught with danger, and quiet little Bilbo is forced to do a lot of things he never thought possible - and returns home a very different sort of hobbit.The Hobbit is much more juvenile than The Lord of the Rings - kind of like a younger sibling to an adult novel. The narrator changes right along with Bilbo. By the end of the book, the tone is quite serious, though the story is still told in simple terms. The beginning, however, was actually really funny - sort of sarcastic. For example:"The Bagginses have lived in the neighbourhood of The Hill for time out of mind, and people considered them very respectable, not only because most of them were rich, but also because they never had any adventures or did anything unexpected: you could tell what a Baggins would say on any question without the bother of asking him. This is the story of how a Baggins had an adventure, and found himself doing and saying things altogether unexpected. He may have lost the neighbour' respect, but he gained - well, you will see whether he gained anything in the end" (10).Not laugh-out-loud funny, but amusing just the same. I first read The Hobbit when I was really young, about 8, so that may be why I enjoy it so much - it was one of the first quasi-adult books that I ever read. It definitely does not have the complexity of The Lord of the Rings, but it is an enjoyable tale that is well-written, and it is a great introduction to the world of Middle-Earth.
Review by TakeItOrLeaveIt
16/06/2015
everyone's read it. a fairy tell coming of age story. not really my style but I dug it when my dad introduced to me as 'his thing' when I was 14.
Review by theboylatham
16/06/2015
Six out of ten.
Bilbo Baggins is an unassuming and humble Hobbit who finds himself whisked away from the Shire in a plot to raid the treasure of Smaug - a dragon. Although reluctant, Bilbo surprises himself by his bravery and resourcefulness on his adventures. Written as a children's book, it doesn't match the scale of Tolkien's other work but is a must read as it begins the series of events which lead to Lord of the Rings.
Review by phoebesmum
16/06/2015
A few weeks ago I was looking for something not-too-strenuous to read when I made the unexpected discovery that I don't have a copy of 'The Hobbit'.I'm not about to get into a debate concerning the virtues or otherwise of 'The Hobbit', or whether it should or should not be required reading, or anything else contentious: (a) I'm not that interested and (b) I can't be arsed. Come to think of it, (a) and (b) may be exactly the same point, just stated slightly differently. But what I am saying is that, in a house like ours, going to the shelf and not finding a copy of 'The Hobbit' is the literary equivalent of going to the chest of drawers and finding you have no knickers.I've read it, obviously; there was a copy at my parents' house, which I had thought was mine but might have been my mother's, or even my unspeakable younger brother's. Either way, clearly I didn't take it with me when I left. And it isn't as though we didn't have a copy anywhere in the house. The housemate has what is best described as a much-loved paperback edition and also, for reasons best known to herself, a copy in French. ('Le Hobbit'.) But, having become aware of its absence - after some forty-odd years of jogging along perfectly happily without it - not having a copy was irritating. All the more so since, if I'd realised this eighteen months ago, when my mother died, I could've nicked hers.So I was very happy to find an excellent copy in one of our local charity shops this afternoon: cloth, fine condition, slight browning to the pages but almost no bumping or rubbing, commensurate dustwrapper - in fact, it looks as though it's never been read at all, and still has the original receipt tucked inside (£14.99 from the Book House in Thame, August 1999). I'm betting it was an unwanted pressie - so, thank you very much, ungrateful child from Thame. Your loss is my gain. And not bad at all for £1.00.That being done, I can now put it on the shelf - first LibraryThinging it, of course - and then probably not give it another thought for the rest of my life.